Strike a Pose: Robbers Take Selfies With Supercar Before £43k Robbery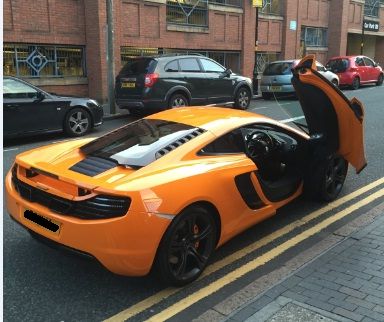 Police in Birmingham are on the hunt for a group of young men who took selfies with a bright orange McLaren supercar before £43,500 ($63,500) was stolen from the passenger.
Outside a betting shop in the city center, a group of snatched a bag containing winnings from the 52-year-old victim, seated in the car, which is estimated to be worth £150,000 ($219,000). West Midlands Police believe that some of the criminals may have been among those taking pictures before the robbery. They hope that the selfies were posted online as they could help investigators to identify the thieves, believed to be in their early 20s.
The victim, who wished to remain anonymous, told The Times: "We were chatting away and I even gave one of them [the robbers] a cigarette. They walked off and I went into the bookies to collect the money." When he returned with the cash from the betting shop, the young men snatched the bag of winnings. "It was as if the lads knew why we were there and ambushed us," the man continued.
"The car is very distinctive and it's an unusual crime. However, we believe there were a number of people in the area at the time who have not come forward," investigating officer Detective Constable Laurence Green said in a statement. "I urge anyone who witnessed the robbery to get in touch and I am especially keen to hear from anyone who thinks they may know the identity of the suspects."