What A TV Writers' Strike Could Mean For Viewers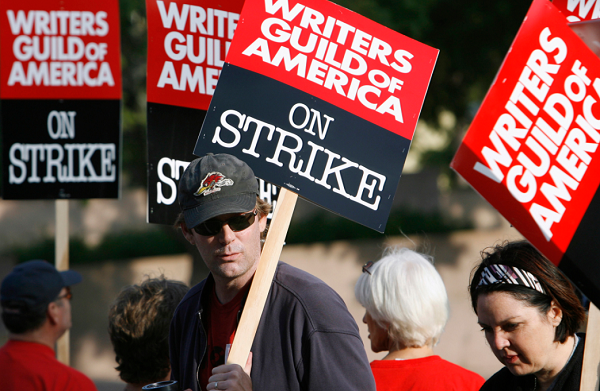 A summer of bleak TV programming could be on the horizon for viewers if the Writers Guild of America (WGA) decides to call a strike following a vote Monday.
The union, which represents the writers behind movie and television shows, are currently in contract negotiations with the Alliance of Motion Picture and Television Producers (AMPTP)—the group that represents Hollywood studios houses such as Paramount Pictures, Sony Pictures, 20th Century Fox, Universal Pictures, Walt Disney Pictures and Warner Bros. Pictures—and may authorize a strike that would halt production on several TV series, late night shows and movies if new conditions aren't met. If WGA and AMPTP can't come to an agreement by the time contracts expire on May 1, the strike could go into effect as soon as May 2, according to a guild bulletin issued to media buyers recently.
The severity of a strike's impacts all depends on how long it would last. Episodes that have yet to be written and shows that are still in pre-production could fade to black for the duration of the walk-out, resorting in some networks having to air reruns. Some shows may have to end their seasons earlier than planned, and some summer premieres may be delayed while late-night programs like The Tonight Show and Saturday Night Live, which rely heavily on the daily or weekly scripts provided by TV writers, could see disruptions almost instantly.
Streaming services such as Netflix and Hulu could see a boost in viewership as more people opt to binge-watch streamed content in lieu of reruns and reality TV shows that typically fill the void of network programing during a long-lasting strike.
The last time the WGA initiated a strike on November 5, 2007, writers didn't work for 14 weeks, which caused several scripted series to end seasons prematurely. Late-night shows saw delays while networks aired more episodes of reality TV shows such as Big Brother and The Celebrity Apprentice to fill the gaps.
Despite the fact that there are more scripted shows on TV than ever before—the 2015-16 TV year saw 205 shows hit the airwaves—and the AMPTP brought in a reported $49 billion in operating profits in 2016, script writers aren't actually reaping the benefits of the lush TV and movie revenues flowing into the industry, which is the top reason WGA may call a strike.
Writers' wages did increase during the 2013-14 and 2015-16 TV seasons, but their 8 percent rise in compensation wasn't as bountiful as the 16 percent increase co-executive producers received during the same time frame or the 24 percent consulting producers, 32 percent co-producers and 49 percent producers received at the time, according to The Hollywood Reporter.
Not to mention, writers are only paid per episode. Seasons on many networks now generally run shorter than in previous eras—with 10 to 13 episodes compared to the 20-plus episode seasons that used to be the norm—but new content is spread out with more time for production. Those production schedules mean writers are left without pay for a longer period and have a shorter episode run to earn money. On top of all of that, most AMPTP agreements prohibit writers from working on other shows for the duration of their contract, so even if a series is on hiatus they're unable to work anywhere else during the downtime, which they also are disputing.
The WGA also is contesting health coverage and pension plans offered by AMPTP, which is headed toward bankruptcy if changes aren't made to address its current $145 million deficit. Writers want studios to pay more for coverage along with beefing up family leave programs and keeping the guild's current pension plan intact.