String of Fires at Black Churches Investigated as Arson After Charleston Shooting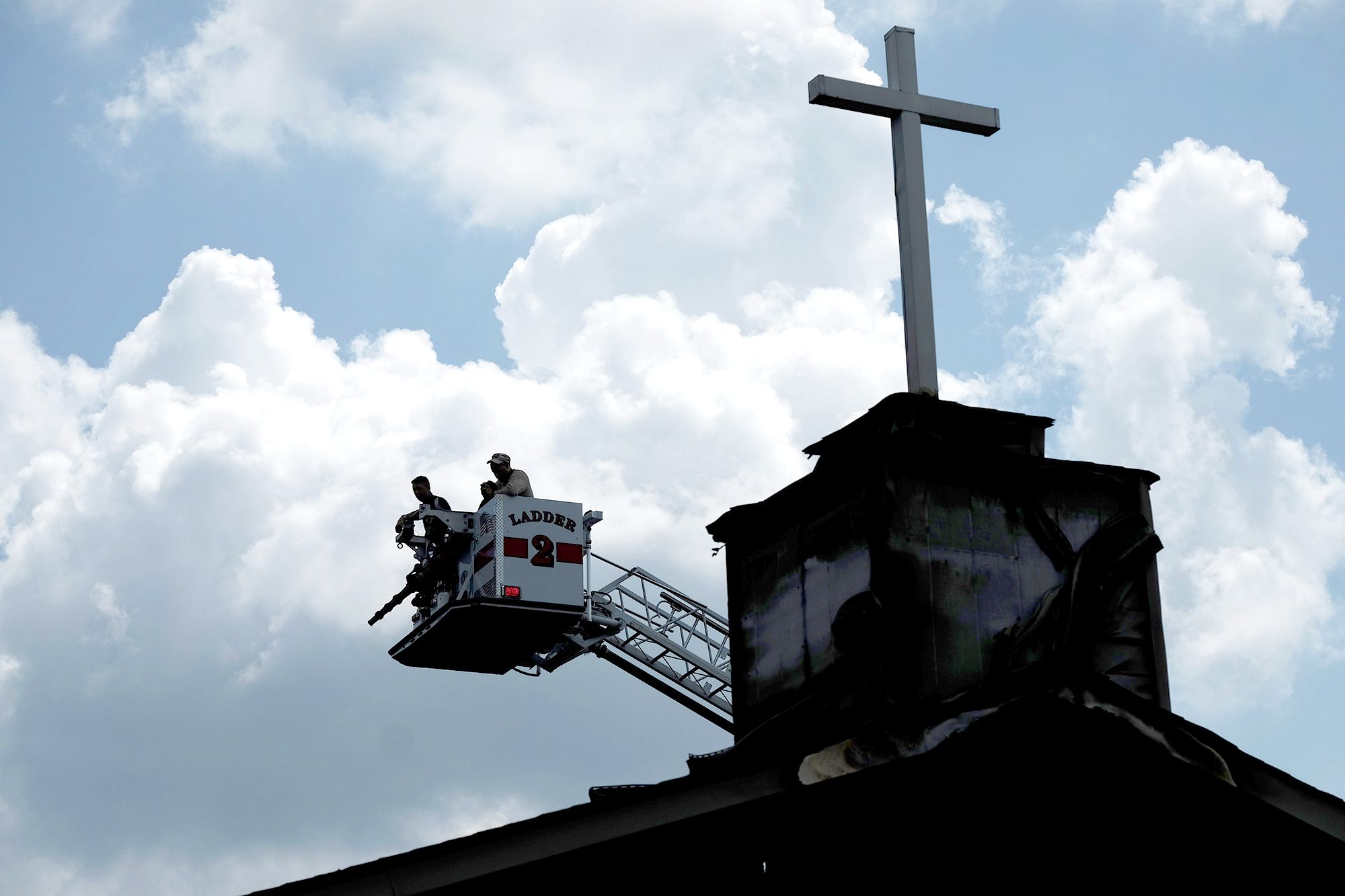 At least three of a string of fires at predominantly black churches after the shooting attack on Emanuel African Methodist Episcopal in Charleston, South Carolina, are being investigated as arson, The Washington Post reports. The June 17 shootings at the hands of a white gunman left nine black Bible study attendees dead and the country reeling from what was quickly called a hate crime. Suspect Dylann Roof, who faces nine counts of murder and a weapon possession charge, reportedly told investigators he was trying to start a "race war."
Four days after the Charleston shooting, a fire was reported at a predominantly African-American church a few hundred miles northwest of the site of the massacre, Emanuel AME. On Sunday night, June 21, authorities responded to a call at College Hill Seventh-day Adventist in Knoxville, Tennessee, and arrived to find the church's van burning in its parking lot and a pile of burning debris by an entrance to the building. Officials believe someone lit bales of hay outside the church in an act of vandalism being investigated as arson. Darrell DeBusk, a spokesman for the Knoxville Fire Department, told WATE that authorities do not believe this was a hate crime.
Less than two days later, before dawn on Tuesday, June 23, God's Power Church of Christ in Macon, Georgia, was ablaze. It, too, is a predominantly black church. Though investigators are still waiting to make a final determination, firefighters believe it to be a case of arson. Authorities there, too, say there is no evidence of a hate crime.
"We are not seeing anything at this time that's pointing us in that direction," Sgt. Ben Gleaton told the Macon Telegraph.
Early the next morning on June 24, Briar Creek Road Baptist Church in Charlotte, North Carolina, where attendees are predominantly African-American, burned as 14 engines and 75 firefighters fought for roughly an hour to get the flames under control, The Charlotte Observer reported. Senior Fire Investigator David Williams told the Observer that the church sustained roughly a quarter of a million dollars of damage. The fire department were approaching the incident as arson, Williams said the day of the fire, and investigators were still determining whether it was a hate crime.
Fires at Fruitland Presbyterian Church in Gibson County, Tennessee, on June 24 and at Greater Miracle Temple Apostolic Holiness Church in Tallahassee, Florida, on June 26 were likely caused by lightning and electrical wires, respectively. Another fire on June 26, at the predominantly black Glover Grove Baptist Church in Warrenville, South Carolina, is still being investigated to determine a cause.
The FBI and the Bureau of Alcohol, Tobacco, Firearms and Explosives are working with local authorities to investigate several of the recent fires, Buzzfeed News reported. "They're being investigated to determine who is responsible and what motives are behind them.… I'm not sure there is any reason to link them together at this point," FBI spokesman Paul Bresson told Buzzfeed News.
It's not always easy to determine whether a fire, even if it is ruled arson, is a hate crime. "To know that something is motivated by hate, you either have to know who did it or they have to leave you a message in some way that makes it very obvious," Marty Ahrens of the National Fire Protection Association told The Atlantic. "There are an awful lot of [intentionally set fires] that are not hate crimes—they're run-of-the-mill kids doing stupid things." None of these incidents have, as of yet, been deemed a hate crime.
Writing about the string of fires in the Atlanta BlackStar, David A. Love quoted civil rights historian Taylor Branch. "In small towns, losing your church means more than losing your place of worship," Branch told The Baltimore Sun in 1996. "It is the newspaper, the insurance company, the dance hall and the Elks Lodge all rolled into a church."
"Strike at the black church, and you strike at the heart of black American life," Love added.