A Stripper and Pastor in Oregon Team Up to Raise Money for Children in Wake of Mississippi ICE Raid
A stripper at a well-known Portland vegan strip club and a local Christian pastor have linked up and joined forces to raise money for the children of families targeted during an immigration raid in Mississippi poultry processing facilities.
Dawn McCall, the dancer who has organized fundraisers for social causes in the past, and Reverend Adam Ericksen of Milwaukie, Oregon's Clackamas United Church of Christ discussed the initiative in a Facebook video on Friday.
In the short clip using the hashtag #SinnersandSaints, Ericksen said he and McCall were working together to "raise awareness and support for the children in Mississippi who were torn apart by the ICE raids from their families."
"As an atheist, I know it seems super weird that strippers would do anything with the church for any reason," McCall, also known as Blu Dawn, said in the video. "However, this is Portland and we keep it weird."
The pair said they decided to start an initiative together called the "Our Kids Charity Campaign," because, as McCall put it, they felt "pretty devastated over what was happening."
McCall got involved after a former coworker—who is also an artist—asked her what they could do to help the parentless immigrant children. The coworker, Lauren Seeley, created an image for t-shirts and postcards which are now available online. All proceeds from the sales, as well as other donations, will go to Mississippi Immigrant Rights Alliance.
According to The Oregonian, Ericksen told the paper on Friday he has encouraged his congregants to donate to the cause. McCall will also host charity events with other sex industry workers as part of the local efforts for the campaign throughout the next two weeks.
The effort comes after ICE agents arrested nearly 680 undocumented immigrants at seven poultry processing facilities in Mississippi earlier this month. Less than half of those arrested were released later this month.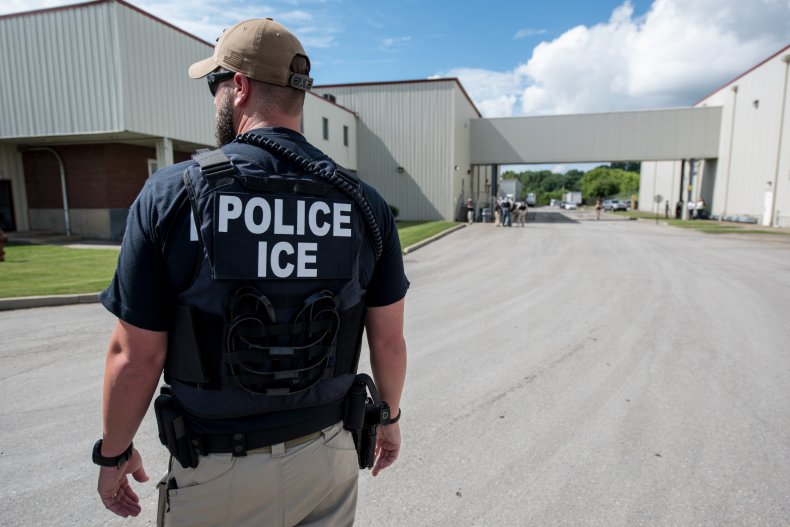 Some children whose parents were detained last week still do not have at least one parent with them, a Mississippi Department of Child Protection Services spokeswoman said Thursday.
Bryan Cox, an ICE spokesman, said he was unable to address assertions that children were without at least one parent unless the Mississippi Department of Child Protection Services released specific names.
"There are countless children in Mississippi who have a parent currently incarcerated due to their parent being arrested. The reality is, adults with children are arrested by law enforcement agencies in Mississippi every day—and every arrest by any law enforcement agency, by definition, 'separates' a person from their family," Cox said on Friday.