News Orleans Strippers Protest After Police Raids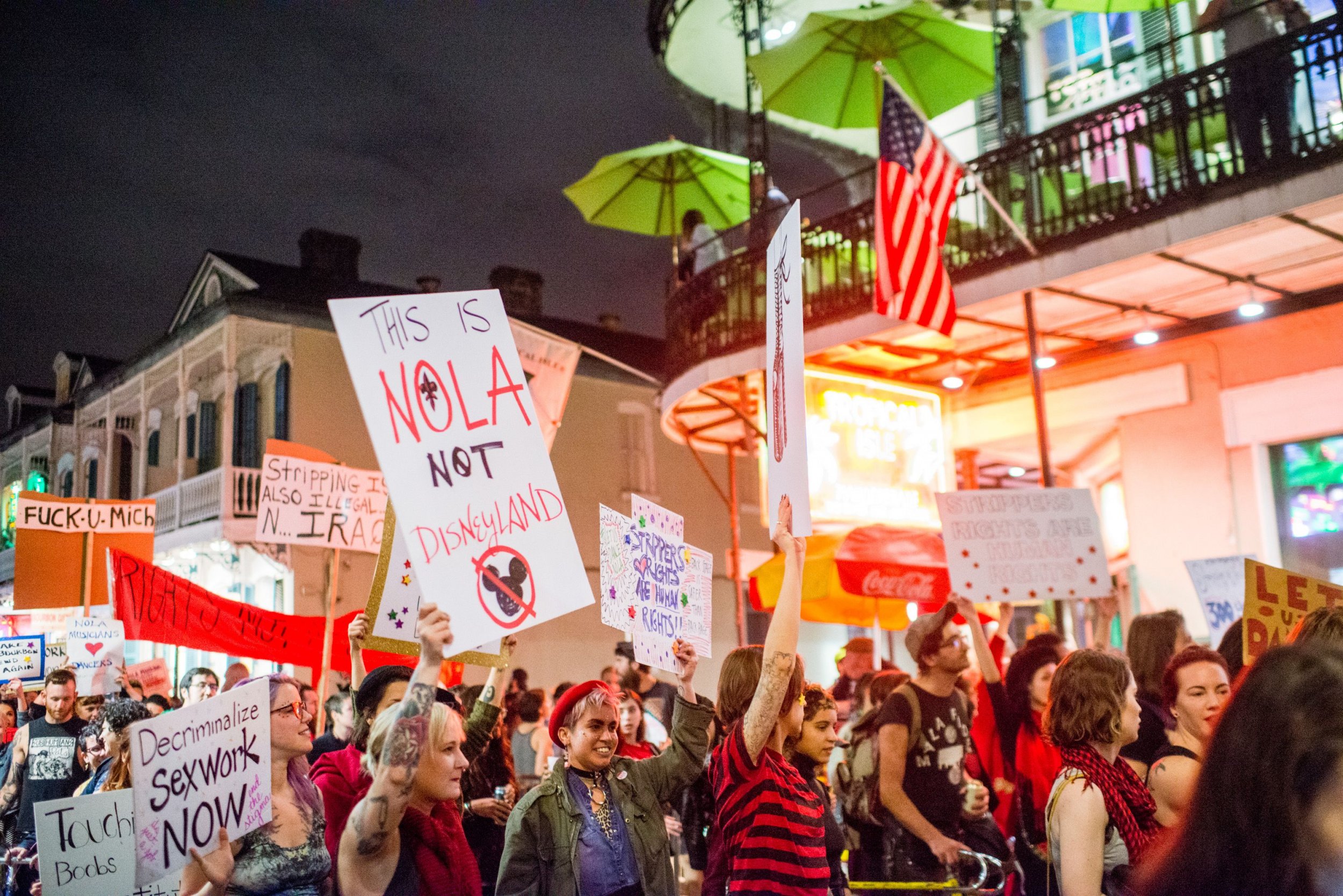 Strip club employees continued protests through the French Quarter of New Orleans Thursday in response to recent police raids on Bourbon Street that have led to several club shutdowns in the area.
The protesters held signs bearing slogans in support of jobs in the clubs and shouting: "My body is not illegal" and "Strippers' rights are human rights."
After raids last week by the state Office of Alcohol and Tobacco Control, along with the New Orleans Police Department, authorities took away liquor licenses for eight clubs in the nightclub district just as Carnival season was gearing up.
During the raids, officials said they found more than 70 violations including evidence of prostitution, drug use and "lewd acts" giving them reason to suspend their liquor licenses, according to WGNO.
While some of the clubs have since reopened, the protesters say the raids have left some without jobs.
"We are protesting because they are trying to shut down most of the clubs on Bourbon Street to make it some kind of Disneyland-cruise ship port," a dancer named Emily Hernandez told AFP.
Some dancers say that the raid left them feeling unsafe. One dancer named Ruby told the The New Orleans Advocate that during the raid police officers read out the real names of the strippers in front of customers and made the women undress in front of male officers. The raids have forced some of the strippers to look for work in other cities.
"If the city wants to keep us safe, they should let us work in New Orleans where we know the rules and know we'll be safe," Ruby said.
Strippers took over a city news conference on Wednesday to protest about how the raids have cost them work. Protesters told the Advocate they thought the raids were designed to give the city a more family-friendly look to help support New Orleans Mayor Mitch Landrieu's political career.
The shutdowns come just tourists were starting to flood in for Mardi Gras season, a busy time for the local strip clubs. About 1.4 million tourists attend Mardi Gras celebrations in New Orleans.