Strong Winds May Force SoCal Power Company to Cut Power to Thousands Ahead of Thanksgiving
Strong wind speeds may force a Southern California power company to cut power for hundreds of customers ahead of Thanksgiving.
On Tuesday, the National Weather Service in Los Angeles issued a "RED FLAG WARNING" due to "gusty #SantaAnaWinds of 40-60 mph and very low humidities of 2-8 percent."
"Now is the time to activate your emergency plan in case of evacuations during a fast-moving #wildfire, even at night," the weather agency said in a tweet.
Another tweet from the weather service said that strong Santa Ana winds, combined with dry air, will create "critical fire weather across much of Los Angeles & Ventura Counties Wed thru Fri."
According to the tweet, peak wind speeds of 60 to 70 miles per hour are expected.
The National Weather Service Storm Prediction Center also warned Southern California residents that critical fire weather is expected on Wednesday and Thursday. "These conditions may persist into Friday (11/26). Strong winds (and stronger gusts) will combine with low humidity to promote rapid fire growth," the center said on Twitter.
In response to the critical fire weather conditions, Southern California Edison alerted residents that they may issue a "Public Safety Power Shutoff," in an effort to "prevent our electric system from becoming the source of ignition."
While Southern California Edison has not yet cut power to any customers, they noted that 151,253 customers are currently under a power shutoff consideration. Among the power company's five million customers, this accounts for approximately 3 percent.
The counties listed under the power shutoff consideration include Kern, Los Angeles, Orange, Riverside, San Bernardino and Ventura.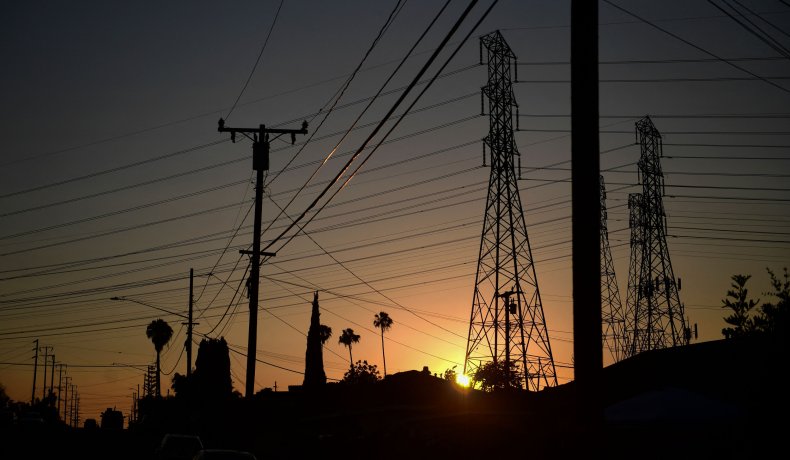 David Song, a spokesperson for Southern California Edison, told Newsweek that "we're expecting wind gusts hitting 60 to 70 miles per hour in some parts of our service area."
"Obviously we can't control the timing of Mother Nature but it is rather ill-timed and that's not lost on us. The hardship of having these events during Thanksgiving, especially as people are vaccinated, have booster shots, they may be seeing some of their family members for the first time in a couple of years and we're mindful of that," Song said.
"We're gonna do our best to make sure that we keep them safe both from any threat of wildfires but also be mindful of these situations," he continued. "It's never something we take lightly, regardless of what time of the year it is, to turn power off, and we can assure our customers that, as we always do, we're gonna take this as a huge obligation we have to make sure that we're keeping them safe."
Song added that while Southern California Edison has done extensive work to strengthen its power grid in the area, the forecasted wind speeds pose "a huge wildfire risk."
San Diego Gas & Electric (SDG&E) also announced that hundreds of customers were under a power shutoff consideration due to the high wind speeds and critical fire weather. Over 42,000 customers are currently under power shutoff consideration, across numerous different communities, according to the SDG&E website.
"We know it is always inconvenient to be out of power, especially around the holidays. However, nothing is more important than the safety of the communities we serve. Today we notified approximately 43,000 customers that they could be impacted by Public Safety Power Shutoffs over the Thanksgiving weekend," SDG&E said in a statement.
The company's chief safety officer and senior vice president, electric operations, Kevin Geraghty, said, "All of us at SDG&E are hoping that critical fire weather conditions do not result in having to shut off power over Thanksgiving so that our customers and employees can enjoy the holiday with their loved ones."