Paris Burns as French Protests Continue Into Third Weekend
Anti-government riots broke out Saturday in central Paris as "yellow vest" protests enter a third weekend.
Protesters gathered near the Champs-Elysees, hurling rocks and paint at riot police – who then responded with tear gas and water cannons.
Around 36,000 protestors participated in this weekend's demonstration across the country, according to the French Prime Minister. Though the riots originated from the dissatisfaction with President Emmanuel Macron's gas tax, it has now morphed into a broad distaste with the French government.
So far, 160 people were arrested and 80 people injured, including some officers deployed to the protests.
Structures have been set ablaze and cars overturned; however, despite the growing violence, protesters insist the movement is peaceful.
"It's a mess because we don't have a leader," Dan Lodi, a 68-year-old pensioner, told the AFP news agency. "You always have some idiots who come to fight, but they don't represent us at all."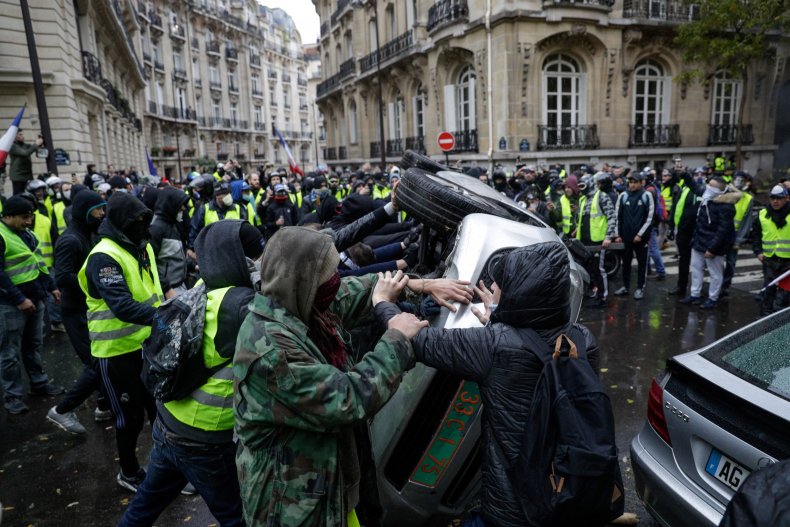 Interior Minister Christophe Castaner tweeted during the riots, saying "200 peaceful demonstrators on the Champs-Élysées," while there were 1,500 outside the perimeter who "came to fight."
Castaner followed up with a tweet calling the riots "intolerable."
"The scenes we witnessed this morning are intolerable. The will shown and assumed to attack our forces of order, the symbols of our country, are an insult to the Republic. Support and confidence in the mobilized staff," he tweeted.
President Macron made a speech on Tuesday saying he will not abandon his controversial gas tax but is open to ideas of revision, according to a BBC report.
"I am not confusing the rioters with citizens who want to convey a message," Macron said. "I sympathize with my fellow citizens, but I will not give in to violence."
"You cannot be pro-environment on Monday and then when Tuesday comes, be against rising fuel prices," he added.