Stuart Scheller to Forfeit Only One Month of $5,000 Pay After Judge Weighs Marine's Record
Lieutenant Colonel Stuart Scheller, the Marine who posted videos online criticizing the withdrawal of U.S. troops from Afghanistan, has been ordered to forfeit $5,000 worth of pay for one month and also issued a letter of reprimand.
The punishment was much less than what was recommended by the prosecution, who asked that Scheller forfeit $5,000 of pay for six months and a letter of reprimand.
As per the plea agreement, the maximum penalty Scheller faced was capped at a forfeiture of two-thirds of his monthly pay for 12 months and a letter of reprimand.
The judge, Marine Colonel Glen Hines, said while he does not condone Scheller's offenses, the 17-year Marine had an outstanding record prior to the social media incident—a record Hines said he weighed heavily.
On Friday, Hines said that he would have handed out a two-month forfeiture of pay had Scheller not been required to spend nine days in pre-trial confinement after he was charged.
Scheller pleaded guilty to all six misdemeanor-level charges on Thursday.
The charges included contempt, disrespect, disobedience, dereliction in the performance of his duties, and conduct unbecoming an officer and a gentleman.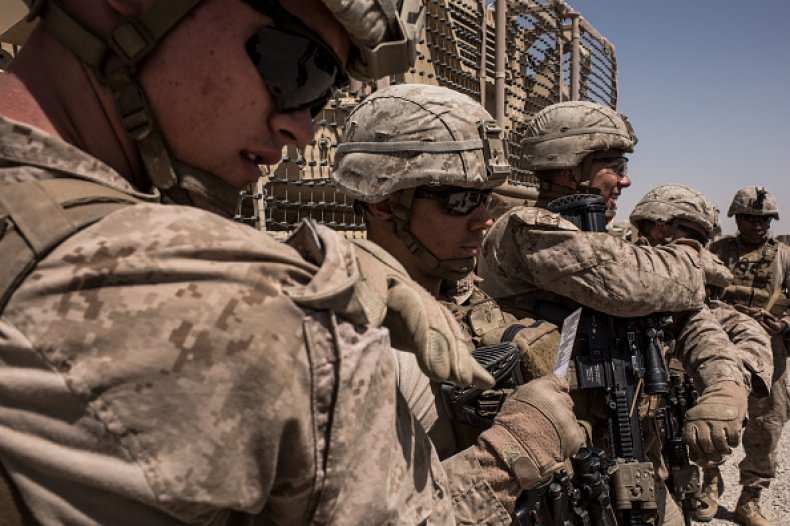 Scheller was relieved of his command back in August after he posted videos to Facebook and LinkedIn criticizing the chaotic withdrawal from Afghanistan— including the bombing at Hamid Karzai International Airport that killed 13 U.S. service members and 170 Afghans—and demanding that Pentagon officials take accountability.
"Did anyone raise their hand and say, 'We completely messed this up?'" Scheller said in one video. "I'm not saying we can take back what has been done. All I asked for was accountability, for people to comment on what I said and to say, 'Yes. Mistakes were made.' And had they done that I would've gone back into rank and file, submitted, and accomplished what I wanted."
In an unsworn statement during his sentencing hearing from Camp Lejeune in North Carolina, Scheller doubled down on his calls for leadership to acknowledge their shortfalls in the evacuations.
"If the leaders of the military actually cared about service members, and their sacrifices, all the current and previous senior leaders would engage in public discussions about the shortfalls in their decision making," Scheller told Hines. "Senior leaders accepting accountability would heal more service members than any other initiative. The junior service members deserve that from their leadership."
"I am being held accountable for my actions. The General officers should be held accountable for their failures," he said.
Scheller has already submitted his resignation from his commission. It is yet to be decided by the secretary of the Navy as to whether his separation from the Marines would be characterized as an honorable discharge or as a general discharge under honorable conditions.