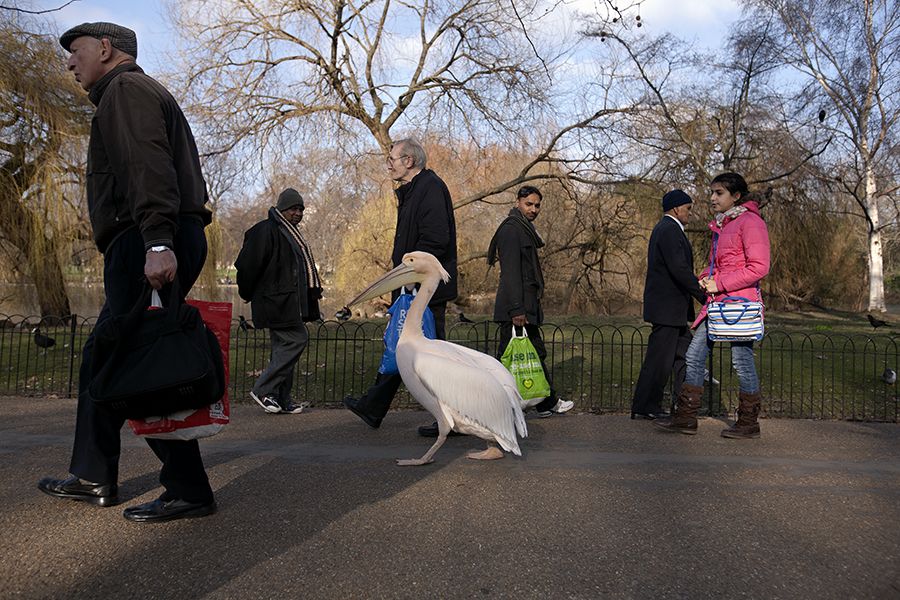 "A friend of mine was in this traffic jam," Judy Irving recalls. "She said, 'You'll never guess why I was held up on the bridge.'" It's not unusual for traffic to come to a stop on San Francisco's Golden Gate Bridge: There's the ever-more-L.A.-like traffic, the occasional protest or suicide jumper. But in this case it was a pelican that stopped the show and Irving knew she had her next movie.
Ever since the success of 2005's Wild Parrots of Telegraph Hill, the Bay Area documentarian has been looking for another subject. "Actually I started shooting pelicans in '98 before these friends told me I had to make a film about this guy who fed the parrots," she says. (That project, and to some extent that guy, Mark Bittner, took over her life: The two married and he now works with her, recording sound and schlepping gear; and the film, an art-house hit, spawned a book and a DVD and brought countless tourists to the city in search of parrot flocks.)
Her pelican jones goes back to childhood in Florida. She related physically (she's tall and kind of gangly) and was drawn to the mystery of these awkward looking seabirds that can still make a high-altitude plunge that would make an Olympic diver proud. "I did feel it was a good opening," she says of getting that call in 2008. "It's on the Golden Gate Bridge, it's iconic, it's dramatic, it's funny... I didn't know where it was going to go, but I had my beginning."
The dislocation of this ancient species (caused in part by climate change, greater competition for resources among animals and human encroachment on wildlife habitat) is a recurring theme in Pelican Dreams, which opens nationally November 7. The bird that stopped traffic that day (Irving named her Gigi, after the bridge) was young, three-to-four months old, and had probably become disoriented looking for food. "There either weren't enough fish in the ocean or she had not learned to do that great dive," says Irving. "And that dive is hard to learn."
Irving made a few calls and traced Gigi to International Bird Rescue in Fairfield, California, one of several wildlife rehabilitation facilities the director visited. It is the relationship between the people and the animals they are trying to serve that binds her narrative, a strong thread of compassion and respect. "There's that paradox in the life of any wildlife rehabilitator," says Irving. "It's an interesting kind of underground railroad for animals that I knew very little about before I started this movie. And now I have so much respect for wildlife rehabilitators, most of whom are volunteers. It's just an incredible service they give to wildlife who are running into all kinds of problems, mainly from us."
Many of the pelicans that end up in rehab have been wounded by fishing line, or while trying to eat bait on hooks or choking on discarded fish heads. "Pelicans are kind of goofy in a way," Irving says. "They'll go after a big tuna head and get it caught in their throat then they can't fish and starve." A bird she calls Morro (after Morro Bay where he was found) has a wounded wing and can't be released into the wild, as Gigi (spoiler alert!) eventually is. He's left to live out a hybrid existence, not exactly wild and not exactly free. "This one particular pelican I have a personal relationship with, as does my wife," says one of caretakers in the movie. "And it does grow over time. The thought of him leaving our home creates a sadness in me."
Nature films were not what the 67-year-old director set out to do. After stints of freelance writing and still photography she was drawn to movies and attended Stanford's documentary film program in the 1970s. "I came to filmmaking kind of wanting to save the world," she says. "I was interested in environmental issues, not strictly nature filmmaking." Her first theatrically distributed documentary was Dark Circle (1982), about the connections between the nuclear power industry and nuclear weapons. "I wanted to get away from nuclear nightmares I was having" after that, she says, and began making shorter films focusing on the wildlife of the Bay Area. "Then the parrot movie kind of catapulted me out of the trenches—it was the first film I ever made that did really well. That was a joy."
She recalls watching her grandfather feed the birds when she was a child and says simply, "Time stopped." The Bittner we meet in Wild Parrots seems to have all the time in the world; when the movie was made he had been in San Francisco for 26 years with no visible means of support; aside from being a musician, he confesses, "I never had the idea of a career." It was while house sitting on the Greenwich Steps, an offbeat back door to one of the city's more storied neighborhoods, that he became interested in the wild parrots: Where had they come from? How did they live?
And then he read an interview with Beat poet Gary Snyder who said, "If you want to find nature, start right where you are." That could be his wife's motto too and in today's tech hub the couple seem almost quaint, yet enduring. "There is this still this mystery" about pelicans at the end of the film, says Irving. While some of their aberrant behavior is probably due to fish depletion (young pelicans have been filmed attacking nesting murres for the fish they feed their young—sometimes even eating the chicks themselves) no one can say with certainty why they're turning up in the strangest places. Shopping malls. City streets. On the back of a pizza truck.
"You can't know everything about their lives and they are indifferent to us," Irving says. "And I don't mind that either. It's nice to know they're flying along the coast; they have their own lives, they have their own concerns and I just have so much respect for them. They're so resilient and they've seen so much."