Student Absent 140 Days Received Passing Grades for Classes He Never Took
A mother of a Baltimore, Maryland-area student was recently surprised when she found out her son passed multiple classes after missing his first 140 days of school.
An investigation conducted by WBFF in Baltimore reportedly uncovered a strange situation at ConneXions, a community-based and arts-focused charter school part of Baltimore City Public Schools (BCPS).
Qwantay Spearman, a junior at ConneXions with physical disabilities, received a report card with passing grades after missing the first 140 days of school.
"I wasn't even expecting to get a report card," Latasha Phillips told WBFF. "There's nothing to put on one."
Her son reportedly passed five classes, including modern world history, Spanish and physics—the latter of which he earned a B-minus grade. But Spearman told WBFF that he never took physics or knew a teacher identified as "S. Brooks" on his report card.
Sidney Brooks is listed as a school leader at ConneXions, according to the school's website.
The report card also said Spearman passed Algebra II with a "D" grade, which included comments that Spearman was a "pleasure to teach" with his "quality of work improving." He never took that class, though.
"He shouldn't have any grades on there because he has not been to school," Phillips said of her son who was marked present for 33 1/2 days in the first semester.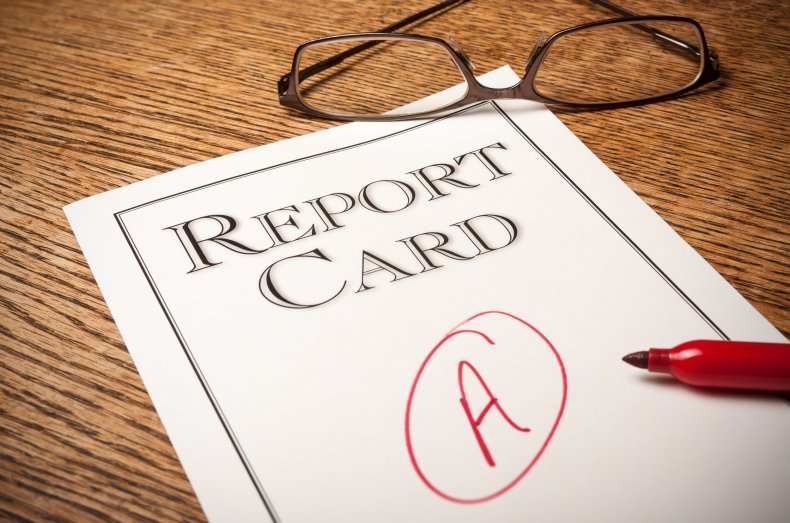 WBFF reported that Spearman's federally-mandated Individualized Education Program (IEP) confirmed that Spearman was unable to attend school in person this school year due to BCPS' lack of nurses, adding that "ConneXions is currently not able to provide a complete virtual learning program."
Andre Riley, executive director of communications for BCPS, told Newsweek he could not clarify the referenced IEP's remarks due to the Family Educational Rights and Privacy Act.
However, he said that Spearman was among a group of students who did not have access to private-duty nurses due to a national nurse shortage involving organizations like the American Nurses Association and American Hospital Association.
The National Library of Medicine cited U.S. Bureau of Labor statistics projecting that over 275,000 additional nurses are needed from 2020 to 2030, with employment opportunities expected to grow at a faster rate through 2016 than all other occupations.
"The nursing profession continues to face shortages due to a lack of potential educators, high turnover and inequitable workforce distribution," with some reasoning including employee burnout, an aging population requiring more services, and an aging workforce.
Riley rebuked the WBFF report, which alleged that Spearman and his family were not offered learning options like virtual learning—going as far as to call the WBFF report "sensationalized."
"This particular family was offered an option like those others," Riley said. "The other families took those options, they applied for either home or hospital and received virtual learning services. They had uninterrupted learning. This family opted not to do that and participate in virtual learning options."
Riley said that as of April 23, only 23 out of about 7,700 district students needed a private-duty nurse. Of those 23 students, 20 received educational services like in-person or virtual learning.
Phillips declined to comment when reached by Newsweek.
"Beginning in August 2021, special education staff at ConneXions reached out to the family in this story to develop a specially-designed virtual learning plan that would have prevented missed instructional time," a statement released by the BCPS read. "During the fall, City Schools also offered the family home and hospital services in place of a private duty nurse. The family opted not to proceed with those options until January when the family accepted a virtual instruction and tutoring plan."
The statement added that "ConneXions violated City Schools' policies on attendance and grading for this student during the first semester" and that situations like the one involving Spearman did not occur between 2017 and 2021.
"This is an unusual situation and the school inherently made some bad choices and they did not want to penalize the student for something he absolutely could not control," Riley said. "They entered data and grading contrary to district policy and they're being held accountable."
Riley added that ConneXions administrators' actions involved "nothing malicious or trying to subvert the rules," adding that there will be accountability in forms like reprimands, progressive discipline or applying disciplinary outcomes.
Some cases have already been dealt with, Riley added, but he would not comment further.
Supplementary education services are being provided to Spearman "to get him back on track," he said, including offering credit recovery, tutoring and other services.
"We're disappointed that it happened but we're taking steps to resolve it," Riley said. "Most importantly we're happy the young man is back in school."