Student Brings Gun to Washington Elementary School, Shows Classmates
An elementary school student in Washington state reportedly brought a gun to school and showed it to classmates a day before a deadly mass shooting at an elementary school in Texas.
The student reportedly brought the firearm to Sunset Elementary School in Airway Heights, Washington, in a backpack on Monday, The Spokesman-Review reported, citing an email sent to parents from the school's principal.
In the email, Principal Kimberly Montecucco wrote that the gun had been shown to a student on the bus and to several others on the school's grounds.
Two students told an adult and the firearm was confiscated, according to the email.
Montecucco said school staff acted quickly to address the incident and contacted law enforcement.
"While today's incident did not result in injury, it is a very serious and unsettling issue that we as a school and a community must address," Montecucco wrote.
She asked that parents and guardians to urge children to find an adult immediately if they see or hear of anything unsafe on school premises.
Newsweek reached out to the school for comment.
The incident came the day before an 18-year-old gunman killed 19 children and two teachers at Robb Elementary School in Uvalde, Texas—the deadliest school shooting at a U.S. school since the massacre at Sandy Hook Elementary in Newtown, Connecticut, in 2012.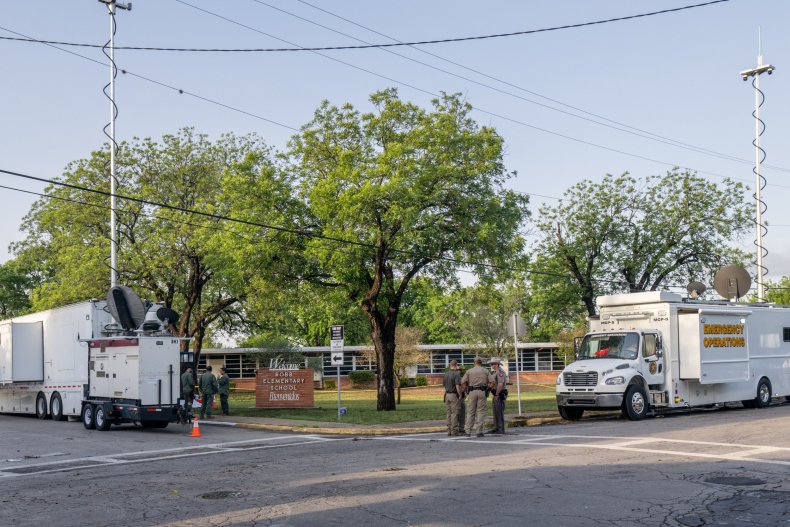 Authorities have not disclosed a motive, but identified the shooter as Salvador Ramos, a resident of Uvalde.
Ramos reportedly killed all 21 victims after barricading himself inside one fourth-grade classroom before law enforcement eventually broke in and killed him, Lieutenant Christopher Olivarez of the Texas Department of Public Safety said.
The shooter "barricaded himself by locking the door and just started shooting children and teachers that were inside that classroom," he said on CNN. "It just shows you the complete evil of the shooter."
In a solemn address to the nation from the Roosevelt Room of the White House hours after the shooting, President Joe Biden pleaded for action to address gun violence and blamed gun manufacturers and their allies for blocking legislation.
"As a nation we have to ask: When in God's name are we going to stand up to the gun lobby? When in God's name are we going to do what has to be done?" Biden said. "I am sick and tired of it. We have to act. And don't tell me we can't have an impact on this carnage."