Student Charged with Making 'Terrorist Threats' After Claiming Online He'd 'Shoot Up the School'
A 14-year-old high school student in Mississippi has been charged with making "terrorist threats on social media" after he posted a message online claiming that he would shoot up his school.
The unidentified boy attends St. Martin High School in Jackson County and was arrested by police on Saturday, after he made the threatening post on Friday evening, local new station NBC 15 reported. Posting to social media, the boy reportedly threatened that he'd "shoot up the school Monday."
A message the school sent to parents explained that administrators were the ones who notified police about the threat.
"Last night I was alerted of a threat made against SMHS via social media. As always, the threat was taken very seriously and law enforcement became involved. The person making the threat is now in police custody being charged with a felony. As of July 1, the state of MS considers such threats against schools as a terroristic threat," the note said, according to local news channel WLOX 13.
"Although it saddens us that a poor decision could have such a serious impact on a young person's life, such statements written or uttered WILL NOT be tolerated. School safety above everything else is our NUMBER ONE priority," the school official explained.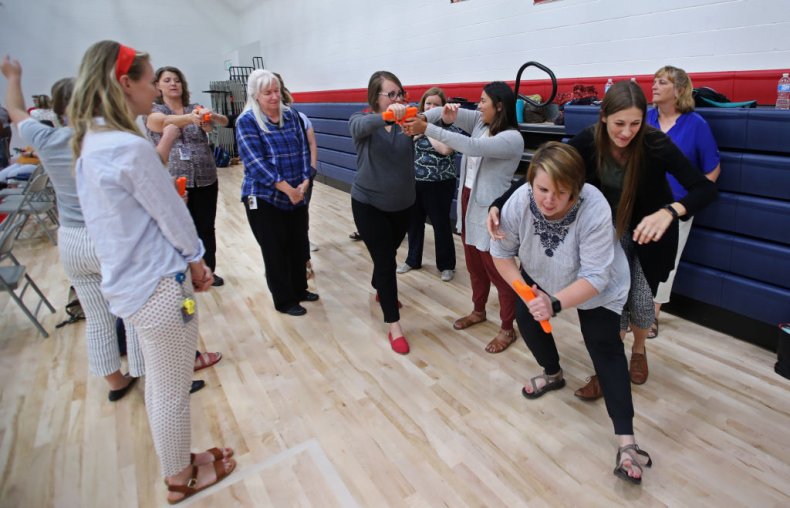 Jackson County Sheriff Mike Ezell said that the boy was quickly identified by officers and detained. As he is a minor, his identity has not been revealed. Authorities are currently holding him at the Jackson County Youth Detention Center.
Schools across the country are constantly on high alert over the possibility of a shooter carrying out an attack. The frequency of shootings at schools across the country has increased over the past two decades at an alarming rate, with lawmakers in Washington regularly calling for steps to be taken to address the problem but rarely acting.
Beyond schools, the number of mass shootings has also become a growing concern to the broader American public. Devastating shootings have been carried out at cinemas, shopping centers, churches, synagogues, concert venues and university campuses over the past few years. As of September 1, there had already been 283 mass shootings in the U.S. in 2019, despite only 244 days of the year having passed. A mass shooting is classified as an attack where at least four people are shot.
Recent attacks that occurred less than 24 hours apart in Texas and Ohio leaving more than 30 people dead drew significant national attention once last month. President Donald Trump suggested that he was in favor of tightening background checks for people who purchase guns as well as taking other more serious steps to address the national epidemic of gun violence. However, after meeting with representatives of the National Rifle Association (NRA) he stepped back from his suggestion and no meaningful reforms have moved forward.