Will Forgiving Student Debt Help the Economy? NABE Economists Say No, Poll Finds
While student debt has allegedly kept people from purchasing homes, saving for retirement and even getting married, business economists aren't entirely convinced forgiving it would be a positive move for the economy.
An estimated 45 million people in the United States collectively hold about $1.6 trillion in student loans. In an attempt to help ease the financial burden of higher education, legislators at both the state and federal level have also pushed for legislative changes to tackle the cost of college.
As the presidential campaign season inches toward Election Day, the cost of higher education has been a topic of conversation for several candidates. During CNN's debate in July, Democratic candidates weighed in on how they would solve the problem.
Senator Bernie Sanders stood by his plan, which took student debt forgiveness a step farther than Senator Elizabeth Warren's plan by wiping out all $1.6 trillion worth of loans.
Warren also remained firm in her position for forgiving student debt, although, she said it should be done on an income-based scale. The senator previously called student debt a "drag on our entire economy," noting that student loan payments have prevented people from engaging in other economic activities, such as buying a home.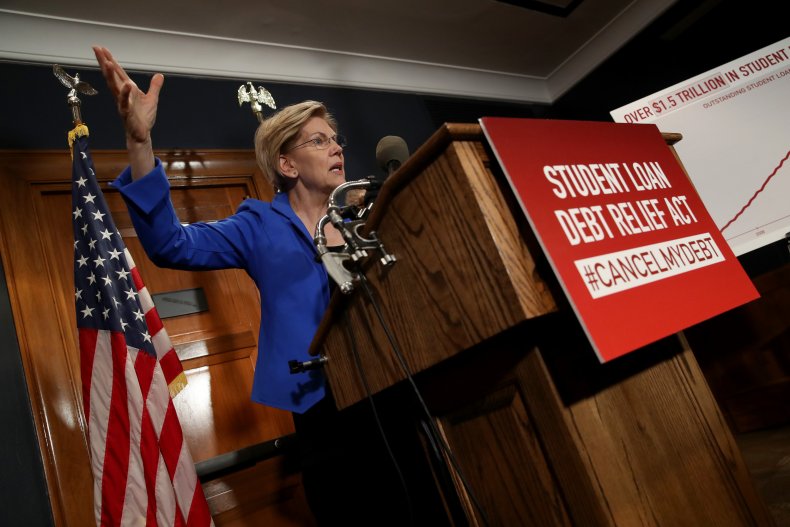 However, a recent survey found that the majority of members of the National Association of Business Economics (NABE) disagreed with Warren's conclusion that forgiving student debt would boost the economy.
Released on Monday, NABE's recent survey polled 226 of its members to gain their opinions on the future of America's financial state and how various events could impact it.
Of those surveyed, 64 percent responded that forgiving most or all student debt in the United States would be a net negative for the economy. Only about one-fifth of panelists thought it would be positive for the economy.
During CNN's debate, South Bend, Indiana, Mayor Pete Buttigieg explained he couldn't support Senator Bernie Sanders' plan to eliminate student debt entirely. While it would be "great" for those who qualified, Buttigieg, who, along with his husband Chasten Glezman, is paying off loans, said there would be an entire group of people coming in behind them that weren't as lucky. Instead, he advocated for debt-free college for low and middle-income students via the expansion of Pell grants.
Similarly to other proposed policies, not everyone shares the same opinion and a 2018 report found debt forgiveness would have the opposite effect. Released by the Levy Economics Institute of Bard College, its authors concluded that canceling student debt would have a "meaningful stimulus effect."
The National Bureau of Economic Research also came to a similar conclusion. Its study, released in June, stated that after borrowers who were given debt relief experienced increased geographic mobility and income.
If students didn't have loan payments after graduation, a College Pulse poll found they would spend that money predominately on rent and living expenses and savings. Luxury items, such as travel and entertainment, were toward the bottom of the list at eight percent and five percent respectively.
In the future, students polled said the amount they owe for student loans would be a major factor in deciding which job they took after graduation, when they bought a house and where they would live.
This article has been updated to further clarify that Mayor Pete Buttigieg's husband also has student loans that the couple is paying off.