Student Fights Vandalism Charge for Ripping Up Anti-Semitic Protestor's Swastika Sign
Grae Hosmanek, a junior at the University of Wisconsin-Milwaukee, was arrested and charged with vandalism for ripping up the sign of a protestor who allegedly yelled "gas the Jews" while holding a Nazi sign featuring a swastika at a student-led event in May. Now she's fighting the charge, saying it's not fair, "...considering the offender is walking free."
The event was being held to commemorate the 71st anniversary of the founding of Israel. Hosmanek, who was not attending the event, passed protestors of the event on her way to the school's library. She told WTMJ radio in Wisconsin she was confused by the lack of police response to the protestors, especially the individual holding the swastika sign.
"It made me upset (to see the swastika)," Hosmanek said to WTMJ on Wednesday. "I told my friends I was going to take the sign. The minute he put it down, I walked over, grabbed it, and ran. It sounded like I scored a 3-pointer at the buzzer. Everyone went crazy. I began to tear it up and that's when I was arrested."
"He was saying things like, 'Gas the Jews'," Hosmanek told Milwaukee's Fox 6 News.
She could have been charged with multiple citations, but officers, sympathetic to her response, charged her with the lesser violation of vandalism.
"We decided, let's change the ticket to vandalism because that would look better on her record, and additionally it would be $200 less of a forfeiture amount that she would have to pay if found guilty," Chief Joseph LeMire of the UWM Police Department told Yahoo News.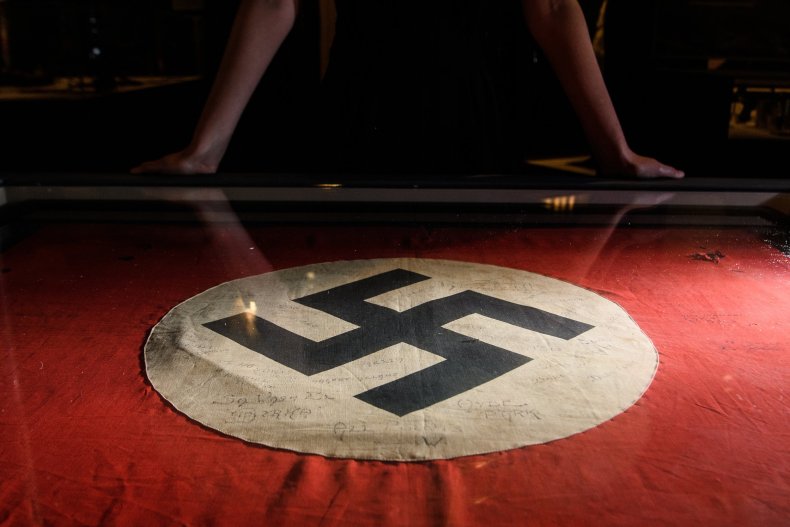 The protestor, a student no longer enrolled in the school identified as Chris to local reporters, said he only held the sign to get people talking.
"I just wanted to spark the conversation," Chris told Fox 6 News. "I knew that was the best way to get attention. It had nothing to do with actually wanting to offend people."
Chief LeMire said the situation was a balance between respecting free speech and preventing the instigation of violence. He says he spoke with the protestor and indicated that the intent of the protestor wasn't violence. "I don't think he understood what [the swastika] symbolizes," Chief LeMire said to WTMJ.
"People still have their right of free speech, even if that speech is not desirable, or it's speech that personally I would condemn myself," Chief LeMire told Fox 6 News.
But Hosmanek says that's not what the police did. She says the protestor's choice of words were threatening and that's when the police should have stepped in.
"They weren't taking care of it," Hosmanek told Fox 6. "I mean no disrespect by that. The minute that you start threatening somebody, or saying in some way that you want to cause somebody harm, that is no longer OK."
Now Hosmanek is fighting the charge. She's made three court appearances since her arrest, with another hearing scheduled for September 27. She intends to plead not guilty.
"I refuse to accept the charge even though I was offered a $1 plea deal," she told WTMJ. "I don't want this on my record...I don't feel this [citation] is right, considering the offender is walking free."
Video of the altercation hasn't been released yet because of Hosmanek's pending court appearance. Images of the protestor and altercation were posted to social media.