College Student Banned From Campus Says Shooting Threats Were Just a Joke
A teenage student was arrested and banned from his university after "joking" online in a series of posts that made it appear he was threatening a mass shooting on campus.
Tenuun Enkhbat, 18, is accused of writing: "We bouta have a shootout," adding: "I got glocks on deck!"
The posts, written on an anonymous social media platform called Yik Yak on Sunday night, sparked fear at the University of Hartford, in West Hartford, Connecticut.
A fellow student reported the posts to university officials, who contacted Hartford Police—and detectives then scrambled to try to identify the student responsible.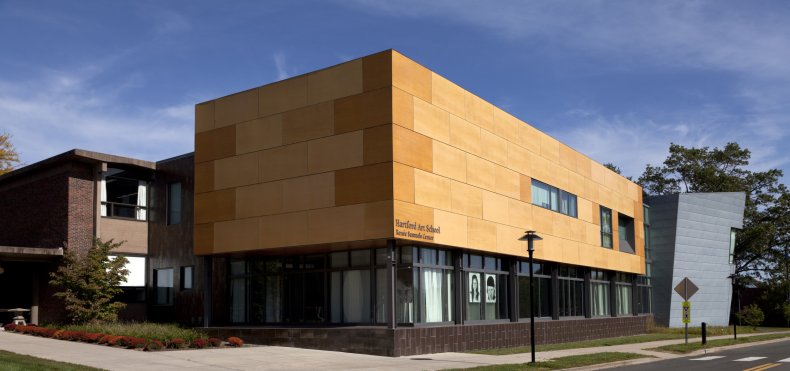 Sgt. Chris Mastroianni told Eyewitness News 3: "We were able to do an emergency disclosure to that company and try to get some subscriber info to who the poster was. We did receive a response from the company of a phone number and some GPS location."
Officials traced the phone to Enkhbat, who is from Virginia, according to NBC, while the phone was in use on campus.
Enkhbat was subsequently arrested on suspicion of threatening in the first degree.
Police also searched the campus for firearms, but didn't find any weapons. It was determined there was no threat to the university, where classes have continued as usual this week.
According to court documents: "He [Enkhbat] has heard other students on campus talk like that so he did the same as a joke. Enkhbat stated that he believes it went too far and was apologetic for the distress it caused."
Mastroianni warned students that such jokes are "not going to be tolerated," adding: "We are going to treat these [threats] all the same, whether you think you're joking around or not; if there's certain language, certain dialogue, that occurs, we're going to take it seriously and we're going to arrest you for that."
Enkhbat appeared in court on Monday, where his public defender, Sean Crowshaw, pointed out that his client had no criminal history and added: "He has no intention of hurting anybody, it was just a joke that was poorly timed and ill-considered." Enkhbat nodded vigorously beside him.
His bond was set at $150,000 and he will next appear in court on March 6.
Molly Polk, the university's vice president for marketing and enrollment, told Newsweek: "The student was arrested without incident and has been banned from campus pending conduct proceedings. The student conduct hearing process includes a hearing with a hearing officer and an advisor for the student, as well as an opportunity to appeal. If a student is found to be responsible for the alleged conduct, they may face educational and punitive sanctions. This includes a potential change in enrollment status for serious violations. It's unclear at this time when aspects of this process will take place for this case, as it will depend on legal proceedings.
"The University is appreciative of the students who brought the social media posts to the attention of campus authorities, and grateful for the swift and thorough actions taken by campus and local officers... The student has told authorities the posts were made in a joking manner. The University and Hartford Police Department have emphasized that this criminal behavior will not be tolerated, whether it is intended as a joke or not."
It isn't the first time a joke has backfired.
Back in 2021, police arrested a 58-year-old woman in Wichita, Kansas, after she faked being shot as an April Fools' telephone prank on her daughter. The stunt prompted an emergency response. Police—brandishing their guns and using protective shields—broke down the door to her home, only to discover she wasn't there because she was safe and well at work.
And last year, a man who quit his job on a Friday-falling April Fools' Day as a joke learned that he had been fired when he tried to return to work the following Monday. Footage of his awkward encounter with his boss went viral.
While a British beer firm was blasted after an April Fools marketing stunt fell flat last year. The firm, Bier Company, emailed all its customers telling them they had won a lifetime of free beer, but when customers entered their bank details to claim the prize they discovered it wasn't real—instead, they had just inadvertently signed up for a monthly subscription costing £22.95 ($30).
Update 02/07/23, 11:54 a.m. ET: This article was updated with comment from Molly Polk.