Student Kayaks to School Amid School Bus Driver Shortage
The United States is grappling with a national school bus driver shortage, which has led to the need for creative solutions. A middle schooler in Colorado's Summit School District concocted a plan of his own to get to school.
In early September, Josh Smith decided to use a kayak he received for his birthday a few years ago as his method of transportation to go to school.
"At the beginning of the year, we didn't know if Josh was going to have a seat on the bus," his father Jason Smith told KDVR, a local Fox News affiliate station.
The station reported that Josh lives about 5 miles from school, but the shortest route is directly across a reservoir.
"The easy answer would have been no, let me just drive you to school, if you can't get on the bus, we'll drive you to school no problem," Jason told KDVR. "But I have a 12-year-old who wants to be adventurous, wants to do something none of his buddies would do, and how can I say no to that?"
Jason told Newsweek that Josh got an early start to that chilly morning. He arrived to class just a few minutes late.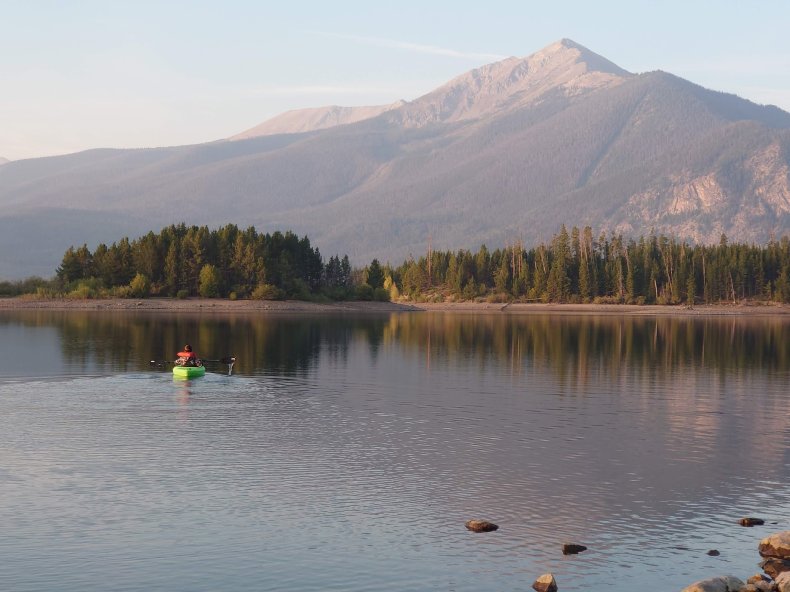 "He felt really accomplished," Jason said. "We could have driven him, but he wanted to do something different and something unique."
He continued and explained that Josh has an "adventurous spirit" and he didn't want him to lose it. As Josh ventured across the reservoir in his kayak, Jason said he kept tabs on him and followed him to school. He said that when he saw Josh's kayak on the beach near the school, he felt relieved.
It was a physically demanding journey, and Jason said that while the morning started off chilly, Josh worked up a sweat. His backpack and being fully dressed for school made the trip a little more challenging.
Though a difficult journey, Jason told Newsweek that Josh is comfortable in and on the water. Josh is a competitive swimmer and holds a Boy Scout merit badge in water safety.
Since his first kayak trip, Jason said Josh has a seat on the bus, but that didn't stop him from paddling across the reservoir to school a handful of other times. He said he hopes to make one last kayaking trip to close out the season before the cold weather moves in for good.
Though his kayak will be put away into storage until the weather gets warmer, Jason said Josh isn't finished with his adventurous treks to school just yet. He said Josh plans to Nordic ski across the reservoir once it is frozen over.
Jason said he was nervous to see Josh make the trip to school at first, but he said he is proud of him for accomplishing the journey.
As a dad, you want to be protective of your kid. But he has an adventurous spirit," Jason told Newsweek. "Some kids will talk about doing something cool and it doesn't go any further, but [Josh] doesn't let it go."