Fox News Mocks Student Loan Borrowers, Warns Taxpayers Will Be Forced to Pay 'Hundreds of Billions' in College Debt
Fox & Friends warned that the U.S. is close to "free college for all" Thursday in a segment ridiculing student loan borrowers and cautioning taxpayers they'll be "on the hook" for young Americans' desire to receive an education.
Co-host Steve Doocy was joined by Brian Brenberg, executive vice president and chair at New York's King's College, as the pair mocked student loan borrowers and warned that Americans will soon be forced to pay off "hundreds of billions of dollars" in other people's student loan defaults. The Thursday morning Fox News crew put out a segment, "Student Debt Threat," which claimed the mainstream media is trying to create a recession to make President Donald Trump look bad while ignoring the real economic crisis: student loan borrowing.
Doocy and Brenberg criticized "income-based repayment plans" for student loan borrowers, which allow graduates or others who pursued degrees to pay back their debt in amounts relative to the money they earn in jobs after graduation. The pair said most borrowers never actually pay back their full student loan debt—but taxpayers will.
"Another crisis is being ignored and that is the massive student loan debt that America's college students are running up and taxpayers could be on the hook," Doocy warned Fox & Friends viewers. [Video below starts at 10:29 mark].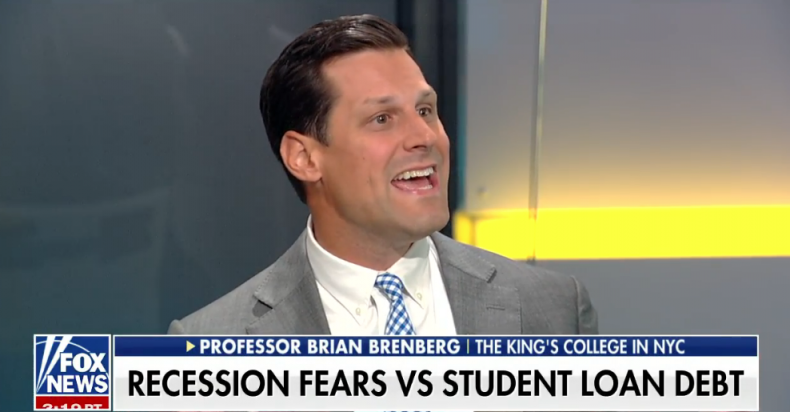 "Why are so many people defaulting and why are so many people with their student loans so far behind?" he asked Brenberg, who has an MBA from Harvard Business School and an MPA from Harvard Kennedy School -- degrees which cost in excess of $70,000 each.
"We've got this weird dynamic in the United States where the federal government has been pushing students into college education because we've always thought of it as the road to success," Brenberg said.
"But what ends up happening here is students are getting degrees they don't need for the jobs they have and the jobs they have aren't paying enough to pay for those degrees and what happens is they can't pay for those student loans."
Brenberg said the government used to project loans as a benefit to the U.S. economy but is now telling taxpayers they are "on the hook for hundreds of billions of dollars."
The duo cited a Congressional Budget Office (CBO) report this year which claimed taxpayers will likely have to pay $300 billion over the next ten years to account for overdue student loan payments. Doocy cautioned that "a lot of people are paying back 1 percent a year which would take 100 years to pay back."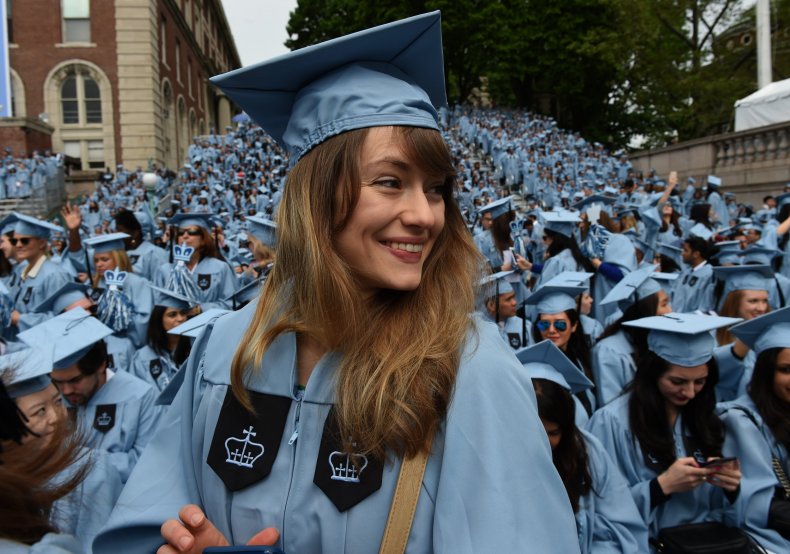 Brenberg agreed, blasting borrowers who pay back their education debts in payment plans relative to the income they make after earning their degree. "And with this income-based repayment, after 20 years if you stayed current at least with those minimum payments, that is wiped away," he added. "Which means you never pay it, but taxpayers absorb the cost. So people who have never been to college, who have never participated in this, end up paying for these college educations that don't give you a job that don't give you enough money to pay for the [loans]."
"So we're pretty close for free college for all?" Doocy asked.
Several 2020 Democratic presidential candidates have proposed wiping student loan debt as a means of boosting the economy and allowing young people to relieve themselves of the more than $1.2 trillion in debt affecting more than 40 million student loan borrowers.
A Republican lawmaker, Tennessee Senator Lamar Alexander, has proposed "simplifying" student loan borrowing and proposed a plan which would hold universities accountable for the degrees they offer to students.
"This will end the nightmare of students worrying about 'how do I pay back my student debt.' And it will help make sure that taxpayers are made whole," Alexander said in a February pitch for his student loan plan. "All three of these proposals should help students afford college and make sure that the degree they earn is worth the time and money they pay for it."