A Student Loan Debt Game Show Is Silly, But Host Michael Torpey Sees Its Humor as Helpful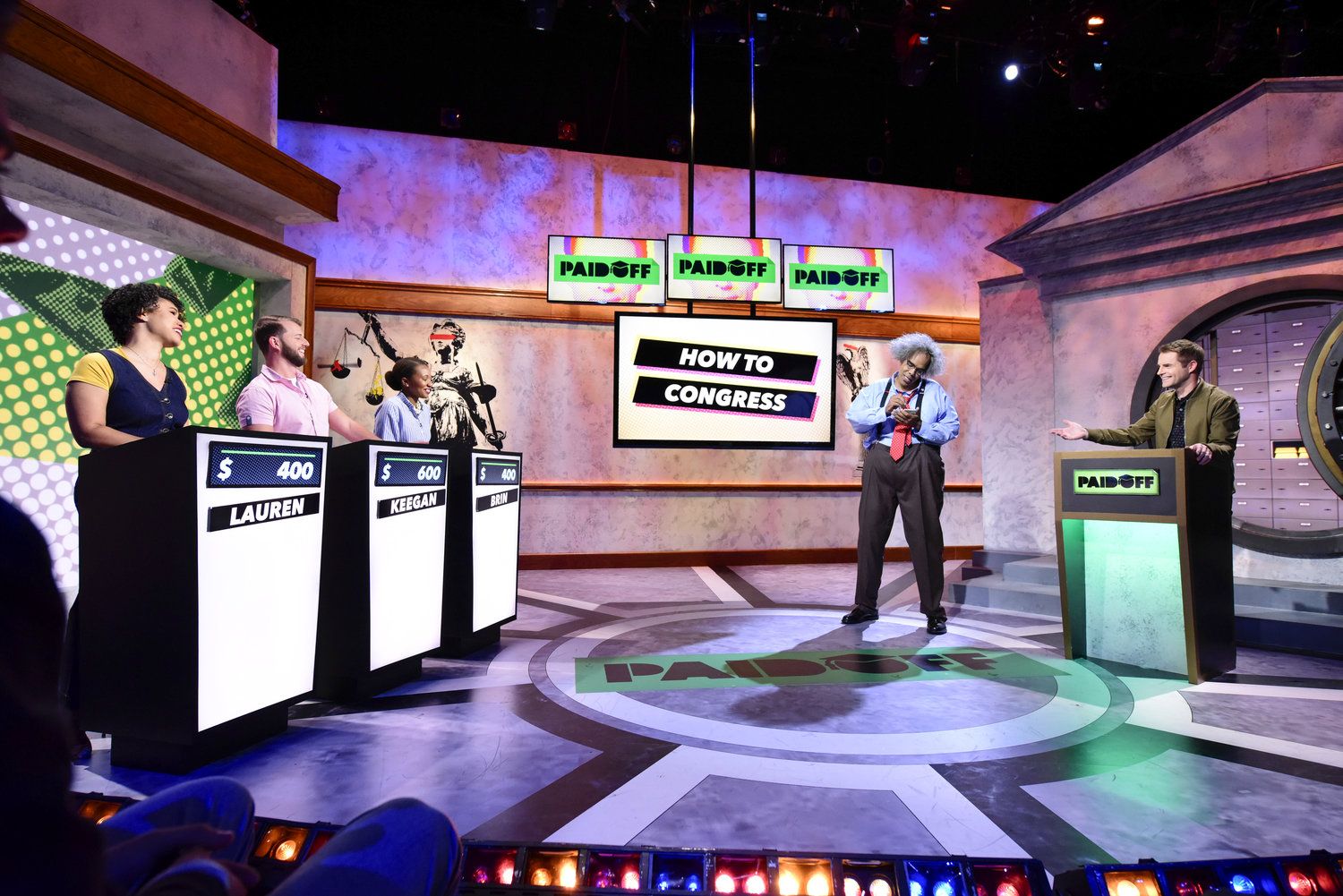 Sure, a game show that gives contestants an opportunity to win a cash sum equivalent to their student loan debt is ridiculous. However, humor is exactly what the game show, Paid Off, harnesses to call attention to the student loan crisis plaguing millions of Americans and empower individuals to overcome their own burdens.
The issue of student debt migrated from colleges to Congress and has become a talking point for the 2020 presidential election. In the first quarter of 2019, over 40 million people had federal student loans, a weight that's delayed people from buying homes, saving for retirement, starting businesses and even getting married.
The effects of student loan debt is something actor Michael Torpey from Orange Is the New Black witnessed firsthand as host of the game show Paid Off. On Monday, the show will return with the second cast of contestants and while they have varying back stories, the commonality, Torpey said, is that they're "phenomenal people" being held back from impacting their communities because of their student debt.
Torpey embraces the absurdity that, for some, a game show is their best bet at paying off their student debt. A serious topic, he also acknowledged that some may consider it a situation with no room for jokes or satirical laughter. Though, as a comedian, he told Newsweek humor can be beneficial.
"Comedy is disarming and can help give us perspective," he explained, adding that it can "embolden" people to take charge of their situation.
Before any questions are asked, contestants offer a brief biography of themselves, including the exact amount of their student debt. This openness to breach the walls surrounding the taboo topic of money, Torpey told Newsweek could have the ability to inspire viewers.
"If they see these people boldly saying, 'I owe $80,000.' Hopefully, they can say, 'They're taking ownership for their situation, maybe I can tackle this thing I've been avoiding that's too big to even say out loud,'" Torpey said.
For some contestants, their appearance on the show is the first time they've vocalized the amount of student debt attached to their name. While not an easy thing to do, the goal of the show is to raise awareness and Torpey credited sharing that information with helping people connect with contestants' stories.
"With 45 million Americans, we all know someone," Torpey said. "I want people to understand that if it's not your family member, then it's your friend, then it's your neighbor, then it's your coworker. It's in our communities, everywhere."
Forging connections to people on the television screen is something Torpey hopes inspires viewers to call their representatives. Now, he said, is the time to pressure people in power to take action toward whatever fix a person thinks is best, whether that be encouraging trade schools, debt relief programs or free tuition.
With the show being what Torpey called a "drop in the bucket" of the student debt crisis, the new airing will feature a call-in segment for viewers at home, the goal being to impact the lives of more than just 48 contestants. Three or four callers each night will be given three questions, each worth $1,000 each.
"There aren't many opportunities out there for people to pay off their student loans and insanely our show has become one of the top ones," Torpey said.