As Democrats Push Student Loan Forgiveness, Republican Senator Proposes Colleges Pick Up Part of the Tab
A bill authored by Sen. Josh Hawley of Missouri would require institutions of higher education to have skin in the student debt game.
On Tuesday, Hawley, a Republican, introduced a measure that would amend the Higher Education Act to hold colleges and universities responsible for repaying 50 percent of any loans students defaulted on. Schools would be prohibited from increasing tuition to offset liability, according to a statement on Hawley's website.
"It's time to break up the higher education monopoly. It's time to level the playing field and provide more options for career training," the statement reads in part. "We also must hold higher education institutions accountable that take advantage of students who rack up mountains of debt, are unable to find a good job and default on their loans."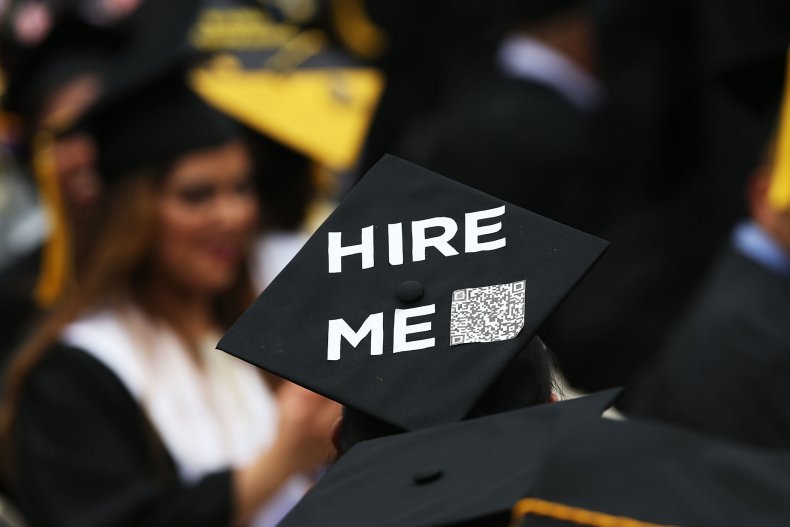 More than 40 million Americans are saddled with student debt, which has reached an estimated total of $1.6 trillion. The burden has prohibited people from buying houses or saving for retirement and even caused some not to get married. The 2020 presidential election season has sparked a national conversation about how to solve the student debt problem.
Senators Bernie Sanders and Elizabeth Warren, who are both running for president, have proposed student debt forgiveness. While Warren's plan forgives debt on an income-based scale, Sanders took it a step further, eliminating all $1.6 trillion.
On the other side of the aisle, President Donald Trump's administration has proposed reforms to the Higher Education Act that are more in line with Hawley's bill: In March, the White House released its suggestions, including a shift in responsibility for students' education costs onto colleges and universities.
"Investing in higher education generally provides strong value for students and taxpayers; however, some institutions consistently fail to deliver the type of quality education that enables students successfully to repay Federal student loans, leaving borrowers and taxpayers to foot the bill," the proposal read. "A better system would require postsecondary institutions that accept taxpayer funds to share in the financial responsibility associated with student loans."
On Tuesday, Hawley posted on Twitter that the present crisis required "bold reform" of higher education that would break up the universities' monopoly. He added that it was time to hold universities accountable after they "gobbled up truckloads of taxpayer money."
Newsweek reached out to Hawley but did not receive a response in time for publication.
Holding colleges accountable, Hawley told KMIZ, would force them to pay attention to the type of education they provide. Considering the cost of tuition, he said, it isn't too much to ask that a university help students complete their degree, prepare for the workforce and obtain a good job.
The Republican senator introduced a second education bill on Tuesday, one that would expand Pell Grants, a federal student aid program. If passed, it would require the Department of Education to enable job training, apprenticeships and certification programs to be eligible for Pell Grants.
After being read twice in the Senate, the bill was referred to the Committee on Health, Education, Labor and Pensions on Tuesday.