Key Dates in Student Loan Forgiveness Application Process
Millions of Americans will be able to apply for their student loan forgiveness from next month. This follows President Joe Biden setting out his plan to offer up to $20,000 for graduates to help with rising costs following the COVID pandemic.
To date, Biden has canceled over $25 billion of loans for 1 million student borrowers, a small dent in the $1.7 trillion collectively owed by graduates.
The scheme will see upwards of 43 million student loans reduced or forgiven entirely in the coming months, with as many as 8 million borrowers automatically qualifying for the support.
The cost of a 4-year public or 4-year private college has almost tripled in the last 40 years, but federal support has failed to keep up, forcing millions of Americans into borrowing to pay for their education.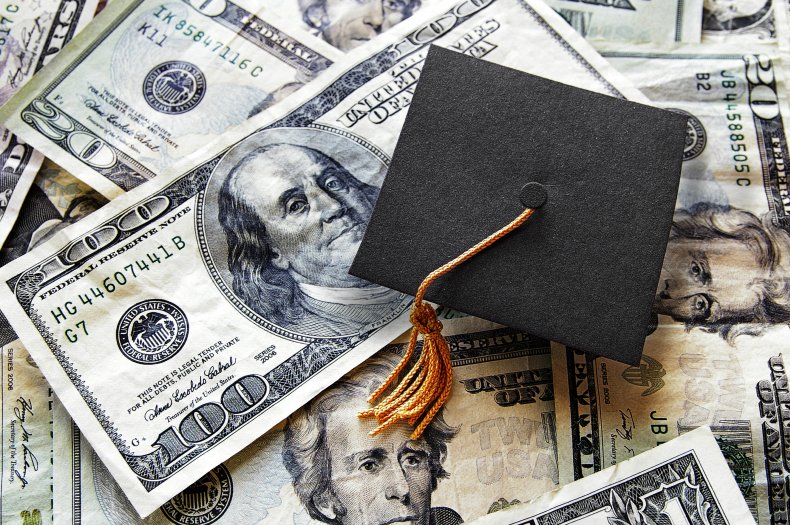 According to a Department of Education analysis, the typical undergraduate student with loans now graduates with nearly $25,000 of debt.
The Department of Education estimates that roughly 27 million borrowers will be eligible to receive up to $20,000 in relief, with almost 90 percent of students eligible for the loan forgiveness receiving the full $20,000.
When does the student loan forgiveness application open?
The Department of Education announced that applications for loan forgiveness plans would be available in early October.
Nearly 8 million borrowers qualify for automatic student loan forgiveness and won't need to apply for the forgiveness. The remaining 35 million borrowers will need to submit their applications in the coming month.
If you received the Pell Grant to support your education costs, you will be eligible for up to $20,000 in forgiveness. If you did not receive the grant, you may still be eligible for $10,000.
To qualify you must have a 2020 or 2021 Adjusted Gross Income (AGI) of less than $125,000 per annum, or $250,000 on a joint income. You can find this on the front page of your tax return, known as a Form 1040.
What should you prepare for the application?
Most federal students automatically qualify for the student loan forgiveness, but for those with private loans it may not be so simple.
There are currently around 5 million borrowers with student loans known as commercially held Federal Family Education Loans (FFEL), which are held by private companies rather than the government.
Key Dates for Student Loan Forgiveness
Early October: Applications for student loan forgiveness open to the public for eligible graduates and students to apply for the up to $20,000 refund.
November 15: Application submitted by this date will receive their loan discharge before regular payments resume and interest begins accruing again.
Applications submitted by this date will be reviewed within 4-6 weeks.
December 31, 2023: Borrowers have until 2024 before all application close for all student loan forgiveness aid.
The Department of Education said borrowers with these loans will get the forgiveness too, even though it doesn't hold the debt itself, but advise that consolidating them into the main federal student loan program will likely help you receive the financial aid sooner rather than later.
If you are unsure on any of the processes or how much you could qualify for, then you should reach out to your loan provider in the coming weeks.
From October, they will likely be inundated with calls, so it's best to speak to them sooner rather than later.
Also, it's worth being aware of any scams you could fall victim to during this process. Government officials have warned that an increase in scams could be targeting people, likely asking for money upfront to file your application.
"Nobody can get you in early, help you jump the line, or guarantee eligibility," the Federal Trade Commission warned.
You do not need to pay to apply for your student loan forgiveness application.
When do the applications close, and when will I receive my forgiveness payment?
The Education Department said borrowers should file an application for student debt forgiveness before November 15 for adjustments to be reflected in your student loan monthly payment beginning in January.
Doing so will ensure you receive your loan discharge before regular payments resume and interest begins accruing again.
The process is expected to take 4 to 6 weeks for borrowers to receive the relief.
Don't worry if you miss the November deadline. You actually have until December 31 to contact your loan provider and still be able to receive your forgiveness.
However, come January, the pause on federal student loans ends, which means interest will begin accruing again and regular payments will resume.
The final deadline for applying for student loan forgiveness is December 31, 2023.
What if the remaining balance on my student loan dropped below the threshold?
If you continued making payments following the student loan payment freeze on March 13, 2020 and your balance has since dropped below the $10,000 or $20,000 threshold, you will still be eligible for the full refund amount.
The Department of Education gives this example: "If you're a borrower eligible for $10,000 in relief; had a balance of $10,500 prior to March 13, 2020; and made $1,000 in payments since then—bringing your balance to $9,500 at the time of discharge—we'll discharge your $9,500 balance, and you'll receive a $500 refund."
And, if you are not eligible for student loan forgiveness, but continued to pay off your student loan in the interim, you may still be eligible for a refund.
You will have to contact your servicer but the Department of Education added that those refund payments could increase your loan balance and monthly payments.
Refund requests can also only be made by you and refunded to you, regardless of who else made a payment on your loan.
However, refunds won't be available for voluntary payments made prior to the consolidation, if you consolidated your loan after March 13, 2020.