Teacher Put on Leave After Organizing Walkout of Middle School Students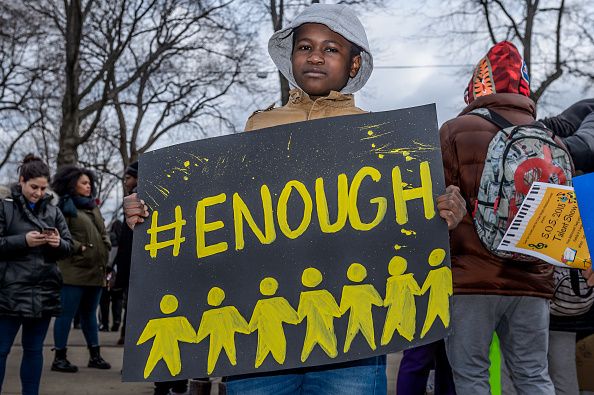 Updated | A middle school teacher from Portland, Oregon, was placed on leave by the school after organizing an unauthorized student walkout.
Chris Riser, a social studies teacher at Ockley Green Middle School, reportedly conducted an unauthorized Black Lives Matter student walkout on February 9, KATU-TV reported. About 100 students participated in a walkout protest earlier that morning led by Riser, according to KATU.
The protest was held to show support for Quanice Hayes, a black teenager who was shot and killed by police last year. A video posted by Don't Shoot Portland shows the middle school students holding signs and shouting, "Black lives matter!"
Dave Northfield, a school district spokesman, told The Oregonian that the district is not able to say what kind of leave Riser is on, or for how long his leave will last.
"The leave is the result of findings from the investigation that was conducted after the February 9 walkout and march," Northfield told the Oregonian.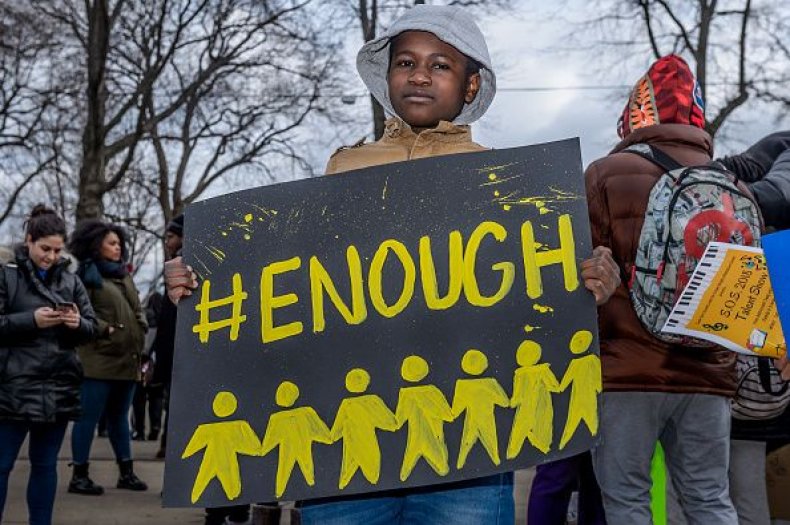 Teressa Raiford, the founder of Don't Shoot Portland, helped Riser organize the protest. Raiford said she had received approval from the school to conduct the walkout during Black Lives Matter week at the middle school.
According to Raiford, students at the school were taught about the movement, leading to a walkout at the end of the week that was supposed to last 15 minutes. Raiford told Newsweek that participating students had permission slips signed by their parents and there were initially supposed to be only eight children involved in the walkout, which ballooned in size.
"There looked to be about 400 people. Some were from different schools, but many students started crowding around the building during our walkout," said Raiford.
Raiford said she doesn't know why the school would place Riser on leave after approving the walkout.
"I don't know why they're doing this to him. I think it's just intimidation," Raiford said.
In an email to Newsweek, Northfield said Raiford's comments were false. He explained that Principal Paula McCullough did not approve the walkout and that there were no permission slips given to students.
"There was an approved 15 minute Black Lives Matter art presentation that morning, but the students had specific instructions to return to class when the presentation ended. The instructions were ignored," Northfield wrote.
Northfield wrote that during the walkout, students were told to lie down and stop traffic at a busy intersection during a "die-in." He wrote that the walk lasted a total of two hours and students walked three miles before returning to school. According to Northfield, "there were no plans in place to keep students supervised, safe or organized."
"Portland Public Schools supports our student's rights to exercise free speech, to become involved in civic events, and to engage in political and social activism," wrote Northfield. "However, we have zero tolerance for our students being placed in unsafe conditions. This situation created an unacceptable risk to our students."
Parents supporting Riser have created an online petition on Change.org to get Riser back to teaching and into his classroom. There are more than 3,000 signatures at the time of writing.
Jodi Barasa, whose boyfriend's daughter, Harmony, attends the middle school, said what happened to Riser was unfair. Barasa said she always appreciated him as a teacher who has had a big impact on the community and the children that attend the school.
"Chris shows our children that they matter. He teaches them to use their voices and to be strong individuals. He has opened our child's eyes to how the world works and at a time like this in our country," Barasa told Newsweek in an email.
Like Raiford, Barasa also thinks placing Riser on leave was unfair.
"I think that their actions showed our children that if they speak up for what they believe in and take peaceful action to express their beliefs, then they will suffer harsh and unfair consequences," said Barasa.
According to a LinkedIn profile page that appears to belong to Riser, the educator has worked in the Portland Public School District for more than four years.
The school's decision to place Riser on leave comes more than a week after students across the U.S. participated in National School Walkout Day to protest gun violence in schools after the shooting at Marjory Douglas Stoneman High School in Parkland, Florida. Some students were penalized by their schools for participating in the protest.
Barasa said she, Raiford and other parents of the school are rallying around Riser and plan to protest outside of the middle school on April 2.
"We want to stand with our kids and show them that we support their decisions and their voices and that we disapprove of the actions of the school and school board," said Barasa.
The story was updated to include quotes from parents of the school, one of the organizers and the school's director of media relations about the walkout.