Student at Sarasota Military Academy Whose Classmates Shook Hands With Mike Pence Now Under Coronavirus Quarantine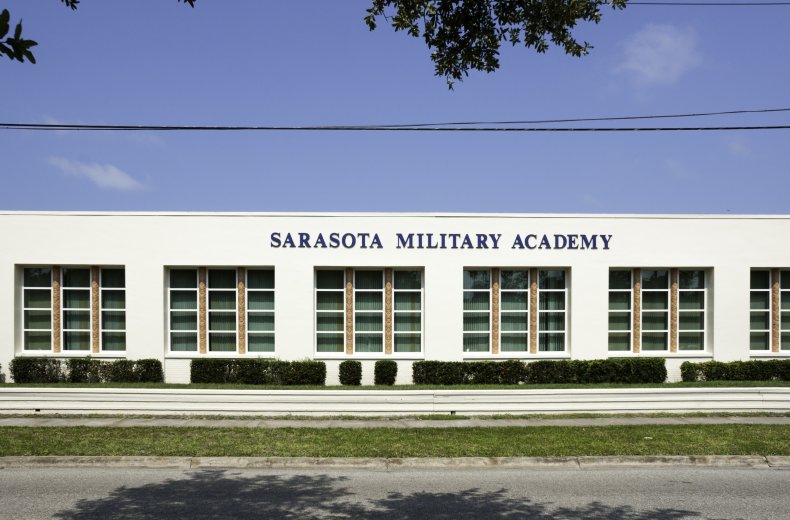 On Monday, a student from Sarasota Military Academy in Florida was placed in quarantine for COVID-19, just days after the student's classmates shook hands and posed for pictures with Vice President Mike Pence.
According to a Facebook post by the academy, the student and his mother were placed in quarantine, stemming from "the mother's contact with a patient at Sarasota Doctors Hospital in her professional role."
The Facebook post also notes that the student and his mother have not shown any symptoms of the disease, officially known as COVID-19, but in a press release sent to Newsweek, the school's executive director, Christina Bowman wrote that "it is recommended by the Florida Department of Health that anyone who may have come in contact with those impacted by the virus should self-quarantine at home as a precautionary measure."
The quarantine comes just a few days after Pence visited the school and shook hands and posed for photos with fellow Sarasota Military Academy senior cadets. Pence was traveling to a fundraiser at Republican Representative Vern Buchanan's house but was greeted by a number of cadets and other supporters who had gathered to meet him at the Sarasota-Bradenton International Airport.
In her email sent to Newsweek, Bowman stated that the quarantined student was not present with the group that greeted Pence, but according to The Sarasota Herald-Tribune, the Pentagon has been in touch with the school in regard to the student.
In a statement posted to Twitter, Pence's press secretary Katie Miller said the vice president never came in contact with the quarantined student.
"Can we all take a deep breath? @Mike_Pence did not meet or come into contact at all with this student," Miller wrote, retweeting a report from Bloomberg News reporter Jennifer Jacobs.
In the academy's Facebook post, the schools notes how it has been taking extensive measures to sanitize the campus. "We are continuing to disinfect all classrooms and common areas as we have previously done due to flu season," Sarasota Military Academy wrote on its Facebook page.
The quarantine of the student and his mother also comes just days after Florida Governor Ron DeSantis, published an executive order, declaring a public health emergency in the state, stemming from two positive COVID-19 tests, in Manatee County and Hillsborough County.
According a recent press conference held by DeSantis and Florida Surgeon General Dr. Scott Rivkees, the patient in Manatee County is a man in his 60s "who was hospitalized for evaluation and treatment of pneumonia," but added that it is currently unknown how he contracted the virus.
The patient from Hillsborough County is a woman in her 20s "who recently returned from Northern Italy. Northern Italy is a site of a large outbreak of COVID-19," Rivkees added.
The outbreak of COVID-19 began in Wuhan, China, but has spread across the globe, infecting people in a number of different countries. According to a March 2 report by the World Health Organization, there are currently 88,948 confirmed cases of COVID-19 globally.
3/3/20, 1:02 p.m: This story has been updated to include comments from Pence's press secretary Katie Miller.