Student Shares Video of Moment Shots Rang Out in Texas High School Classroom
A high school student shared a video from inside her classroom during Wednesday's school shooting in Arlington, Texas, in which she captures what is apparently gunshots ringing out.
The mother of another student in a nearby district, KTLA reporter Nerissa Knight, posted the video Wednesday morning after reports of an active threat at Timberview High School in the Mansfield Independent School District. The school's student population is roughly 1,900.
"My daughter texted me from a different school in the district; they're on lockdown," Knight tweeted. "This is traumatic. When we were in Santa Clarita there was a school shooting there too sadly in Saugus. Praying everyone is ok."
Arlington police confirmed there were "multiple victims" in the shooting and said multiple people have been taken to hospitals, according to KXAS-TV. Multiple police agencies are on the scene. Arlington Mayor Jim Ross told the TV station he knows at least four people were injured in the shooting.
Timberview and a nearby school have reportedly been placed in lockdown.
Officers responded to a shooting call at about 9 a.m. An "all clear," meaning there is no longer an active shooter, was issued around 11 a.m. after authorities conducted a methodical search of the building.
The gunman has been identified as 18-year-old student Timothy George Simpkins, 18, who is now at large and believed by police to be armed and dangerous. Officials said Simpkins may be driving a 2018 silver Dodge Charger with license plate PFY 6260.
Parents are being instructed to meet their children at the reunification point set up at the Center for Performing Arts located at 1110 West Debbie Lane.
"Officers will be at that scene. Students will eventually be bused to that location after the school is completely secured," Arlington police wrote in a tweet.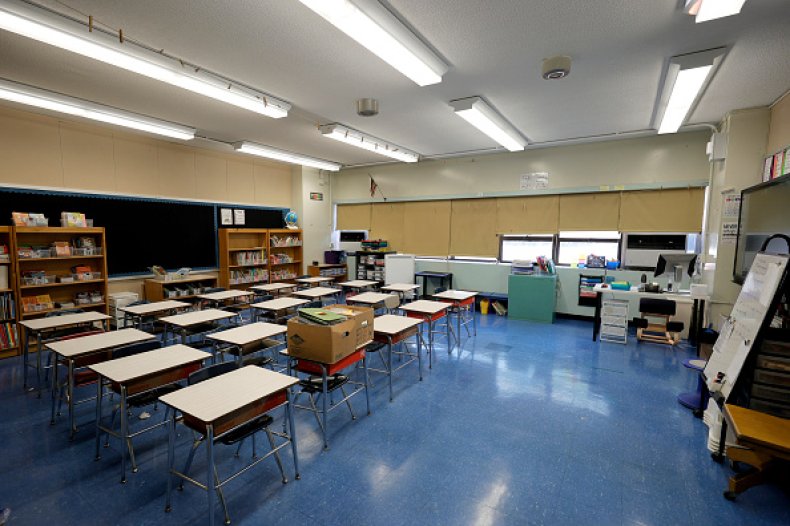 School shootings have been on the rise since the return to in-person classes during the coronavirus pandemic.
Data from Everytown for Gun Safety shows that the 2021 back-to-school period has had the highest incidents of gunfire on school grounds since the organization began tracking shootings in 2013.
Between August 1 and September 15, there were 30 instances of gunfire on campuses, with five killed and 23 wounded—a figure nearly doubling the previous high of 16 incidents in 2019.
August 2021 also saw the highest number of school shootings recorded in a single month.
Wednesday's shooting marks the first incidence of gunfire to occur in Texas during the 2021-2022 school year.
Newsweek reached out to Arlington police for further comment but did not hear back before publication.
Update (10/6/2021, 12:52 p.m. ET): This story has been updated with new information about the shooting.