Student Stages Kidnapping With Fake Gun in Zoom Prank During Class, School Calls Police
A Maryland student faked his own kidnapping to prank Zoom classmates in what the school principal has called a "serious incident." The 11th-grade student of Quince Orchard High School in Montgomery County pranked his fellow students with a fake gun during their modern history class last Thursday morning.
According to the school, the student had his camera off at the start of the class, but when he briefly turned the camera on he and another individual appeared on the screen. The other person on screen was wearing a ski mask and waving what appeared to be a gun.
The teacher immediately removed the student from the Zoom session and notified the school administration, who then contacted the student's family and the Montgomery County Police Department (MCPD). The police department found that the other boy was the student's friend who he had invited over and the supposed weapon was an airsoft gun.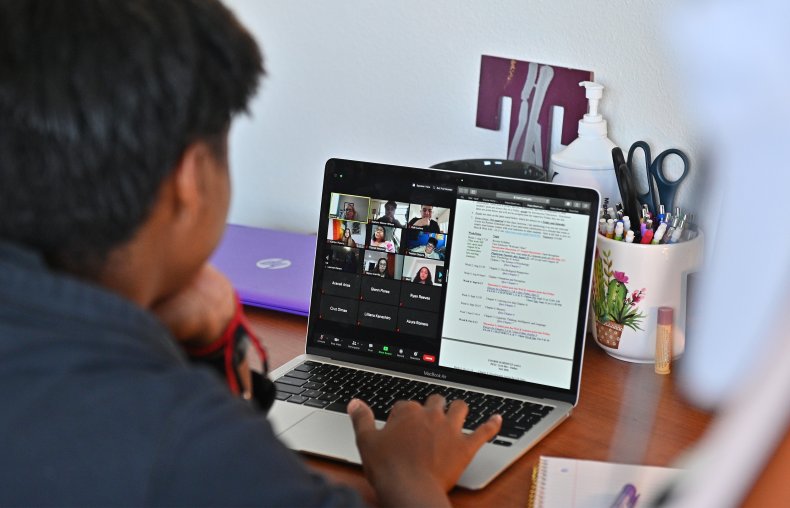 In a letter to parents, Principal Elizabeth L. Thomas said: "This incident serves as a reminder about the importance of speaking to your child(ren) about appropriate behavior while engaged in virtual learning.
"We will continue to prioritize student safety and well-being and thank you for your partnership."
MCPD spokesperson Rebecca Innocenti said that officers found "no crime reported and no crime committed," and that "the story basically is that we had a case of kids being kids."
While it is unclear if the student was filming the incident for social media, there is a trend on TikTok of high school and college students staging kidnappings while in a Zoom class. The hashtag #zoomprank on TikTok has 69.3 million views at the time of writing, while there are more than 167.3 million videos with the hashtag #kidnapping on the app, though not all of these videos are pranks.
Earlier in October, a woman was shot dead while staging a kidnapping prank for TikTok. Areline Martinez, aged 20, was filming with her friends in Chihuahua, Mexico, when she was accidentally shot.
In the video, Martinez is seen sitting next to a man who is also acting as a hostage while a second man pretends to attack the pair. Another man can be seen waving what appears to be a gun, before the male "hostage" is forced onto his knees while a handgun is pointed at his head. Shortly after, Martinez was shot and killed with a handgun.
Local media reported that Martinez had previously shared similar fake kidnapping videos on social media.