Student Steals Honor Intended for Famed Underground Artist 'Banksy'
A cheeky college student stole famed graffiti artist Banksy's honorary professorship certificate during his graduation ceremony—allegedly earning a "like" from the artist himself.
Ben Wray, 23, stole the renowned street artist's award which was presented at an event at the University for the Creative Arts in England.
The elusive and anonymous artist, who was given the award by for his "humanitarian efforts and the impact he has had on the global arts scene," did not show up at the ceremony at the institution in England's south.
So, Wray took it from a seat which had been reserved for Banksy — and claims that two weeks later, the university has not asked for the certificate back.
He now has it framed in his bedroom as a "story for the grandkids."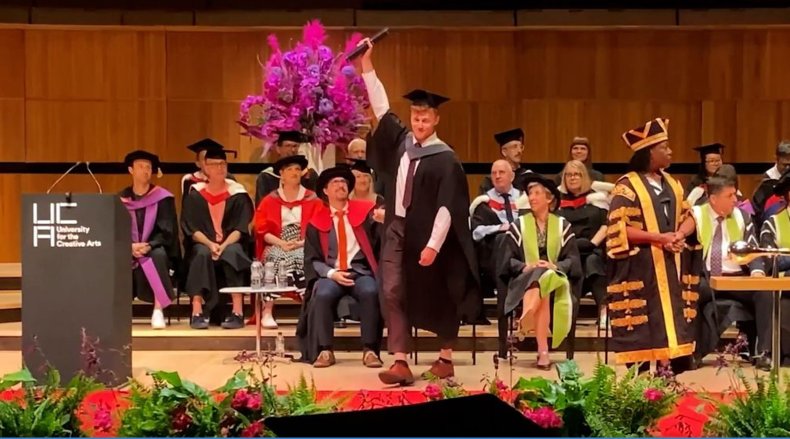 Wray, from Henleaze, Bristol, England, graduated with a B.A. honors degree in film and digital art from the University on July 6.
Around 3,000 students, faculty and parents gathered at the Royal Festival Hall on South Bank, in London.
Wray recalled he had been contemplating throughout the ceremony how he could make his walk "more memorable," and happened to notice a seat had been reserved for the renowned street artist at the front of the hall.
But what really sparred his rebellious decision was when the university accidentally failed to call out Wray's name.
He was told he had to wait backstage until the end, but was able to convince the steward to let him back into the auditorium to watch the rest of the presentation, until it was his time on stage once again.
Wray said: "The uni(versity) took a break and did a speech about Banksy and his humanitarian efforts.
"They awarded him with an honorary professorship, and placed the scroll on his chair on stage.
"Immediately I thought that's it! I've got to do it.
"If I'm not getting my certificate in a normal way then I'm going to have to get one myself—technically it's their fault as when they missed my name they gave me an extra hour and a half of psyching myself up."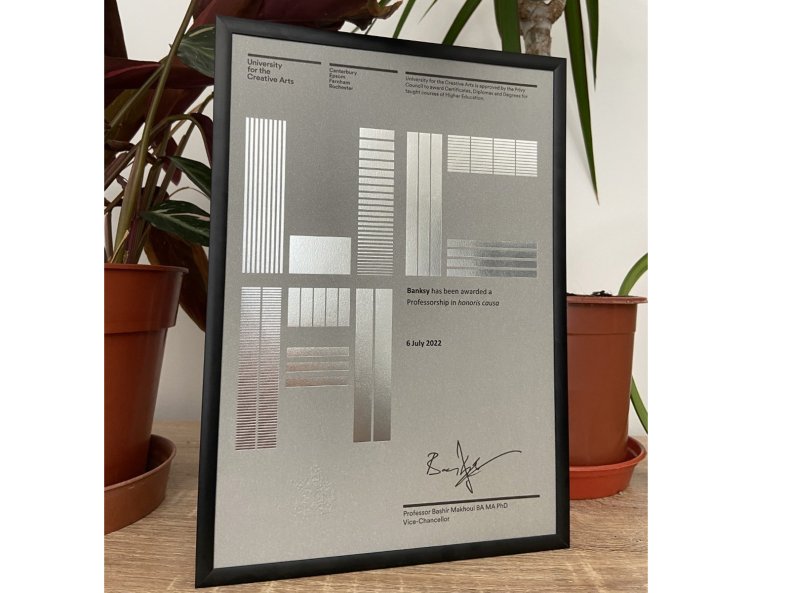 Wray said when his name was eventually called, he walked across the stage, nodded once to the chairman and took a right angle—swiping the scroll off Banky's seat.
In the amusing video, a person next to the chair tried to grab the certificate back but Wray says he "managed to yank it out of his hand and hold it victoriously up."
The daring man admits he swiftly exited the stage and hid in the audience, concealing the scroll up the sleeve of his graduation robe.
He said: "It took two seconds for the crowd to register what had happened but they were cheering me on and I had students coming up and congratulating me.
"Bearing in mind myself and the university have had a somewhat bitter relationship over the past three years this was a good accolade of the day and my time at uni.
Exactly two weeks later, the certificate is now framed in Wray's bedroom and currently, no one from the faculty has contacted him to request it back.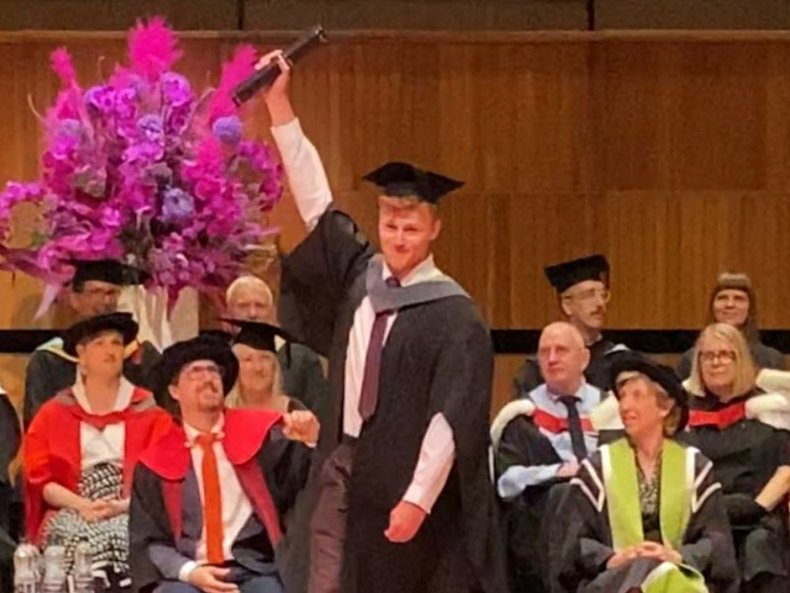 In response to a potential backlash from the university, Wray said: "There's no reason that I'm not Banksy.
"Also, I don't know what they would have done with the scroll—it's unlikely they know Banksy's address—so it would have just been stored somewhere.
"It's certainly something to tell the grandkids."
Wray claimed Banksy's Instagram account acknowledged his Instagram post that showed how he stole his professorship by liking the post, only to quickly remove it seconds later.
He explained: "I just happened to be on my phone at the time. I saw it and managed to get a screenshot of it, but when I refreshed the app it disappeared."
Since graduating, Wray is now working as a visual effects artist and freestyle racing drone operator for music videos, and will be moving back home to Bristol in September.
The UCA has been approached for comment.
Produced in association with SWNS.
This story was provided to Newsweek by Zenger News.