Student Suspended on First Day After Attending Class Instead of Joining Remotely
A high school student from Long Island, New York has been suspended after physically going to class on a day that he was supposed to be remote learning from home.
The 17-year-old student from William Floyd High School in Mastin Beach decided to attend in-person teaching on the first day of his senior year, as opposed to taking part in virtual class as his schedule required.
Maverick Stow set out on Tuesday morning taking the bus to school, where he underwent a mandatory temperature check under the institution's coronavirus protocols and then proceeded to go to class.
Stow said administrators asked him to leave school grounds to which he replied, "Well, no, I think I need to go to class," he told local news source ABC7NY.
"The virus doesn't discriminate on Mondays or Tuesdays or Thursdays or Fridays. That's not how it works," Stow said.
The matter rose to the school's principal, who told him that if he did not leave the school as told, he would be suspended.
He went back to class and was able to complete his day's schedule of classes, but at the end of the day, his mother told him that he had been suspended for five days and the school district would be taking disciplinary action against him.
"Kids need to be in school every day. Virtual learning is not learning," Nora Kaplan-Stow, the student's mother, told ABC7NY. "My son is being suspended because he wants to be in school."
Stow reportedly told both his parents what he was planning to do and they both supported him wanting to go to school five days a week and not on a hybrid schedule, as was planned by the William Floyd school district.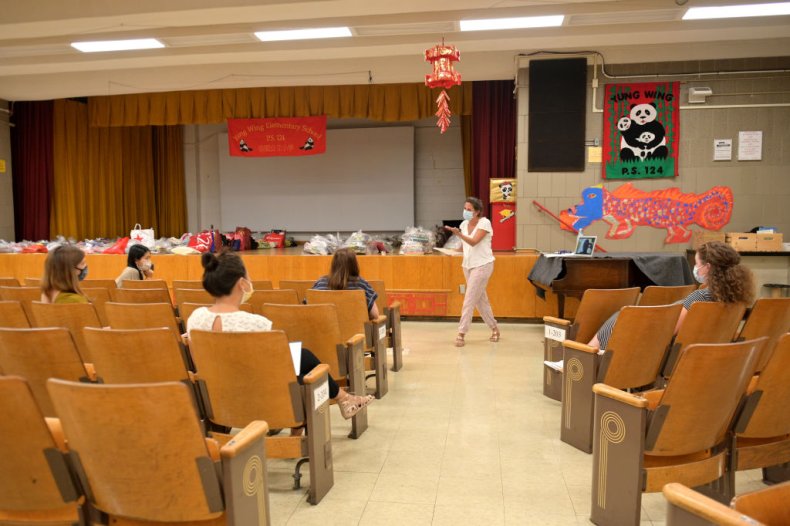 James Montalto, spokesman for the William Floyd School, told Newsweek that after being suspended, Stow turned up in-person at school again and displayed "insubordinate behavior" by at one point "squaring up to a district official and stating that the district would have to 'forcibly remove' him from school grounds."
A separate statement released by Montalto to local news sources, said that while the school would like to have all of its 8,800 students back to in-person classes, it is not possible during the pandemic.
"We are following the social distancing mandates set forth by New York State. In order to adhere to these guidelines, it is imperative that students attend school during their scheduled in-person days only.
"Students who refuse to adhere to their scheduled in-person days and/or flagrantly disregard directives to leave school grounds and cause a disruptive environment for other students, will face disciplinary actions," the statement said.
New York is one of the states in which coronavirus cases have risen in recent weeks. Average cases between August 24 and September 6 rose from 536.33 to 683.33, according to Johns Hopkins University.
The graphic below, provided by Statista, illustrates which states are worst affected by coronavirus.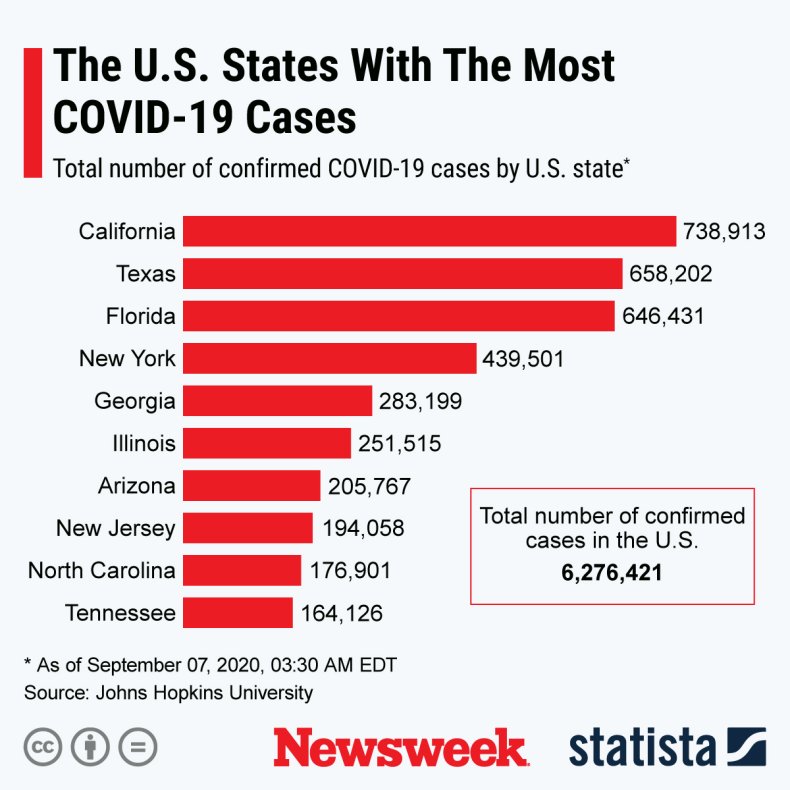 Student Suspended on First Day After Attending Class Instead of Joining Remotely | U.S.