Student Wears Confederate Flag Face Mask at School, Parents Demand Action
Parents have criticized administrators at a high school in Missouri for failing to take sufficient action over a student wearing a Confederate flag face mask.
The student attended all his classes at Oakville High School in St. Louis County.
Oakville High officials investigated the incident after students texted their parents, who then contacted the school.
According to KXAN, the school's principal, Tamara Sunkett, sent an email to parents stating Confederate symbols are "steeped in racism" and "infringe upon the rights of all to feel safe and respected."
Mehlville Schools Superintendent Chris Gaines echoed those words in a statement: "The matter has been addressed with the student and his family."
Parents of students at the school say not enough was done by teachers. The alleged lack of response is being investigated by district officials.
One parent, Tamica Harding, told KXAN her daughter had felt intimidated by the student in the mask. However, when she got in touch with administrators, it took two hours to get a response.
"So what type of message are you sending to my child by allowing another child to sit in the classroom with this mask on," Harding asked.
Similar incidents in recent years have drawn national scrutiny. In 2019, students in Arkansas faced criticism for wearing Confederate flag clothing to school.
Several students showed up at Fayetteville High School with Confederate flags painted on their skin and wearing Confederate flag attire.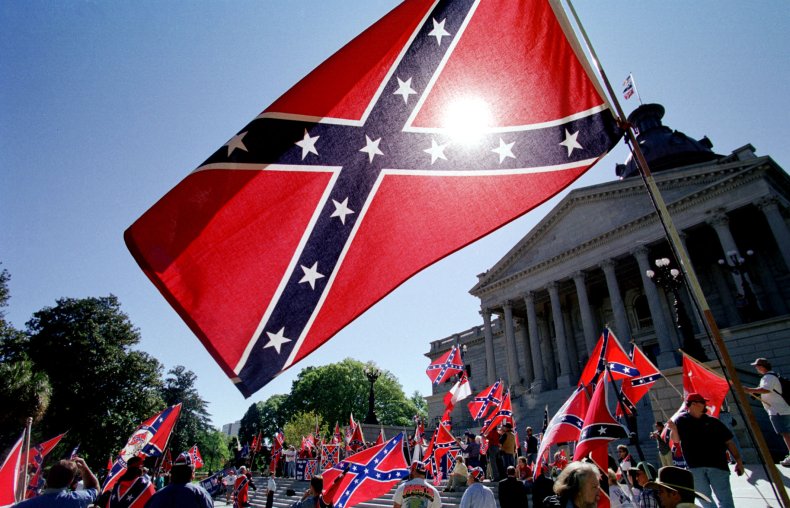 "To us, it's not hate. Everyone is saying it's hate. It's our history. We live in a southern state, and if we were doing it for hate we wouldn't be wearing it," said freshman Jagger Starnes, who was wearing Confederate clothing. "I'm honestly not racist. I have friends that are Black. I have friends that are Mexican, you know, I'm not racist by any means."
Keith Starnes, Jagger's father, defended his son's decision. "I support him in any way he's doing it, because that's what he's standing up for," he said. "If he was doing it for hate, then it would be different, but he's not. So yeah, I'm going to support my son."
Jay Dostal, the school's principal, said: "The Confederate flag is a symbol and it has a long history, 150 years, tied to being the ideas of racism, hatred and bigotry, and because of that it's not allowed in our school setting."
According to a 2020 poll, nearly half of Americans see displaying the Confederate flag as merely expressing Southern pride, compared to just over one-third who consider it a symbol of racism.