Student in Wheelchair Slams University for Not Being Accessible in Viral Video
A student at a New England university criticized her school in a now-viral video for not being properly wheelchair accessible. In the caption of her video, which has now been viewed 2 million times, she claimed that a route she uses takes eight minutes, while an "able-bodied" student's route might take two minutes.
The video began by showing the TikToker, @dark.moon.witch in her wheelchair with the words "Follow a disabled college student to class" printed over the frame.
Then the words "ADA violation #1" appear on the screen followed by the words, "My class is up there. Only stairs and no sign directing you to the accessible route," showing the image of a flight of stairs.
"Gotta take the long way," she wrote. The video then showed her route to get to class.
The Americans with Disabilities Act (ADA) was signed into law in 1990 which sought to prohibit discrimination and ensure that people with disabilities have the same opportunities "to participate in the mainstream of American life," the ADA website read.
Under the ADA, public and private colleges and universities must provide equal access to postsecondary education for students with disabilities, according to the ADA National Network.
Though loopholes do exist as accommodations and modifications to existing policies or practices are not required in cases where it would "fundamentally alter the nature of the service, program, or activity or give rise to an undue financial or administrative burden."
As the video progresses, she showed two other "ADA Violations" that she encounters during her day. The second one being a broken "Push to Open" button for one of the doors.
"The only way out is so bumpy I almost tipped over," she wrote over a video showing her traverse through what appears to be a parking lot.
The third "violation" she showed was a ramp that is "too steep."
Though in the initial video she does not share which university she attends, in a follow-up video she decided to disclose the name given the attention the video had garnered.
"I go to Salem State University," she said. "They are not accessible whatsoever."
She shared that she is not registered with disabilities services at school for reasons she did not wish to share at this time.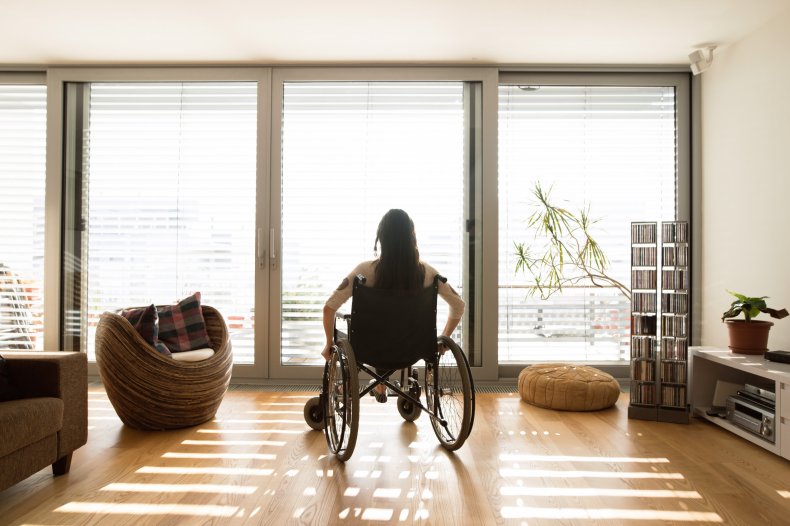 "We take very seriously our commitment to providing a campus that is accessible to all students and we are working to make improvements to our campus frequently," said a statement provided to Newsweek by Salem State University, which is located in Salem, Massachusetts.
In the statement, the university explained that some such improvements are large and entail applying for state funding while others include making daily repairs.
"Our facilities team has tested all of the automatic doors on our campus and will do so more routinely. As part of this process, this team has checked to ensure proper signage is in place indicating how to report a malfunctioning opener," the statement continued. "We are also sending a campus-wide message to remind our community how to report such an issue by telephone."
The university said that the automatic door issue shown in the video has been fixed as well as five other "accessibility issues reported this semester." In addition, the school said that the student has also been invited to a meeting with university leaders "to learn more about their campus experience."
In November, a disabilities activist whose custom wheelchair was destroyed by United Airlines on a flight earlier this year died due to complications resulting from the incident, Newsweek reported.
Engracia Figueroa was traveling back from Washington, D.C. when she learned that her $30,000 custom-designed wheelchair had been destroyed in the cargo hold.
Newsweek reached out to the New England ADA Center, Salem State University's Disability Services and @dark.moon.witch for comment.