Student Who Accused History Teacher of Islamophobia That Led to His Beheading Admits She Lied
A young French student who accused a teacher of Islamophobia last year — which ultimately lead to his brutal murder — has admitted that she lied about the incident.
Samuel Paty, a 47-year-old history and geography teacher outside of Paris was beheaded in the street in October after he taught a lesson on freedom of expression.
The 13-year-old female student, who has not been officially identified, alleged that Paty asked Muslim students to leave the room in order to show satirical cartoons of the Prophet Muhammad.
The student told her father that she refused to leave the classroom, and claimed that Paty then suspended her for two days. The student's father was outraged over the incident and launched an online campaign with videos accusing Paty of Islamophobia.
In one of the videos, the father compared Paty to Adolf Hitler, Radio France International reported.
Those videos were viewed by 18-year-old Abdullakh Anzorov, who stalked Paty and beheaded him in a street near the school. Anzorov wielded a large knife and shouted "Allahu Akbar" or "God is Great," as he attacked the teacher in the town of Conflans-Sainte-Honorine, about 20 miles northwest of Paris. Police shot and killed Anzorov shortly after the murder occurred.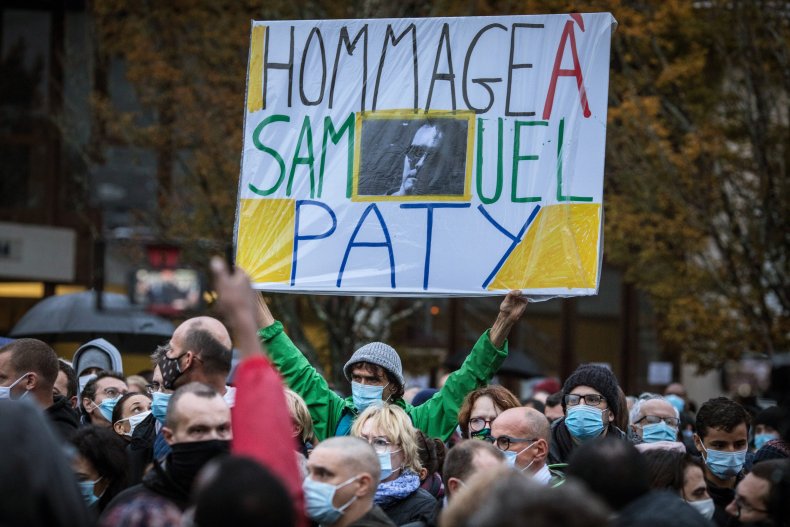 Months after the killing, the 13-year-old student has admitted that she lied about the incident and was not in school on the day she claimed Paty forced Muslim students to leave the class.
"I didn't see the cartoons, it was a girl in my class who showed me them," she testified, the BBC reported Tuesday.
Rather than telling Muslim students to leave the room, Paty instead warned students that he was about to show a depiction of Muhammad, and said anyone who thought they might be offended could close their eyes.
In her testimony, the student explained that she was suspended a day before the incident for repeated absence from school. But she told her father that Paty suspended her in order to avoid disappointing him.
"If I had not said that to my father, none of this would have happened and it would not have spread so fast," the student said, according to Radio France International.
The girl's lawyer, Mbeko Tabula, has argued that she should not be blamed for Paty's murder and said that she lied after feeling "trapped" by her schoolmates.
"She lied because she felt trapped in a spiral because her classmates had asked her to be a spokesperson," Tabula told Agence France-Presse.
"It is the excessive behaviour of the father who recorded and posted a video blaming the teacher that lead to this chain of events," he added. "My client lied, but even if it were true, the reaction of her father would have been equally disproportionate."
The girl has been charged with slander while her father was arrested on suspicion of being complicit in a terrorist killing.
During a hearing in January, the student's father said he regretted not checking the facts before posting content against Paty.
"I regret the scale of the damage," he said, according to Radio France International.
In October, French President Emmanuel Macron condemned Paty's murder in what he described as an "Islamist terrorist attack." Macron then presented the teacher's family with the nation's highest honour, the Légion d'honneur, according to the BBC.
"One of our compatriots was murdered today because he taught the freedom of expression, the freedom to believe or not believe," Macron said last year.