Student Whose Father Pleaded Guilty in College Admission Scandal Sues Georgetown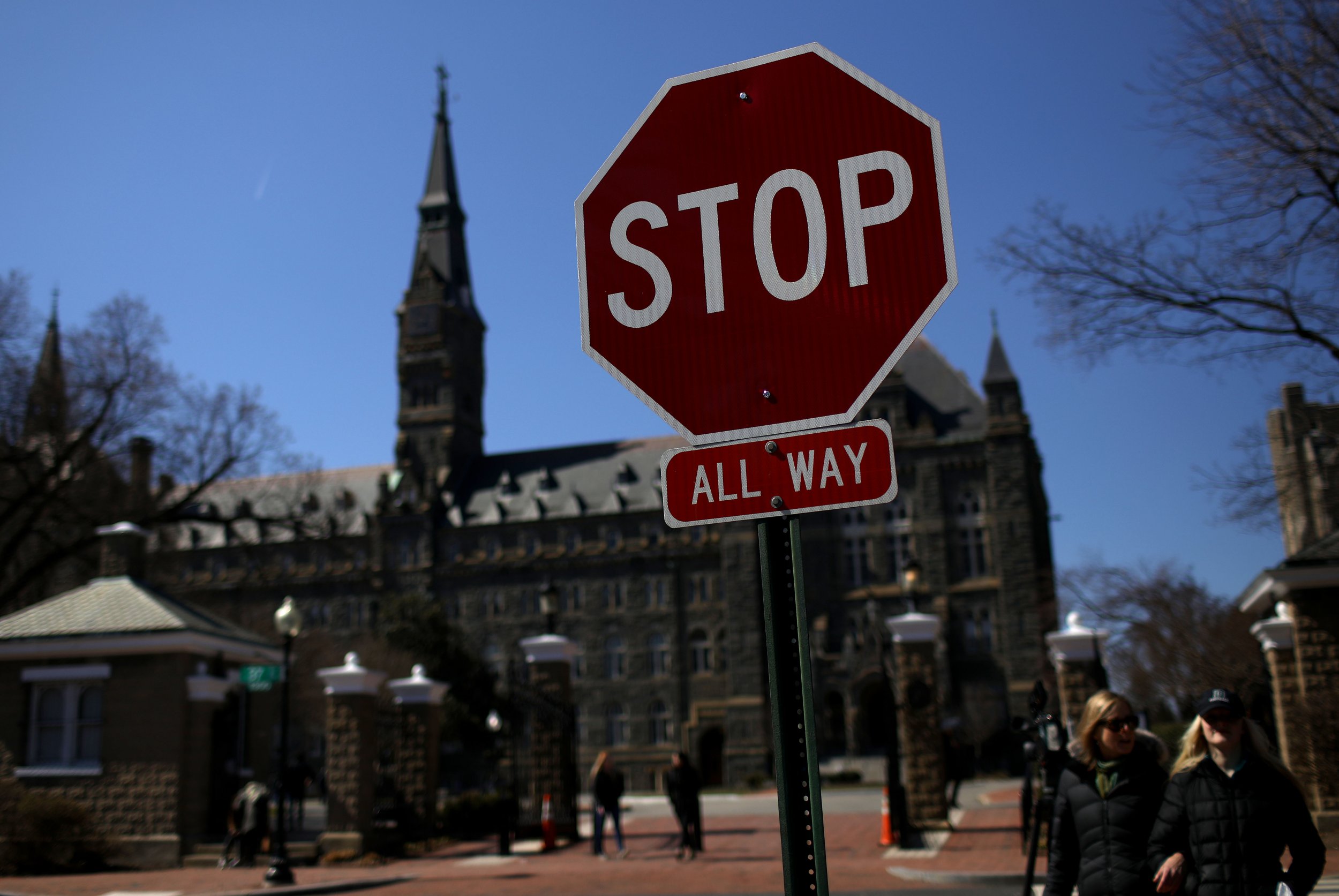 A Georgetown University student whose father pleaded guilty in the college admission scandal filed a lawsuit against the school, alleging he was not given due process and therefore should not be able to be disciplined.
On May 7, Stephen Semprevivo pleaded guilty to paying Rick Singer, the ringleader of the college admissions scheme, $400,000 to aid his son's admittance to Georgetown. On Wednesday, Stephen's son, Adam Semprevivo, filed a lawsuit to prevent the school from revoking the academic credits he earned and subjecting him to academic discipline.
The college admission scandal involved a number of wealthy parents—including Fuller House star Lori Loughlin—who paid large sums of money to Singer to boost their child's appeal to colleges. Some parents paid to have SAT scores adjusted and others, including Stephen, paid to have his son recruited to Georgetown for a sport he had little to no prior experience playing.
In Adam's case, a note to Gordie Ernst, then a tennis coach, and an essay included a fabricated representation about his tennis experience.
After Ernst recommended him for one of the tennis admission spots, he received a letter informing him he was "likely" to be accepted. However, in the lawsuit, Adam argued he had the necessary academic qualifications because he had a 1980 SAT score and a weighted GPA of 4.067.
Had the school compared his transcripts to the application, the lawsuit contended they would have easily identified inconsistencies.
"His high school transcripts, which were supplied to Georgetown by Campbell Hall High School, made no reference to Adam ever having played tennis," the lawsuit stated. "Yet the application filled out by Singer emphasized Adam to be an Academic All-American ranked tennis player."
In 2017, about two years before the indictments were announced, the Georgetown admissions office identified irregularities in two prospective students' athletic credentials, prompting an investigation into Ernst. At this time, the lawsuit argued Georgetown should have also noticed Adam's athletic profile was inconsistent with reality.
On April 3, Adam received an email from Senior Associate Director of Admissions Melissa Costanzi raising concerns that his application may have contained inaccurate information, according to the lawsuit. Adam responded with a question as to why the Honor Council System Procedures (HCSP) were not being followed.
The school's legal counsel allegedly argued the University's Honor System wasn't applicable to this situation because the investigation centered on activity that took place before he was enrolled as a student. Instead, university officials would gather information and take action based on that information.
"The threatened expulsion and loss of credits, predicated on numerous material violations of the contract between Semprevivo and Defendant, has precluded Semprevivo from receiving a degree from Georgetown, deprived his family of over $200,000 [in tuition], and may forever bar Semprevivo from transferring his earned credits to another university,"
Since the school allegedly failed to provide Adam with his rights and procedures in accordance with the HSPC, the lawsuit requested Georgetown be barred from disciplining him. This included prohibiting the removal of credits he earned and the barring of him transferring his credits to another university.
"Applicants to Georgetown affirm that the information and statements contained in their applications are true, correct and complete," Georgetown University spokesperson Meghan Dubyak told Newsweek. "Knowingly misrepresenting or falsifying credentials in an application can be cause for rescinding the admission of the student and dismissal from Georgetown."
The lawsuit corroborated a claim made in the affidavit that Adam sent a note, drafted by Singer, to Ernst, which contained falsified information about his tennis experience. However, the suit claimed Singer typed Adam's name in the signature block and Adam never signed his application.