A student at a New Jersey prep school, responding to a teacher's resignation over the school's adoption of anti-racist policy and curricula, wrote in a letter that the school's teachings made him feel like "worthless scum undeserving of living."
The letter was circulated by the Foundation Against Intolerance and Racism (FAIR) as part of its campaign to support former English teacher and parent Dana Stangel-Plowe, who resigned from the Dwight-Englewood School earlier this month due to what she called in her own letter, "essentialist, racialist thinking."
The private school, according to documents made public by Stangel-Plowe, adopted an anti-racism and equity engagement strategy to "work as an entire school community on professional development and teaching and learning along with creating structure for students to have more explicit conversations about racism and discrimination with the intent to end both."
In his letter, the anonymous student, who identifies as a white male, claims to have "battled with countless generalizing and oppression toward white men" and said he has often been afraid of speaking in class. The claims mirror those made by Stangel-Plowe, who listed among her reasons for resigning an alleged incident in which the head of school threatened to fire the teaching staff and replace them with people of color.
"This year, administrators continue to assert D-E's policy that we are hiring 'for diversity,'" Stangel-Plowe said in her resignation letter. "D-E has become a workplace that is hostile toward educators based solely on their immutable traits."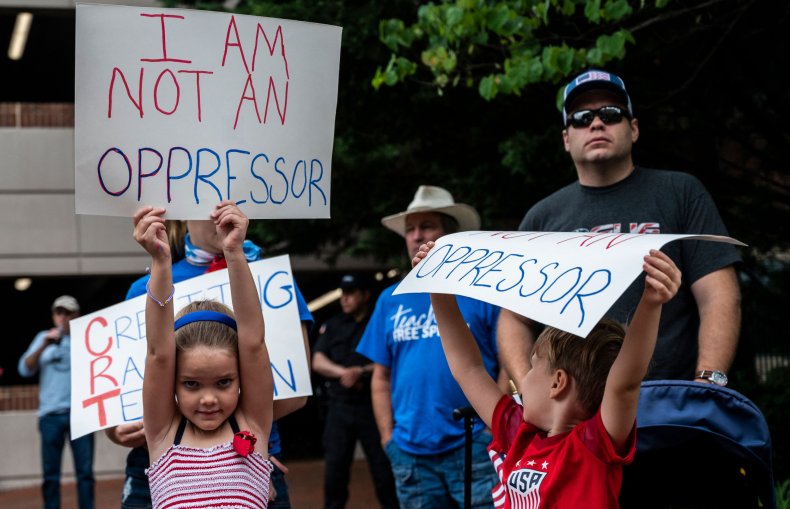 The dispute between Dwight-Englewood and Stangel-Plowe was picked up by FAIR, which says it is a nonpartisan organization that launched in March and is working toward obtaining 501c3 status. A spokesperson for FAIR said the organization's mission is to promote a "pro-human" message.
Of the cases profiled on FAIR's website, almost all involved battling Critical Race Theory (CRT), an academic movement coined by lawyer and civil rights activist Kimberlé Crenshaw. Its core tenet is that racism is a systemic social construct, according to the American Bar Association. The FAIR spokesperson denied that their organization was founded to combat CRT, saying it seeks to advocate for "one human race."
Discord over CRT's teachings has pitted parents against one another and their children's school districts this year as administrators attempt to implement it in step with the growing anti-racist movement in the U.S.
The adoption of CRT in schools has been met with backlash from some white parents and students, who claim the curriculum is "anti-white" and inappropriate. Lawmakers in Ohio are seeking to ban it in the state's schools, and Texas became the latest state this week to successfully pass legislation banning CRT-based curricula.
Stangel-Plowe told Newsweek that rather than the practices she experienced at Dwight-Englewood, schools should strive to teach students about current and historic racism and the truth of American history, using primary source documents in a balanced and complete way.
"That means that students should be exposed to alternative opinions in open and respectful discussion. They need to grapple honestly with the challenging realities of society's problems, and also look hopefully and optimistically to future progress building on America's strengths," she said. "I believe that racism created race and a focus on our shared humanity can overcome both. A new and better approach to education can equip our students to reach this goal."
School leadership at Dwight-Englewood did not respond to Newsweek's requests for comment.