Two Students Arrested and Suspended After Refusing to Stand for National Anthem, Says Mother
Two high school students were arrested and suspended following a confrontation with a teacher for refusing to stand for the National Anthem, their mother says.
Samantha Woods said her two daughters were arrested and suspended for 30 days from Lawton High School, about 90 miles southwest of Oklahoma City, earlier this month.
"They were at a pep rally. And everybody was standing up to do the national anthem. And they chose not to stand," Woods told the Black Wall Street Times.
She said a teacher approached the pair and demanded they stand during the rally on Thursday, September 2.
"That's when they got loud, and the teacher went off and told, I guess a police officer, that one of my daughters threatened her. So, that's when they were detained, handcuffed," Woods continued.
In a separate interview with KFOR, Woods again recalled the incident, saying: "The teacher got right in her face and told her, 'No, you need to stand up.' So then when my kids get agitated, and they get loud with her, that's when she went and got the principal and police," she added, clarifying that she was told the girls' behavior was the reason for their arrest.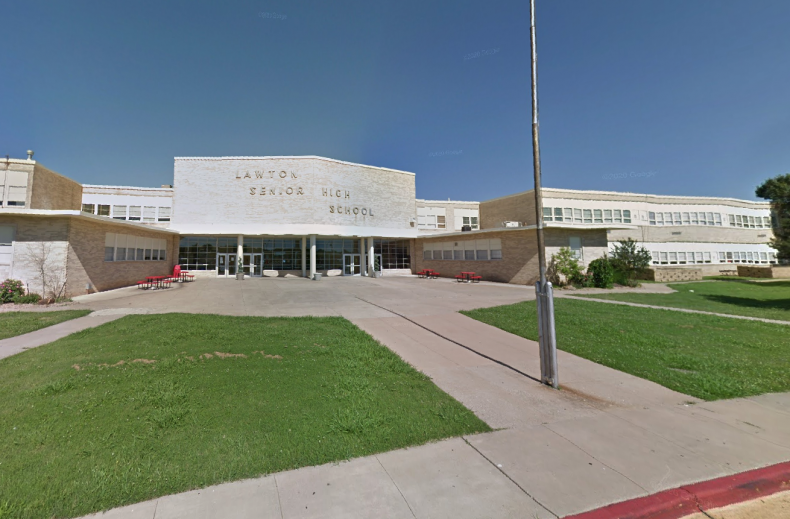 According to Woods, her daughters were handcuffed and charged with disturbing the peace. She claimed the teacher told police her daughters made threats against the teacher.
"There would have been no behavior if she didn't ask them to stand," Woods added. "They told her no, and she should've just kept going."
The sisters, who identify as Black, Puerto Rican and Indian, said they felt their race played a role in the incident.
"I feel like it was racist because there was all other kinds of people sitting down, majority of White people sitting down. And they came up to us," one of the girls told the Black Wall Street Times.
When the publication reached out to Lawton High's main office to confirm the details of the incident, they said they were told that "some of that is true and some of it's not."
"I can assure you that no student was removed, ejected, or arrested for failing to stand for the National Anthem at Lawton High School," Principal Kirchen later said in an email. "Unfortunately, I am unable to comment on anything that relates to students due to privacy laws."
The American Civil Liberties Union has since sent a letter to the superintendent of Lawton Public Schools in Oklahoma, warning that the recent handcuffing and suspension of the students violates their First Amendment rights.
"Discipline of any kind for the politically expressive choice not to stand during the National Anthem or other displays of nationalism is a direct violation of the right to free speech protected by the First Amendment of the United States Constitution," Lambert wrote in a letter sent to Superintendent Kevin Hime of Lawton Public Schools on Friday, September 17, as seen by the Black Wall Street Times.
"Both students expressed that they chose not to stand because they do not feel a sense of belonging or equal treatment in their school community or in the United States on the basis of their race," she added in the letter.
School officials confirmed they had received the letter, which has been turned over to their legal team.
"The district can also confirm that no person was arrested, handcuffed, or disciplined at LPS, nor would we do so for refusing to stand for the National Anthem," officials said in a statement to KFOR.
Woods hopes officials will retract the suspension so her daughters can return to school.