Students Claim Dominic Fike Said Onstage He'd Let Amber Heard 'Beat' Him
Dominic Fike was booed for saying during a concert at Northwestern University that he would let Amber Heard "beat" him, according to students posting on social media.
The musician and Euphoria star made the comment Saturday while performing at Dillo Day, the university's annual music festival. His remarks about the actress involved in a highly publicized lawsuit with ex-husband Johnny Depp were reported by student newspaper The Daily Northwestern.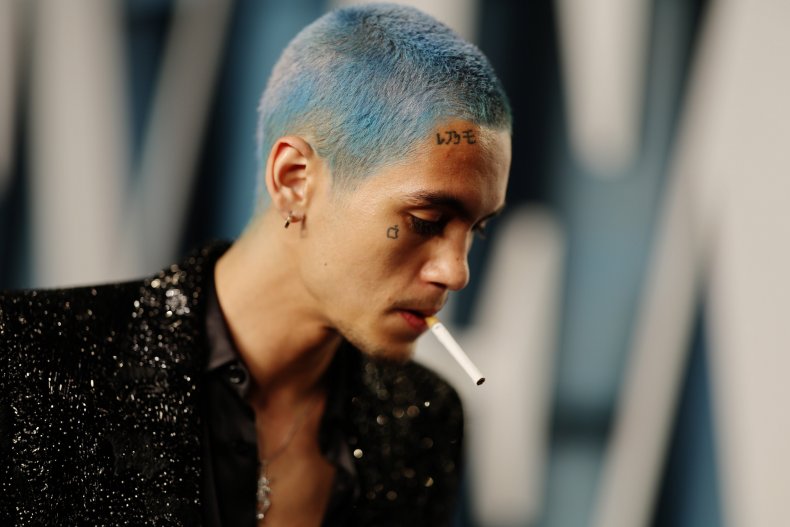 According to a TikTok from student Ashlee Mitchell, whose video has been viewed 1.3 million times, Fike said onstage that Amber Heard was "so hot" and later added, "I would let her beat me up."
"The whole crowd was like, 'Ooh...'" Mitchell recounted, covering her mouth with one hand while her eyes widened. "First off, it had nothing to do with his performance, so I'm like, 'Why even say this?'"
Mitchell added that Fike proclaimed he wanted to see how much he could say and "get away with."
Freshman Fatima Jalloh said in a tweet, "I wasn't really looking forward to Dominic Fike anyhow but hearing him say 'I think Amber Heard is hot, I want her to hit me' turned me tf off. That's disgusting no matter how you view the trial and a weird thing to say about a potential abuser/victim."
Another student called the singer "disgusting and vile" for "joking about domestic violence."
Leah Goetz also recorded herself and friends attending the concert on TikTok. While she did not address the remarks about Heard in her video, she replied to a comment asking if she took footage of Fike "worshiping Amber Heard."
"We don't but he said that he would let Amber Heard beat him up and we were like hey...Shhhhh," Goetz responded.
Depp's defamation trial against Heard has aroused a social media frenzy in recent weeks. Depp is suing Heard for $50 million, alleging that she defamed him by claiming she suffered domestic abuse in a Washington Post op-ed. Depp says he has never been physically violent toward women.
Heard has confirmed on the stand that she hit and threw items at Depp during altercations.
"It's always been my own testimony that I hit Johnny," Heard said in court on May 17. While being questioned about a specific incident, the actress said she hit Depp to defend herself and her sister from his attacks. She also admitted to throwing things at him on other occasions.
Newsweek reached out to Fike for comment.