South Africa Universities Shut Down After Violent Clashes Between Students, Police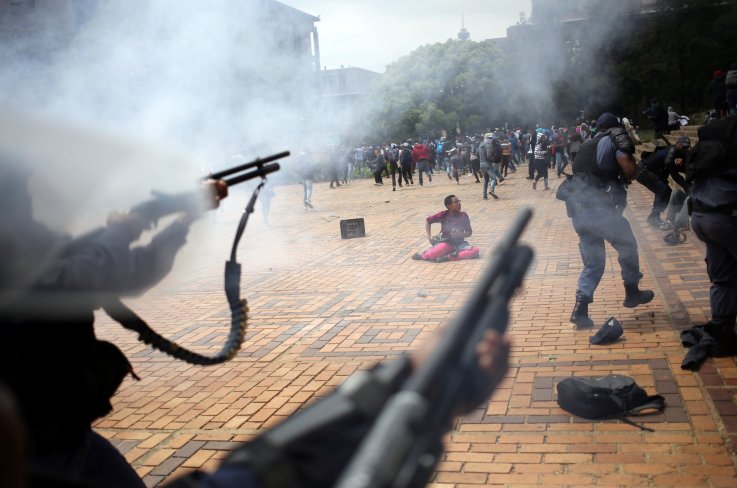 As teachers returned to classrooms and tried to resume lectures at the University of the Witwatersrand on October 10, outside their windows police officers and student protestors were once again engaged in violent clashes following a forced closure last month, threatening another shutdown.
Protesters demanding free tuition threw rocks at the police, who fired rubber-coated bullets and used tear gas and stun grenades to control the crowds. University tuition fees have become a flashpoint for protests in South Africa, which has struggled to provide education, jobs and housing for many poor black people since the end of apartheid in 1994. Violent clashes with police have erupted regularly on campuses across the country in recent months, and several universities have been closed to avoid further unrest.
Witwatersrand is the latest battleground in a nearly yearlong countrywide protest over the cost of university education, which is becoming increasingly cost-prohibitive for many black students. The protests highlight an ingrained frustration at enduring inequalities more than two decades after the end of apartheid.
University fees have increased 80 percent since 2008, and with each round of increases, students say they're being spread too thin to afford a higher education. Demonstrators say the increased tuition makes it particularly hard for black students, who tend to come from less-privileged backgrounds than white students, to attend college.
President Jacob Zuma's government has said it will raise tuition fees to up to 8 percent in 2017 but will continue subsidizing tuition for students who come from low-income families.
On Monday, students entered classrooms in an attempt to disrupt lectures and close down the campus. "The protests are continuing because students' demands have not been met. There hasn't been sufficient engagement from the university," a member of the Wits Student Representative Council, Palomino Jama, told Reuters.