Two Students Found Dead After Hiking Volcano for Closer View of Eruption
Two students have been found dead after hiking near an erupting volcano on the French Indian Ocean island of La Réunion.
The victims, male hikers in their twenties, were studying at a university on the island and had been walking near the Piton de la Fournaise volcano in order to see the eruption up close, French media reported.
Their bodies were discovered on Thursday by the mountain gendarmerie in the main caldera of the volcano—the crater that forms after an eruption.
The alarm was raised a day earlier when they failed to appear, sparking a search of the area, La Réunion police said.
The cause of death is not yet known and an autopsy is scheduled for Friday.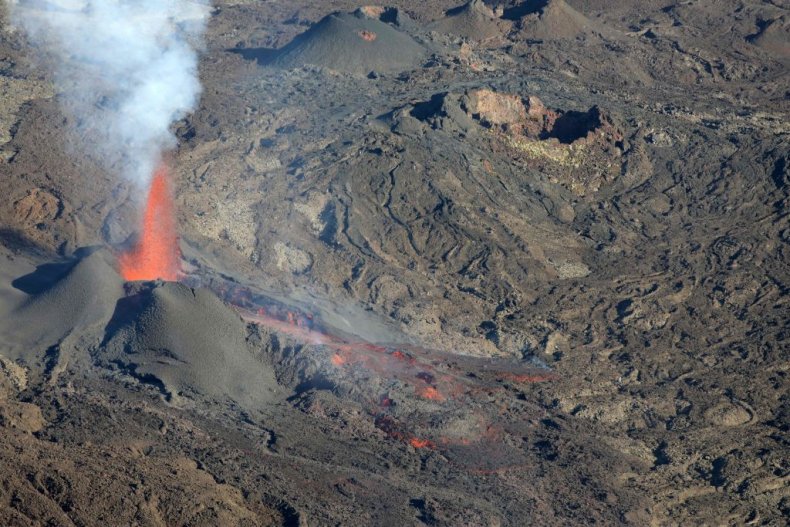 Police speculated they could have been killed by falling rocks which were thrown from the crater of the volcano during the eruption, or even by lightning which often forms from colliding particles of volcanic ash that create static electricity.
They were said to be students of the Faculty of Science and Technology at the University of Réunion. Support services have been put in place for those at the university who have been affected.
Stéphane Narbaud, head of the gendarmerie's mountain force, urged people to avoid the volcano.
"There is no path, there is fog," he said. "Only the scientists of the observatory [monitoring the eruption] are equipped to approach an erupting volcano."
The Piton de la Fournaise, on the southeast of the island, has been erupting for several weeks.
Video from the area showed lava flows running down the side of the volcano.
The Volcano Discovery website, which has provided updates on the eruption, said clouds of sulfur dioxide have also been released.
It said two vents had erupted lava fountains reaching up to 60 meters (nearly 200 feet) into the air.
The eruptions were accompanied by hundreds of shallow volcanic earthquakes caused by magma beneath the surface breaking through rocks as it moved.
In 2019, a person was killed while walking near a volcano on the Italian island of Stromboli.
The victim, a 35-year-old man from Sicily, was hit by a falling stone. Others nearby were injured.