Students File Class Action Lawsuit Against Secretary DeVos Alleging Illegal Seizure of Loan Borrowers' Paychecks
A class action lawsuit filed Thursday against the U.S. Department of Education and Secretary Betsy DeVos alleges the department continued to collect wages from student loan borrowers after the Coronavirus Aid, Relief, and Economic Security (CARES) Act put a halt on such activities.
According to the CARES Act, which President Donald Trump signed into law on March 27, automatic student loan payments and wage garnishments were to freeze between March 13 and September 30. Under ordinary Education Department rules, student loan borrowers in default can have up to 15 percent of their disposable income taken out of their wages to pay back their debt. Public data shows the department collected more than $841 million through this process in 2018.
Though DeVos said in a news release on March 25 that wage garnishments would stop, the lawsuit filed by Student Defense and the National Consumer Law Center alleges such activity has continued.
"The truth is, she keeps on taking wages from the paychecks of Americans struggling to make ends meet," senior counsel at Student Defense Alex Elson said in a news release. "We sued to make her stop."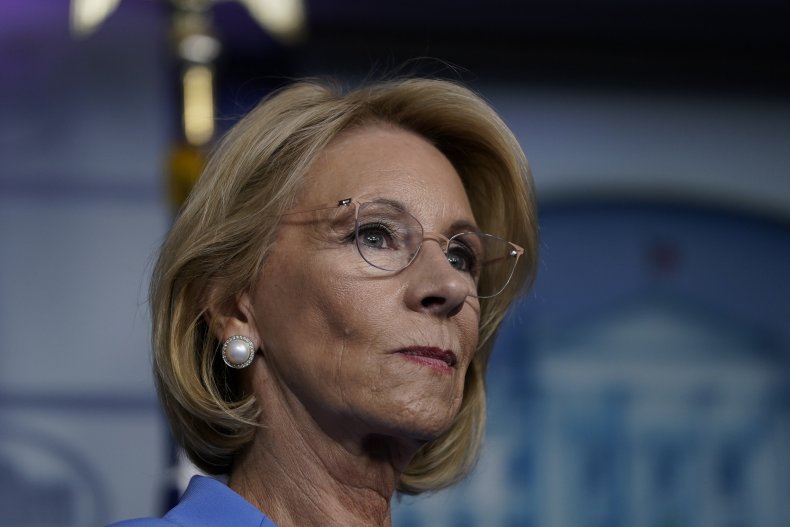 The lawsuit calls for the department to stop wage garnishment and return funds taken during the freeze to all loan borrowers impacted—including Elizabeth Barber, the 59-year-old plaintiff named in the case. According to the lawsuit, Barber earns less than $13 an hour through her work as a home health aide. Though her work hours have been cut in response to the pandemic, her paycheck has continued to see reductions for wage garnishments, with the most recent cut taken out on April 24.
"If the Department provides full refunds to borrowers months or even weeks into the future, many borrowers, including Ms. Barber, will still experience irreparable harm," the lawsuit said. "A refund many weeks or months after the garnishment takes place cannot erase hardship suffered in the present."
Information on the department's website indicates officials anticipated wage garnishment activity might have continued despite DeVos' order for it to stop. In its March 25 release, the department said it "must rely on employers to make the change to borrowers' paychecks" and recommended borrowers contact their employers directly to coordinate the necessary changes.
In response to borrower-submitted questions on the continuation of the practice, the department said on its website the employers of those who continue to see a percentage of their wages taken from their paychecks "will receive a letter from ED instructing them to stop your wage garnishment," adding that any wages mistakenly taken during the freeze would be returned.
Before the end of March, the department said it already planned to return an estimated $1.8 million to more than 830,000 borrowers currently in default.
"The Department does not comment on pending litigation," an Education Department spokesperson said in a statement provided to Newsweek.
"As to the issue more broadly, the Department has taken immediate action to notify employers to stop garnishing wages," the Education Department spokesperson's statement continued. "The Department's default loan servicer called employers by phone, sent emails when possible, and mailed letters to employers who could not be reached any other way. Payments we receive via garnished wages will be immediately processed for refund, and the employer will be contacted again to ensure the guidance to stop garnishing wages is understood. The Department relies on employers to stop garnishing wages, but is taking every measure to contact employers and refund garnished wages to borrowers until Sept. 30, 2020."