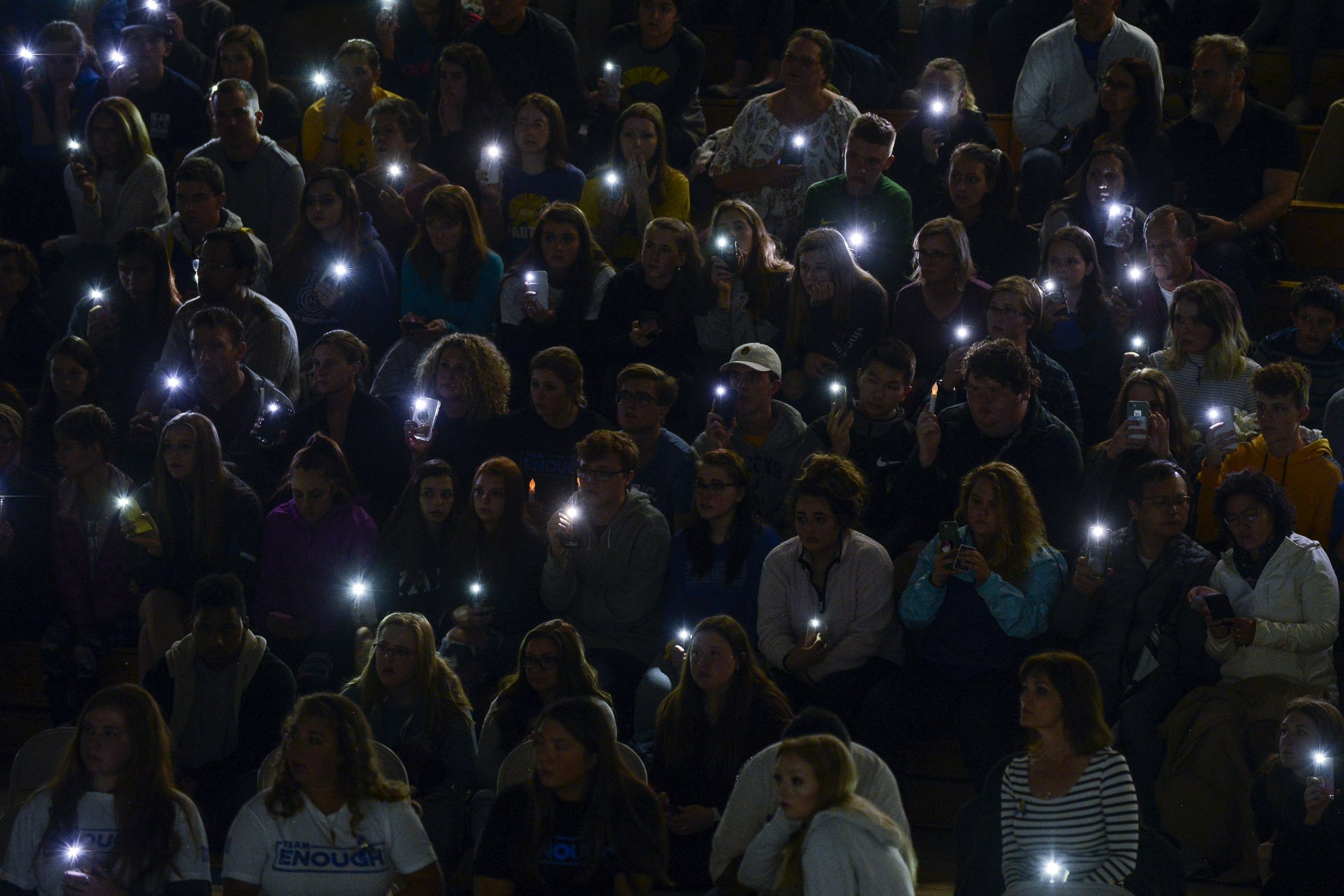 Students and parents left a vigil in Colorado for the STEM School Highlands Ranch shooting victim and survivors on Wednesday after speakers began talking about gun control instead of focusing on the students' trauma and the victims.
The interfaith memorial vigil was organized after two students opened fire at the high school on Tuesday, killing 18-year-old Kendrick Castillo and wounding nine others. Students, including those who are part of Team Enough, a youth gun control organization, helped to organize the event, which took place at the nearby Highlands Ranch High School, located about 15 miles south of Denver.
But a large group of students from the STEM high school left after speakers focused on gun control policy, according to news outlet KUSA. Many students later returned to share their memories of Castillo and express their discontent at how the memorial had been organized.
Representative Jason Crow and Senator Michael Bennet from Colorado were both at the vigil, as well as representatives from the gun control organization Moms Demand Action. Both lawmakers talked "at length" about needing federal action on gun control, USA Today reported.
Students told Colorado Public Radio that they did not want the vigil to focus on politics and didn't want Castillo to be turned into a political "prop." Twitter videos from Jenny Brundin, an education reporter at Colorado Public Radio, showed STEM students chanting "mental health."
"They don't get what we went through yesterday. They dont get what it's like to have to run for your life," one student said in a video that Brundin posted. "You do not get what it's like to look a teacher straight in the eye and say, 'run, run for your life.'"
The Brady Campaign, a gun control advocacy nonprofit, helped organize the event, and responded to criticism from attendees unhappy with speakers who focused on policy matters.
"Brady has always been and always will be supportive of individuals and communities who have experienced the horrors of gun violence. Our deepest condolences are with the STEM School students, faculty and families. All efforts should be focused on providing them support in this time of crisis," the group said in a statement sent to Newsweek. "We are deeply sorry that any part of this vigil did not provide the support, caring and sense of community we sought to foster and facilitate and which we know is so crucial to communities who suffer the trauma of gun violence."
Nine school shootings have already taken place in 2019, according to The Washington Post, putting the country on pace with the 25 school shootings that occurred in the U.S. in 2018. More than 228,000 students have experienced gun violence at school since the Columbine shooting in April 1999, according to the Post's database.