Students May Not Survive COVID Lockdown Without Urgent Mental Health Support
Young people at university across England are not receiving adequate mental health support during a second tough COVID lockdown, students have warned. Amid protests over forced isolation among those living in university accommodation - often large blocks of communal apartments - a stark picture began to emerge. Students placed under lockdown, many living with relative strangers hundreds of miles away from home for the first time in their lives, are facing a mental health crisis.
Under the current nationwide lockdown rules in place across England, students have been told not to return home during term time. In cities like Nottingham and Lincoln, young people have complained of feeling "trapped" in their halls of residence while face-to-face teaching continues. Unions are calling for all non-essential learning to move online, to allow students to leave and go home if they choose.
At one U.K. university, where a teenager died by suicide just weeks into his first term, a concerned student who asked what mental health support was available was pointed to a Twitter thread. Others report not having had any contact from support services while locked down, other than being told about wellbeing websites they can visit, despite warning that the mental health of students will only "deteriorate" as a result.
Lecturers at the prestigious Cambridge university emailed students to tell them that those who choose to return home without permission may not be able to continue with their studies or even graduate. The policy pre-dates the pandemic but it was hoped it would be revoked.
The British government has announced a mass evacuation operation to allow students to go home safely for Christmas, giving them a "student travel window" between December 3 and December 9 in which to move home. It is hoped that the window will minimize the risk of students spreading COVID-19 by coming into force immediately after the four-week lockdown. Many students will be offered rapid result tests, and teaching must move online from 9 December, the government said. Unions have warned that allowing one week for around one million students to travel "leaves little room for error". The government hopes it will alleviate worries from students about being cut off from family over the Christmas holiday.
The move comes after worrying research revealed the impact of the pandemic on young people's mental health. One study, led by the University of Glasgow, found the COVID pandemic increased rates of suicidal thoughts, with young people particularly at risk. The study*, published in the British Journal of Psychiatry, found suicidal thoughts increased on average from 8% to 10% in just three months and were highest among young adults aged between 18 and 29. A separate survey* conducted by the Higher Education Policy Institute (HEPI) found students reporting far lower levels of wellbeing compared with the general population.
In 2019, there were 5,691 suicides registered in England and Wales, according to the Office for National Statistics (ONS)*, in line with the 2018 rate but statistically significantly higher than the rates seen between 2014 and 2017. The national suicide figures for 2020 won't be released until September next year but a report by the National Confidential Inquiry (NCISH)* compared available suicide figures in England pre-lockdown to those post-lockdown and found the average number of suicides per month varied but there was "no evidence of a rise" during the pandemic.
Jacqui Morrissey, from suicide prevention charity Samaritans, said that while the report indicated that suicide rates were not impacted as feared during the first U.K. lockdown, "we must not be complacent. Suicide is a tragedy that devastates friends, families, and communities. We have to do more to support those at risk and get suicide rates on the decline once more."
The day England's second lockdown began, people at the University of Manchester woke to discover they had been physically fenced in, with a wall of wire separating them from the outside world. Those living in the campus accommodation said the fences were the "tipping point" for action after weeks of complaints about mental health support, teaching, forced isolation, and poor quality living quarters. Manchester MP Afzal Khan described the fences as "deeply distressing for the students involved".
The fences sparked a protest on campus as hundreds of students called for their worries about mental health to be properly addressed. It ended in students physically pulling the fences down. Maisie Outhart was among those who joined the demonstration. She tells Newsweek the anger felt by students had come to a head. "There are people feeling very lonely stuck in a flat they don't get along with. I know people that called [university wellbeing services] for help during the lockdown [at the beginning of the term in September] and are only just being followed up," Outhart says. "I asked what the extra support was and was pointed to a Twitter thread. I don't know what else is being done."
The situation is especially demanding for students in halls, who have been grouped into households with people they have never met before. "I am lucky I get along with my flatmates," Outhart says, "but we don't decide who we live with and I just got lucky."
Another student, Ben McGowan, had asked security why he had woken up to find his flat surrounded by fences and he claims "they refused to tell us". It wasn't until around 5 pm that students finally received an email from the university explaining the new COVID fencing. "By that time we'd already organized the protest, the feeling from students was at boiling point basically," McGowan says. "I think about 400 students turned up. Someone rattled a fence and it came down. We realized how easy it was for us to just take them down ourselves."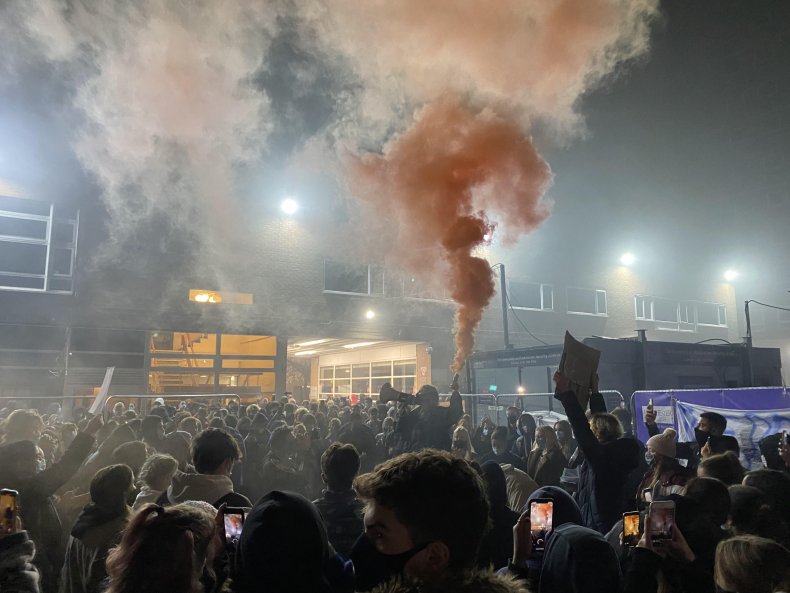 When the fences started coming down on November 5 to the backdrop of fireworks as England marked Bonfire Night, Outhart says it felt eery and "dystopian". "If you had played this scene to me a year ago I would have felt like I was living in a war zone," she says. McGowan describes it as a "great moment of community solidarity" among students who had until that point been confined to their separate flats. "We came together for what in the end was a minor victory but it has spurred us on to keep fighting for everything else." Everything else, he says, begins with better support for students who are reporting feeling increasingly isolated.
The protest came just weeks after Finn Kitson, 19, a Manchester student, was found dead at the same Fallowfield Halls of Residence where the fencing was erected. A minute's silence was held by those demonstrating. After his death, Kitson's father, Cambridge economist Michael Kitson, responded to a since-deleted tweet that said the death was unrelated to COVID restrictions, writing: "If you lockdown young people because of COVID-19 with little support, then you should expect that they suffer severe anxiety." The family has urged people to donate to the male mental health charity Campaign Against Living Miserably (CALM) in Kitson's memory.
McGowan fears the second lockdown will have a greater impact on those separated from friends and family back home. He says: "Before we started we were told we would have tutorials and seminars in person, that changed within a week. We had to isolate in our second week, with very little communication from the university. Some of the accommodation is in really poor condition. So there are a number of issues that people are upset about. But if they were going to change one thing tomorrow it should be to improve mental health support.
"After the student died we were promised 'wellbeing checks', I've not seen any outreach. There are a lot of students thousands of miles from home and unable to access any support network. If something isn't done about it, during this second lockdown, the mental health of a lot of students is really going to deteriorate."
Manchester's president and vice-chancellor, Professor Dame Nancy Rothwell, issued an apology the day the fencing was erected. In a statement following Kitson's death on October 8, student experience director Dr. Simon Merrywest signposted people to the university's online wellbeing service and said: "We are providing all possible support."
A University of Manchester spokesperson said: "The mental health and wellbeing of our students is of the utmost importance to us and we offer wide a range of resources and services to support them. We have listened to students and we are increasing our services with online and on-site advice and support available for halls students and we will be extending our counseling service hours." There is an online mental health support platform, and a new 24/7 phone line will soon be available to all students and staff. "Beyond that, more focused support is offered by support teams who offer face-to-face initial support and active referral onto the further steps. These are provided by specialist university services," the spokesperson says. "We have a clear escalation route for students in crisis and strong links with local NHS mental health services."
"If something isn't done, during this second lockdown, the mental health of a lot of students is really going to deteriorate."
On October 16, a week after Kitson's death, a 20-year-old Coventry student died in his halls. Two days later, on October 18, third-year Bristol medicine student Matthew Ward died while on placement at Great Western Hospital in Swindon, Wiltshire. A spokesperson for Coventry University said a range of mental health support services were available for students while a Bristol spokesperson said students were also being offered support.
On October 19, second-year history student Lily Arkwright, 19, died while studying at Cardiff University, in Wales. Her family said she had taken her own life with her brother, Jonty Arkwright, saying the family had lost a "smart, funny, life-of-the-party kind of person". The university said it had introduced more counseling and wellbeing support as a result and said: "The university's mental health provision ranges from prevention and awareness, to support and referral to the NHS and other community partners. It is available to all our students and has been accessible remotely throughout the pandemic and local restrictions."
The National Union of Students (NUS), a confederation of students' unions in the U.K., called for "urgent action" after the deaths were linked to suicide. NUS Vice President Sara Khan said in a statement: "We have warned the government multiple numbers of times about the risks of the pandemic on students' mental health. Many have left home for the first time, are living with strangers, and have no access to their support networks. There is growing uncertainty and anxiety about the year ahead. Some things have been done but it is not enough. The issue is not being taken seriously enough and it is putting students' lives at risk.
"We know that expressing hopelessness about the future, displaying overwhelming emotional distress, and withdrawal from social connections are warning signs that a student may be at risk for suicide. We also know that the best way to prevent suicide is through early detection, diagnosis, and treatment. Were enough resources allocated to education providers to be able to see those signs and provide adequate support? Clearly not."
The NUS is asking the government to increase the funding of NHS mental health services and urged for more flexibility to the rules during the second lockdown to allow students to travel to see relatives where safe to do so. "Universities should be providing care packages with food, household products, wellbeing materials, and general necessities, and targeted educational and mental health support, with facilitation of social activity," Khan said.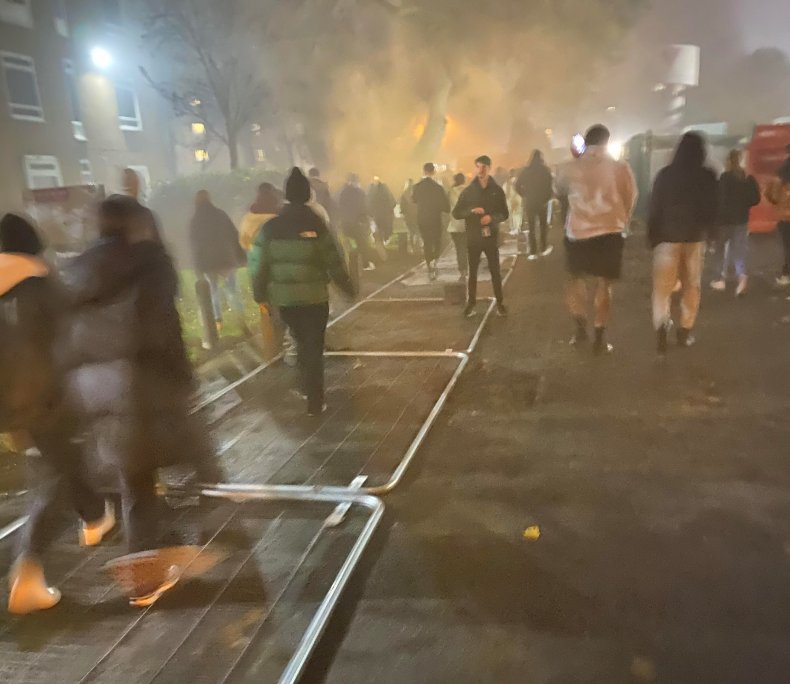 Earlier this year the Department of Health in England said it was increasing investment in mental health services and in June, Universities Minister Michelle Donelan announced a cash boost for the Office for Students to fund the mental health platform Student Space, an online wellbeing resource for students registered at any English or Welsh university.
A Government spokesperson tells Newsweek: "Protecting the mental health of students continues to be a top priority, which is why the Universities Minister convened a sector taskforce on the issue and wrote to vice-chancellors urging them to ensure students have the mental health support they need at this time.
"We have worked closely with the Office for Students in response to the pandemic, providing up to £3 million ($3.9 million) to fund the mental health platform, Student Space, and over £9 million ($11.8 million) of Government funding to leading mental health charities."
The spokesperson says that the government expects universities to continue to support students, including moving services online or making services accessible from a distance.
If you are struggling to cope, please call Samaritans for free on 116 123, email jo@samaritans.org or visit the Samaritans website to find details of your nearest branch. Samaritans is available day and night, 365 days a year.
*Study methodology & notes
1. The Glasgow university study examined the effects of COVID during the height of the pandemic, looking at three blocks of time between March 31 and May 11, surveying 3,000 adults across the U.K.
2. The survey was designed and developed by HEPI and Advance HE, with online panel interviews conducted by YouthSight and Pureprofile. Between February 17 and April 4, 48,452 members of the YouthSight panel and 7,667 from Pureprofile were invited to complete the survey. In total, 10,227 responses were collected, representing a response rate of 18%.
3. The national suicide rate reported annually by the Office for National Statistics includes deaths from "undetermined" cause, i.e. probable suicides where the threshold for a suicide conclusion at coroner's inquest is not reached. ONS figures are based on the registration of deaths after inquest. The average time from the occurrence of a suicide to its registration is 166 days.
4. Since 2018, the National Confidential Inquiry (NCISH) has supported a suicide prevention programme in England built around NHS geographical subdivisions, advising on data and evidence. The NCISH used data from these NHS geographical subdivisions who had established "real-time surveillance" systems to record suspected suicides. The systems produced data for an area with a total general population of 9 million, approximately one sixth of the population of England. The inquiry compared the numbers of suicides available by calendar month, pre-lockdown between January and March 2020, and post-lockdown between April and August 2020.