A group of students were not happy with their school district's recent decision to remove chocolate milk from the lunch menu, so they galvanized and staged their own outdoor protest.
The group effort worked to bring chocolate milk back, albeit in a very limited capacity.
The student body backlash took place last Friday at Sierra Vista K-8, part of the Vacaville Unified School District in Vacaville, California.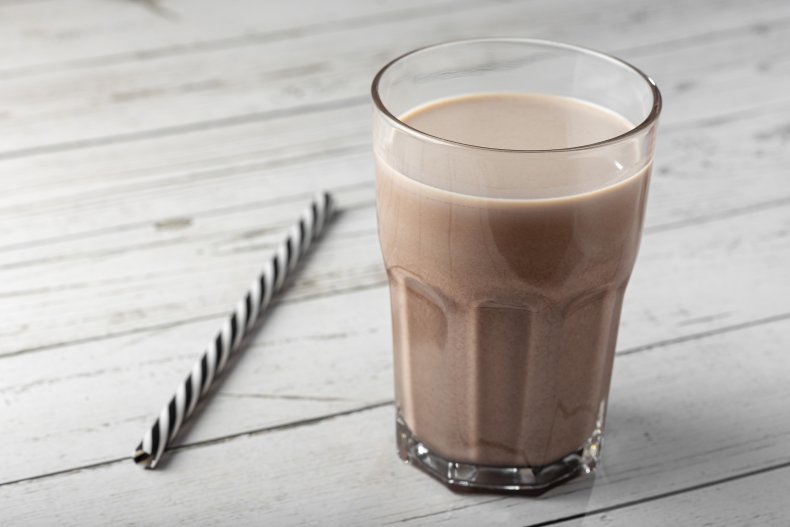 It started when students noticed the familiar lunchroom staple had suddenly vanished from their menus. As sixth grade student Wesson Markowski told KCRA 3 News, "When we walked in, I was like, 'What the heck — where is it at?'"
Markowski said being able to enjoy a chocolate milk at past lunches was sort of a momentous occasion due to its limited supply.
"Back when [we] had chocolate milk when I was in fourth grade, you'd be lucky to get a spot for chocolate milk because it would all be gone," he said.
Elaine Kong, director of communications and community engagement for the district, told Newsweek that fourth grader Jordan Reed "toiled over his arguments, bolstered by fact and more than a few catchy chants." He returned to school to organize his classmates for Friday's walkout.
Students like Reed were encouraged by Emily Doss, their fourth grade English and language arts teacher, who gave students in-class time to write messages on poster boards—some including simple demands like, "We want chocolate milk!"
"Students not only learned how to dissect and interpret argumentative texts, but they had the opportunity to try their hand at drafting arguments of their own," Kong said.
And the students did just that. They walked outside in unison, carrying signs and expressing their feelings about the school's decision. It led to a negotiation and discussion with Juan Cordon, director of the school district's nutrition department, who explained that the decision to remove the chocolate milk was because of its high sugar content.
Kong confirmed with Newsweek that the sugar content was the reason the milk was pulled from the menu.
It led to somewhat of a compromise between officials and the chocolate milk aficionados: Chocolate milk would be offered one day per week every two weeks.
That is essentially chocolate milk twice per month, or 10 percent of the time it was previously available as a daily item.
Students also negotiated for the chance to have homemade chocolate chip cookies during the weeks that chocolate milk remains off the shelf, Kong added.
According to the school's menu, fruit, regular milk and unnamed vegetables are included in every student's lunch. Kong said that the universal lunches are largely made from scratch.
"This negotiation and the facts brought forth by Jordan Reed and his fourth grade peers are indicative of a successful movement by the VUSD Student Nutrition Department to educate students about making healthy food choices, even those that need to exhibit moderation," she said. "On the district level this is a win-win for all involved, and spurred an even larger change than our demonstrators may have imagined.
"Currently, Juan and his team are seeking out additional whole milk vendors who can deliver delicious, high-quality local milk options that will also reduce food waste."
The Centers for Disease Control and Prevention says on its website that "school districts should consider putting policies and practices into place that promote foods and beverages that support healthy diets," mentioning fruits and vegetables and plain water.
That includes the publishing of a study titled, "Effect of Removing Chocolate Milk on Milk and Nutrient Intake Among Urban Secondary School Students," which discusses the removal of sweetened, flavored milk from national school cafeterias "to reduce students' sugar consumption and improve their health."
"Removing chocolate milk modestly reduced student milk consumption without compromising average intake of key milk-related nutrients, and consumption of added sugars from milk declined significantly," the study concluded. "Secondary schools should consider removing chocolate milk to support healthy beverage consumption."
The CDC also encourages a dialogue between students' families and school officials for suggestions about different food offerings. That includes the CDC's own suggestion for schools to price nutritious foods and beverages at a lower cost, while increasing the price of less nutritious foods and beverages.