Students Protest After Teacher Suspended Over Florida School Shooting Comment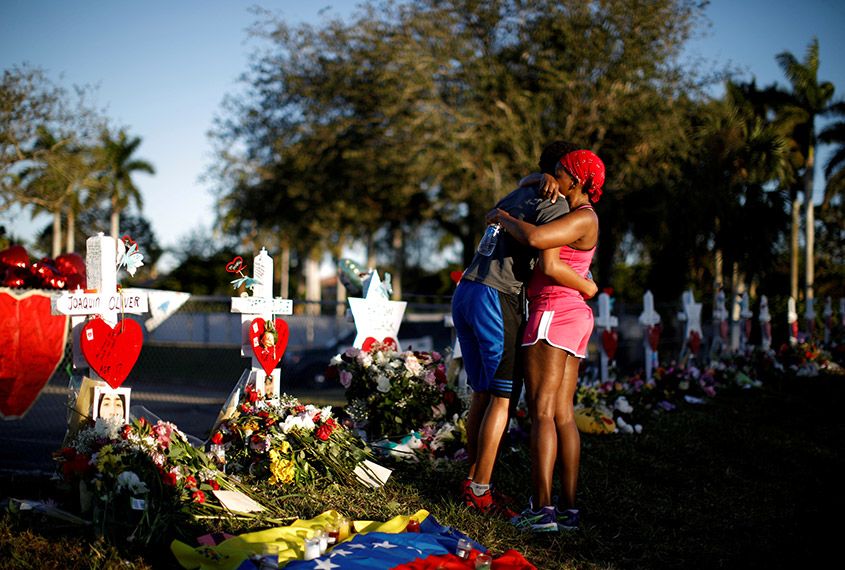 Students at a New Jersey school stormed out of class and blocked hallways in protest of their teacher's suspension for comments he made about the Florida school shooting.
History teacher Timothy Locke was suspended from his job at Cherry Hill High School East last week after a class discussion about the February 14 massacre, in which 17 people were killed. He expressed concerns that such an incident could take place at his school.
Locke, who is an Iraq War combat veteran, according to Philadelphia news website WHYY, said he was concerned about security and the fact that neither of the school security guards is armed. He drew comparisons between his school and Colorado's Columbine High School, where a mass shooting took place in 1999.
After a student became upset and went to speak to the principal, Locke was put on administrative leave. But some of his students appeared to back their teacher, staging a school protest and chanting "Rise up for Mr. Locke" and "Bring back Mr. Locke."
Students were encouraged to end the Monday protest and warned that further disruption could result in suspension, but they staged another walkout on Tuesday, ABC6 reported.
One student, senior Justin Prechodko, who began a petition in support of his teacher, told Fox29, "We were just trying to get our message across. We were just trying to be heard as student body."
"He [Locke] means a lot to me, he's always been there, he's just such a great teacher, and he listens to us," Prechodko added.
Another student told the station that the protesters had been threatened with exclusion, a ban on school trips and a ban on the prom if the protests continued.
Student activists have been increasingly vocal in the wake of the Parkland, Florida, shooting, with survivors calling on politicians to take action on gun control. They also have urged fellow students from around the country to join them in demanding a safer educational environment and are arranging a march on Washington, D.C., to demand tougher gun control laws.