Students Protesting LGBTQ Policy Get Day Off Under Virginia Law
Virginia students walking out of class to protest Governor Glenn Youngkin's proposed changes to how schools treat transgender students can receive an excused absence under state law.
Youngkin, a Republican, is facing backlash from LGBTQ advocates for proposing an overhaul to rules in Virginia schools pertaining to the treatment of LGBTQ students, reversing protections previously passed under former Governor Ralph Northam, a Democrat, in 2020.
His proposed changes would affect transgender students' abilities to use the bathrooms that correspond with their gender identity and require schools to receive parental approval before using a transgender student's changed name or pronouns. He has found himself at odds with many voters over the policy in Virginia, a state that—despite his victory in 2021—has trended Democratic in recent years.
Thousands of students from nearly 100 Virginia schools planned to protest the changes on Tuesday by staging walk-outs. Their absence from class will be excused under a law passed in 2021.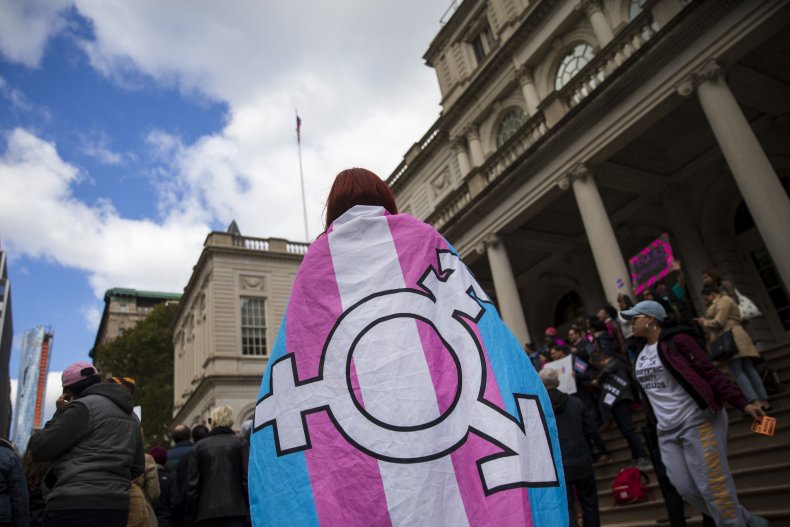 Northam signed a bill into law that would allow students one excused absence per year to attend a civic event or protest. Supporters of the law—which originated in Fairfax County, a suburb of Washington, D.C.—believe it allows students to become more civically engaged.
"Having them be engaged in the civic process will make us all better citizens and it was great to have young Republicans, young Democrats and teachers coming together to work on this bill," Delegate Sam Rasoul told Lynchburg-based TV station WSET in 2021.
Critics say Youngkin's polices target and violate the rights of transgender students, who are already seen as a vulnerable group amid what they view as rising transphobia across the U.S. Others praise the policy as strengthening parental rights.
In a statement to Newsweek Tuesday, Youngkin spokeswoman Macaulay Porter said "parents should be a part of their children's lives, and it's apparent through the public protests and on-camera interviews that those objecting to the guidance already have their parents as part of that conversation."
"While students exercise their free speech today, we'd note that these policies state that students should be treated with compassion and schools should be free from bullying and harassment."
Youngkin defends policies
Youngkin's changes bring Virginia to the forefront of a culture war that has taken place across the U.S. in recent months.
Supporters of "parental rights" policies argue that parents have a right to know what their children are doing in school, including if they publicly identify as part of the LGBTQ community. However, others have raised concerns that these policies could lead to students being persecuted or abused by unsupportive family members.
He defended the policy during an interview Monday night with WJLA as school districts push back against the proposed changes. The policy changes are set to go into effect next month following a 30-day period of public comment.
"Parents should be absolutely at the center of this discussion with their children, who they have known since before they were born," he told the station. "And I think this is for the child's best interest, for the family's best interest. And I think folks once they read the policy will better understand that."
Updated 09/27/2022 5:32 p.m. ET: This story was updated with a statement from Governor Youngkin's office.