Newlywed Couple Studying At Canadian University Among 176 Killed in Iran Plane Crash
A number of university students studying in Canada have been named among the dozens of people killed in the tragic plane crash of a Ukrainian Boeing-737 in Iran, including a student couple married for less than a week.
Paniz Behboudian, a Masters student at the University of Alberta told Newsweek that Arash Pourzarabi and Pouneh Gorji, who attended the same university, had "just got married in Iran a few days ago."
"I can't imagine the sadness their families have to face," Behboudian said.
According to local media reports, the Iranian Heritage Society of Edmonton has also identified the couple as having been on the flight, noting that Pourzarabi had been 26 and Gorji, 25. The society said that other members of the couple's wedding party had been on the flight.
Behboudian she was aware that other students attending Canadian universities across the country had also been on that flight.
In a statement, the University of Waterloo, based in Ontario, confirmed that two of its students, Marzieh "Mari" Foroutan and Mansour Esnaashary Esfahani, were listed on the passenger manifest of the deadly flight.
"Our thoughts are with their family, friends and all those lost in this incident," the university said.
In a separate statement sent to Newsweek, Leili Khaleghi, the Director General of International Protocol and Communications for the Iranian Red Crescent, said she could confirm "with regret" that the students were listed as being on board the flight.
"We express our condolences and sympathy with their families and friends," Khaleghi said, adding: "Peace upon them."
A third student at the University of Western Ontario, Hadis Hayatdavoudi, who was studying for her Ph.D. was also named among those dead by UWO's chemistry department. According to the department, Hayatdavoudi was one of four victims in the school's community killed in the tragic incident.
Khaleghi also named a fourth student at a different Ontario university whose identity Newsweek is working to confirm.
The school the student attended, according to Khaleghi, told Newsweek it could not confirm whether they were a student or were on board the flight.
A professor at the school told Newsweek that he knew that there were "a lot of Iranian students" in his department had "been worried that there would be someone on that flight who was a student here."
The students are believed to be among potentially more students who may have been aboard the flight. However, it is still unclear how many passengers might have been on board returning to their respective studies.
In a statement published online, Morteza Salimi, the head of the Iranian Red Crescent Society's Relief and Rescue Organization, said that none of the 176 passengers and crew onboard the flight would have survived the crash.
The majority of the passengers on the flight were from Iran and Canada, with 82 being identified as Iranian nationals and 63 being identified as Canadian.
The flight also included 11 Ukrainians, 10 Swedes, four Afghans, three Germans and three people from Britain, according to a Twitter post by Ukrainian Foreign Minister Vadym Prystaiko.
It is possible that the students would have been returning to Canada for the start of the winter study season.
Foroutan appeared to have been a PhD student at the University of Waterloo focusing on environmental studies.
A University of Waterloo profile page under her name states that her research focused on "the application of new algorithms and technologies in remote sensing to study climate change."
She also researched "planetary extremes from hyper-arid hot deserts to freezing worlds." Demonstrating her research, Faroutan appeared to have delivered a TEDEd video talk on what it would actually be like for humans to live on the planet Mars.
According to her University of Waterloo profile page, Foroutan would have also attended the University of Calgary, where she appeared to have studied geography, in addition to attending the Shiraz University in Iran, where she appeared to have studied natural resources engineering and soil science engineering.
Esfahani appeared to have been a Ph.D. candidate focused on construction automation and management, according to a LinkedIn profile apparently belonging to the Waterloo student.
He had previously attended the Sharif University of Technology, as well as the Isfahan University of Technology, where he studied structural and civil engineering, according to the LinkedIn account.
Behboudian told Newsweek that she wanted to point out that one reason why so many students attending Canadian universities might have been on the Boeing-737 plane was because "the international flights are very limited to [and] from Iran."
"This made the already-expensive flight tickets even harder to buy, specially for students like us," Behboudian said.
"Back in time, in 2017, when I first wanted to fly from Tehran to Edmonton, we had quite more good options such as KLM, Air France, British Airways, Turkish Airways and many more," the student said.
"Nowadays there are no more flights operated by those airlines from Tehran to Edmonton. And this Ukrainian flight... I've heard terrible reviews of past passengers but this is amongst the 'cheapest' options for us," Behboudian said. "And now it claimed our friends' lives."
The student said it pained her to think that it could have been her and her own husband on that flight.
"My husband and I were on a flight this summer from Tehran to Edmonton coming back from our wedding ceremony," she said. "Arash and Pouneh were the same."
In a statement, Canadian Prime Minister Justin Trudeau offered his family's condolences to the relations of the deceased.
"On behalf of the government of Canada, Sophie and I offer our deepest condolences to those who have lost family, friends, and loved ones in this tragedy," the prime minister said.
"Our government will continue to work closely with its international partners to ensure that this crash is thoroughly investigated and that Canadians' questions are answered," he added.
In a statement published online, Ukraine's Ministry of Foreign Affairs said it would also be providing all necessary support and assistance to the relatives and loved ones of Ukrainian citizens killed in the crash.
The ministry also said Ukraine would be dedicating all resources necessary to the investigation into the cause of the incident in accordance with international law.
The plane crash came hours after Iran launched a ballistic missile attack on Iraqi bases housing U.S. soldiers.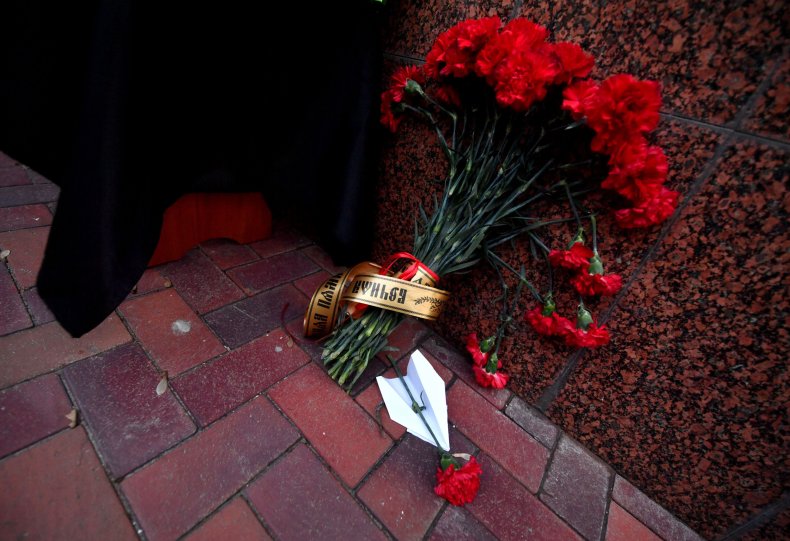 Following the missile attack, the U.S. Federal Aviation Administration issued a notice on flight restrictions barring U.S. civil aviation operators from flying over Iraq, Iran and Persian Gulf and Gulf of Oman waters.
In the wake of the crash, Ukraine International Airlines suspended flights to Tehran, as officials work to determine what caused the deadly incident.
Ukraine's Tehran embassy had initially suggested engine failure was behind the crash, but later walked back on the statement.
Newsweek has contacted Canada's Global Affairs office for comment for this article.
Updated: 08/01/2020 at 1:35pm ET. This article and its headline have been updated to reflect developments in this story.