Students Stage Protest to Support Coach Allegedly Forced Out of Job for Being Gay
A Colorado Christian high school is receiving criticism after a high school volleyball coach alleged he was pushed out of his position. The students of Valor Christian High School mobilized and staged a walkout to protest Inoke Tonga's dismissal.
Tonga wrote in a Facebook post that the school's campus pastor and the athletic director asked to meet with him before practice began. He said he was asked if there were "any changes in lifestyle that were life-changing." Tonga said they then asked him if he posted anything inappropriate to his social media that went against the school's culture.
After denying posting anything inappropriate to his social media pages, Tonga said he was asked if he posted anything about being gay.
"My answer was yes," he wrote. "Of course I advocate for LGBTQ+ brothers and sisters, especially those struggling with finding a relationship with God. The culture document of Valor Christian that was given to me during the interview process didn't mention anything about their stance on LGBTQ+."
Tonga said he was "grilled" and told that being gay is a "danger" to the school and the students. He said he was given two choices. The first was to denounce being gay, which would allow Tonga to continue to coach. The second choice was to send out an email to the students stating he was away for personal matters "so that way when [he] makes his decision to accept God and our help, [he] can come back and they don't have to know of [his] spiritual battle."
"With my head held high, and with tears ready to be shed for hours, even days, I walked away knowing that my journey as a coach at Valor Christian had come to an end," Tonga wrote. "I was not going to 'denounce identifying as a gay man.' Which, according to them, would lead to me being released as a coach."
After choosing to not denounce his sexuality, Tonga said he was released and his team was notified that it was his choice to leave.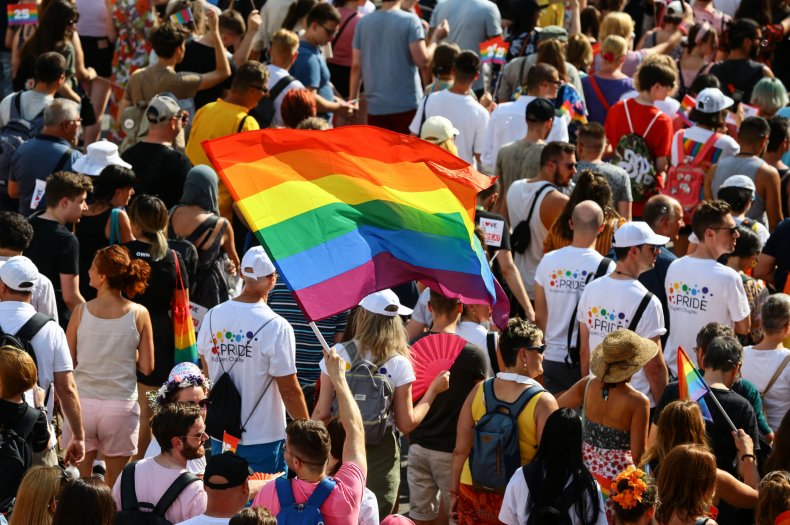 Upon hearing the news, FOX31 reported that students, both current and former, organized a walkout in support of Tonga. Some teachers and parents also participated.
"For me, they are the reason why. They are the reason people are speaking out," Tonga told the outlet.
"When Coach Inoke and Coach Benner's stories came out in the past three days, my heart broke for both of them and it broke for every queer teen at this school," Lucy Sarkissian, a junior at Valor Christian High School told FOX31.
Lauren Benner was a coach for the high school who shared a similar story to her Instagram shortly after Tonga posted about his experience.
She told Newsweek that she's felt a mix of emotions and has relived the conversations she had with the school's administrators about her sexuality in late 2019.
Though Benner said there is still hurt and pain from being subjected to this ordeal, she said, "time heals everything."
However, she said she is unsure what would bring full closure.
"The wrongs have been done and there's no going back to change the conversations," Benner told Newsweek. "There's changing the future and being more sensitive."
Upon seeing the students mobilize to stage their walkout, she said it was "pretty incredible how quickly they organized and stepped up."
"It was eye-opening to see how many students in that school felt they weren't feeling loved or equal," Benner said. "That's heartbreaking but empowering to see them step up and stand up."
She spoke to her experiences as a high school coach and said she was in "awe" of her players and what they saw in the world and what they talked about.
"They want to be loved, but they also want to love," she said.
Since leaving her position as the school's lacrosse coach, Benner has continued her coaching career as a head coach for a club team, though her goal is to once again coach for a college team or a high school team.
Cole Watson, who graduated in 2018, suggested that "discrimination against the LGBT community is not something new for Valor."
"I hope they hear this message from their current message, I hope they hear the messages shared on social media from past LGBT students about the discrimination and psychological abuse they received at this school," Watson told FOX31.
The school released a statement, which said Tonga misrepresented many aspects of the matter. It also stated that Tonga said he does not support the school's beliefs and "requested a separation from Valor."
Newsweek has reached out to Inoke Tonga and Valor Christian High School but did not hear back by press time.
Updated 08/31/2021, 1:34 p.m. ET: This story has been updated with statements from Lauren Benner.