Low-Income Students Could Receive $1,200 Stimulus Check Under New Proposal
Low-income students who previously missed out on stimulus checks could receive direct payments of $1,200 under a new bill proposed in Congress.
Rep. Bobby Rush (D-IL) has put forward the Student Recovery Eligibility for Low-Income Individuals to Exact Funds (RELIEF) Act of 2020, which would apply to Pell Grant students.
The RELIEF Act would seek to amend Section 6428 of the Internal Revenue Code of 1986 in order to provide Pell grantees, usually determined to be undergrad students who have an exceptional financial need, with direct payments.
College students claimed as dependents by their parents were ineligible for a $1,200 payment, while their families could also not claim the $500 allocated for child dependents due to their age with the cut off point being at 16.
Rep. Rush said families may be struggling with the financial burden of students returning home amid the COVID-19 pandemic, with his proposal hoping to support those facing financial issues in the circumstances.
"Colleges and universities across the country have shuttered to limit the spread of COVID-19. While these closures have protected students from illness, they have also forced many students to return home to families who simply cannot afford the unexpected financial burden of suddenly having one, two, or even three additional mouths to feed," he said in a statement outlining his proposal.
"Unimaginably, many of these students were ineligible to receive a direct financial assistance payment through the CARES Act, which would have provided them and their families with much needed relief during this crisis. The Student RELIEF Act seeks to alleviate the economic hardships of our nation's most vulnerable families by making Pell Grant students and their families eligible for the $1,200 direct stimulus payments they did not received the first time around.
"It is critical that we ensure the vitality of these vulnerable students and their families, especially during these unprecedented times."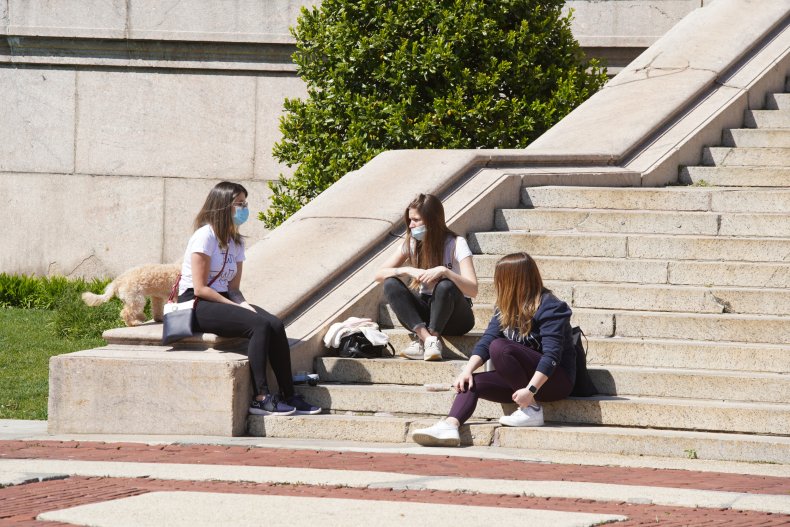 Under the CARES Act legislation, most individuals earning $75,000 per year were eligible for Economic Impact Payments (EIPs), while parents with dependent children aged 16 or under could get $500 per child, which left college students listed as dependents out.
A spokesperson for the Senate Finance Committee previously told The Wall Street Journal: "Dependents, by definition, aren't responsible for a majority of their financial support. The goal of the recovery rebates is to provide support for Americans who are responsible for their own financial well-being or that of another during this pandemic."
Responding to Rush's proposal, a spokesperson for Chuck Grassley (R-IA), chairman of the Senate Finance Committee, said: "Chairman Grassley is working with his colleagues on a bipartisan basis and no legislation has been finalized at this point."
Seven other Democratic representatives cosponsored the RELIEF Act proposal aiming to adjust the support for students.
Newsweek has contacted Rep. Rush for further comment.
Speculation remains over whether people will receive a second stimulus payment, with Congress yet to pass another relief bill amid the coronavirus pandemic.
The HEROES Act was passed by the House of Representatives but has stalled in the Senate, with the upper chamber's GOP leadership dismissing any chance of approving it.
The $3 trillion act would include a second round of $1,200 payments, with similar terms of eligibility to the first bill. There are points of difference around dependents, with families receiving up to $1,200 for each dependent child, capped at three children. College students listed as dependents would also qualify under its terms.
While GOP leadership has indicated it will support a further relief bill in some form, it is unclear whether this would include direct payments, with lawmakers split on whether this is the correct course of action.