Students Support Teacher Accused of Placing Child in Trunk to Avoid COVID Exposure
Students in Texas are rallying support for a teacher accused of putting her son in the trunk of her car to avoid possibly being infected with COVID-19.
Authorities charged 41-year-old Sarah Beam with felony child endangerment after she allegedly had her 13-year-old son move into the trunk of her car while she drove him to a drive-thru COVID testing site on January 3, local news station KTRK reported.
Beam works as a teacher with the Cypress-Fairbanks Independent School District near Houston but has been placed on administrative leave following the incident.
Students made signs and sent Beam letters to show their support for their teacher, the news station reported.
Some of the signs read: "Mrs. Beam your students have your back," "We are so lucky to have a teacher like you" and "Don't judge a book by it's [sic] cover."
Letters from students were taped to the windows of Beam's home. One of her students wrote in a letter that Beam is "one of the greatest teachers" they have known.
One letter reads: "A real hero with no cape, an asset to the school and a blessing to the students. Ms. Beam is one of my mentors who I hold dearly. I would love the people to know that she is an amazing teacher, a loving mother, and an empowering woman. I hope all these misunderstanding goes away soon, and the truth comes out."
Another reads: "Sarah's unconditional love towards students is reflected in many ways in her life. Her aptitude and dedication are remarkable in the school and with her family."
Court documents show Beam took her son to a drive-thru testing site at Pridgeon Stadium on January 3. Bevin Gordon, the school district's director of health services, was taking information from vehicles waiting for testing when Beam reportedly unlatched the trunk of the car, revealing the teenager "lying down" without safety restraints.
Gordon told Beam they would not test her son until he moved into the back seat of her car.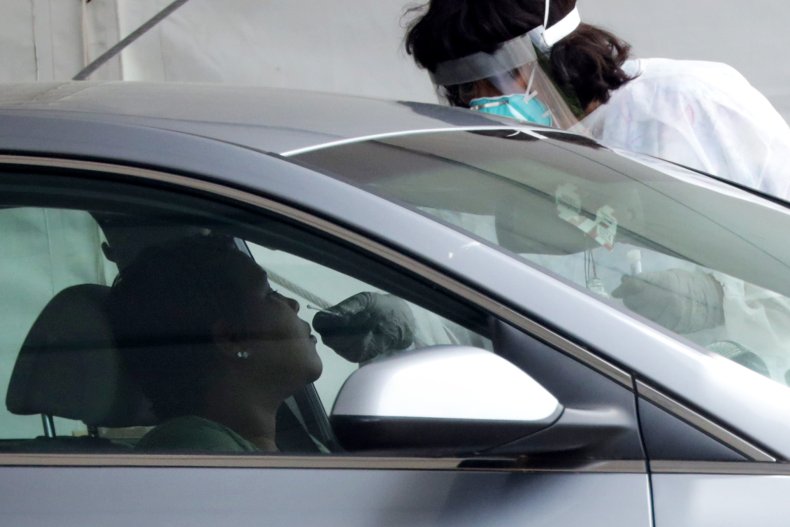 "(The mother) stated that she put (her son) inside the trunk to prevent her from getting exposed to possible COVID while driving (him) to the stadium for additional testing," the court document read.
Surveillance footage from a nearby middle school allegedly showed him moving from the passenger side of the back seat to the trunk.
Her son did not suffer any injuries. Authorities arrested Beam over the weekend and held her on a $1,500 bond, according to KTRK.