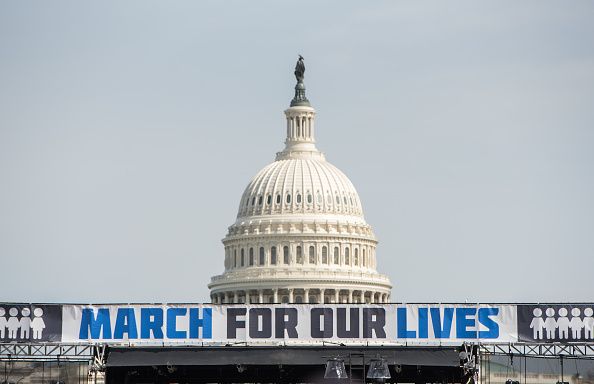 Forty Wisconsin students have begun a multi-day, 50-mile march to change the national conversation on gun control. A little after noon on Monday, they had reached mile 23 on their trek toward the hometown of House Speaker Paul Ryan, a Wisconsin Republican, where they vow to fight until their calls for gun reform are met.
"We wanted the country to know that the young people aren't going anywhere; that we want our voices to be heard and we want change to be made and we are going to continue to march. Fifty miles and then 50 more miles, and 50 more miles after that...," organizer Katie Eder, 18, told Newsweek.
The students said they wanted to continue building on Saturday's March for Our Lives, where hundreds of thousands of young people across the nation convened in a nationwide call for gun control reform. One of the main measures the students are calling for is a ban on the sale of military-style rifles. They also seek to raise the minimum age to purchase firearms to 21; require background checks on all gun buyers; and reinstate a waiting period for all gun sales.
The Wisconsin students said they will keep pushing even if their efforts are dimmed by some politicians or stalled because of current gun legislation. As they hiked toward the town of Janesville, the students rebuffed the "now is not the time" line espoused by many politicians in the country's gun control debate.
On Sunday, former Senator Rick Santorum, a Pennsylvania Republican, pushed back on the country's youth-led efforts and said that kids should be engaged individually within their communities, taking CPR classes, while preparing for active shooter scenarios. Santorum added that while he was "proud" of the students for marching, he argued that a "phony gun law" wouldn't prevent the next school shooting.
Eder said the most influential thing that youth can do is band together to make a difference. "Our most powerful tool is our voices and our ability to say we had enough."
At each mile in their 50-mile journey, students take a moment to pay tribute to a person who lost their life in a mass or school shooting, or who were killed by everyday gun violence. As each mile passes, a student announces the mileage and a person's name, while the whole group then repeats it.
"To me, it means that we are recognizing the victims of gun violence," 15-year-old Alemitu Caldart told Newsweek as the group was nearing its 24th mile. "We are marching for change, but we also understand that the reason we want change is because so many people have lost their lives. We want to remember and recognize them."
The first mile paid tribute to 16-year-old victim Jaelynn Willey, who died from last week's shooting at her Great Mills High School in southern Maryland.
"If the politicians don't make the changes, then we will change the politicians come November," 17-year-old Brendan Fardella told Newsweek. Fardella added that if Ryan is watching his television and thinks their voices aren't making a difference, he will see the results after November's midterm elections.
"The speaker respects those expressing their views," AshLee Strong, a spokeswoman for Ryan, said in a statement to Newsweek. "The House recently enacted new laws to keep children safe without infringing on constitutional rights."
Last week, the House passed the Fix NICS Act, which beefed up the federal background check system and included federal money to improve school safety.
Saturday's March for Our Lives protest is now being credited as one of the largest youth protests since the Vietnam War. Thousands reportedly signed up to vote, according to the nonpartisan organization HeadCount, which joined with Saturday's organizers in registering voters.
"Movements like this show you...what's possible, what can come out of this generation, and the fact that they are so connected. These are issues that we have been facing for a long time but collectively they are the ones that have come together and say, 'alright this [is] enough, this is where it ends,'" former Representative Mandela Barnes, a Milwaukee Democrat, who is also running for lieutenant governor, told Newsweek.