'Students For Trump' Tweets Then Deletes OJ Simpson Video Criticizing 'Pandering' Democrats
The verified "Students For Trump" Twitter account expressed their support for O.J. Simpson — and later deleted — his Tuesday claim that Democrats are pandering to voters and should be "providing any real solutions."
The Turning Point USA-run group which supports President Donald Trump's 2020 reelection campaign co-opted Simpson's complaint that Democratic Party presidential candidates should lay out specific plans in tonight's debate. "Students For Trump" tweeted out their support for the infamously acquitted former NFL running back to their account's more than 150,000 followers Tuesday — a post they quickly deleted after immediate backlash and mockery. Simpson, speaking in his latest video, urged Democratic hopefuls to "actually put out a plan" and prompted the pro-Trump group to stand by the convicted robber who was released from prison in 2017.
"Even OJ Simpson is fed up with Democrats pandering and not providing *any* real solutions," the official Students For Trump Twitter account wrote Tuesday afternoon in the now-deleted tweet.
The video shared by the group showed Simpson discussing his support for two current NFL running backs, Ezekiel Elliott of the Dallas Cowboys and Melvin Gordon of the Los Angeles Chargers, before segueing into his thoughts about tonight's Democratic presidential debate.
"As far as the debates are concerned, I saw that one of the people actually put out a plan, something for them to debate the merits of tonight," Simpson said in his Tuesday video, likely referring to California Senator Kamala Harris' health care policy release Monday.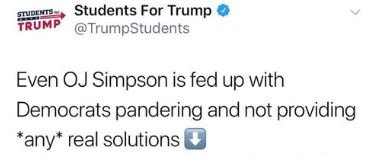 "Now, they all should do that. It's easy to say 'oh we should fix global warming, oh we should have an affordable health care plan,' we should have a chicken in every pot. All of that sounds good, the question is, how are you going to do it?" Simpson continued in his latest video that have become staples of his newly created @TheRealOJ32 Twitter account handle.
"Don't point the fingers about what somebody once did or may have done. Put your plan out there, let's see you guys debate the merits of that plan. Sometimes I wish there were no Democrats. I wish there were no Republicans. I wish there just Americans."
Twitter users and Trump critics ridiculed the group's decision to share Simpson's video, with many joking they finally found the "perfect brand ambassador" and attempted "owning the libs" by backing the notorious acquitted celebrity.
"I'm just saying," Simpson concluded in his Tuesday video. "Take care."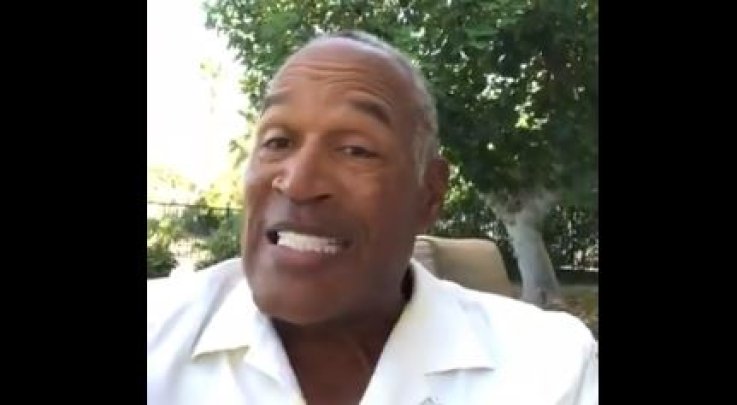 'Students For Trump' Tweets Then Deletes OJ Simpson Video Criticizing 'Pandering' Democrats | U.S.