Students for Trump Pack Arizona Event After TikTok Teens' Tulsa Rally Mischief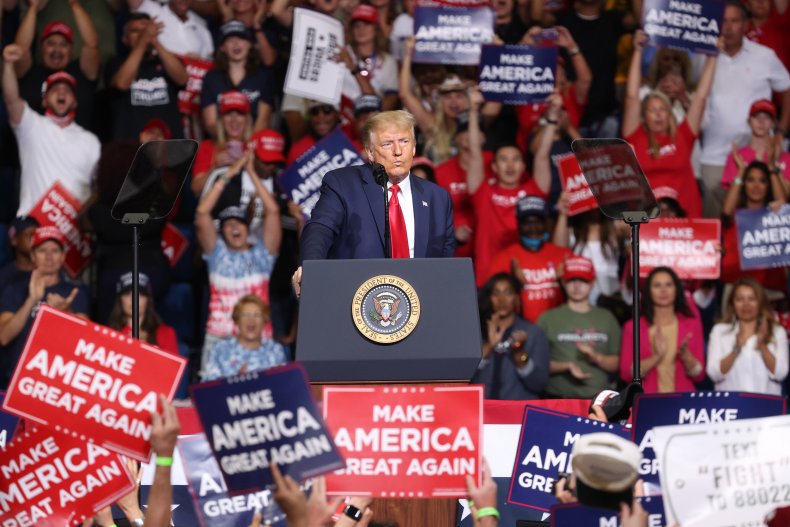 A raucous crowd of students greeted President Donald Trump in Arizona—frequently bursting out into cheer and applause—Tuesday evening, just days after a disappointing turnout in Oklahoma for the president's first campaign rally since pausing for the coronavirus pandemic.
"You're fighting against an oppressive left-wing ideology," Trump said. "Our people are stronger and our people are smarter and we are the elite."
It was the second time in a week that Trump's campaign for president spawned an enthusiastic response among youth. In the run up to Saturday's rally in Tulsa, teen critics of Trump tried to embarrass his campaign by artificially lifting ticket requests.
Trump basked in cheers for several minutes after taking the Students for Trump stage at a megachurch in Phoenix Tuesday night and told attendees to settle in for a long event. It was a return to form for Trump, who is used to whipping thousands of his die-hard fans into chants and cheers during his campaign rallies.
Despite growing coronavirus concerns in Arizona, few of the students in the tightly-packed auditorium wore masks as Trump ran through the list of his frequent campaign hits—denouncing his Democrat-led impeachment, giving shout outs to his Congressional allies in attendance, touting the wall along the U.S.-Mexico border and threatening people who want to take down Confederate monuments. An official turnout wasn't immediately available. Trump repeatedly drew drowning applause from the attendees at nearly every pausing point.
"You're young people generally—a couple of oldsters out there," Trump said.
As compared to their Democratic counterparts: "You're smarter. You're better looking. You have a better future," he told the student crowd.
Three days earlier ,Trump's Tulsa rally drew about 6,200 people—leaving visibly empty rows and unfilled seats in the 19,000-capacity BOK Center—after his campaign announced that more than a million people had signed up. Plans for overflow gatherings outside the arena were scrapped just hours before the event kicked off.
Teen users of the TikTok viral video app and Korean pop music megafans claimed online that they intentionally artificially boosted registrations—with no intentions of attending—as a prank. Trump's critics gleefully haled the effort a success and viciously mocked the president, but the Trump campaign denied suggestions that the teen-led campaign had a hand in the less-than-expected turnout in Tulsa.
"Leftists and online trolls doing a victory lap, thinking they somehow impacted rally attendance, don't know what they're talking about or how our rallies work," Trump campaign manager Brad Parscale said in a statement. "These phony ticket requests never factor into our thinking."
Parscale said registrations are linked to cell phones so that bogus requests are weeded out. Additionally, all attendance is allowed on a first-come basis and prior registration isn't required, he noted.
He instead blamed protestors outside the arena and reports on the dangers of the spread of coronavirus. Oklahoma has seen a spike in reported covid-19 cases in the past week.
"For the media to now celebrate the fear that they helped create is disgusting, but typical," Parscale said.
Trump has spent recent days cheerfully touting that his rally gave Fox News its biggest Saturday night viewership ever. According to the campaign's tally, almost 20 million people tuned into the president's speech, including 7.7 million FoxNews viewers and nearly 12 million viewers on the campaign's streaming sites.
"We had a nice crowd," Trump told reporters Tuesday. "But we had the highest ratings in the history of Fox on Saturday night."