A study released by the Centers for Disease Control and Prevention on Friday detailed how an unvaccinated teacher at an elementary school in California led to a COVID-19 outbreak among elementary school students.
According to the report, a teacher at an elementary school in Marin County, California, which serves 205 students in prekinderkarten through eighth grade, attended school in May after becoming symptomatic with nasal congestion and fatigue.
"The teacher reported becoming symptomatic on May 19, but continued to work for 2 days before receiving a test on May 21," the study stated.
The study noted that on occasion during this time, the teacher, who was unvaccinated, would read aloud unmasked, despite an indoor masking requirement.
On May 23, "additional cases of COVID-19 were reported among other staff members, students, parents, and siblings connected to the school," the report stated.
Between May 23 and May 26, 22 of the teacher's 24 students were tested for COVID-19 and 12 were found to have contracted the virus.
On May 26, California health officials "initiated case investigation and contact tracing" and found 27 positive COVID-19 cases, including the teacher's, the study said.
"This outbreak of COVID-19 that originated with an unvaccinated teacher highlights the importance of vaccinating school staff members who are in close indoor contact with children ineligible for vaccination as schools reopen," the CDC study stated.
"In addition to vaccination of eligible persons, implementation of and strict adherence to multipronged nonpharmaceutical prevention strategies including proper masking, routine testing, ventilation, and staying home while symptomatic are important to ensure safe school instruction," it continued.
According to the CDC, all staff at the school were vaccinated at the time of the outbreak with the exception of two teachers, including the one with the original case of COVID-19.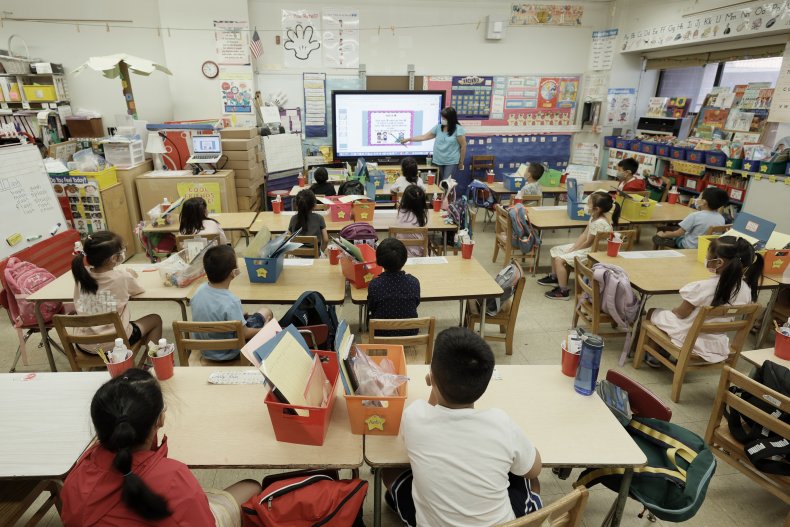 In an interview with Newsweek on Friday, Mary Jane Burke, Marin County superintendent of schools, noted that before the May outbreak documented in the CDC study, there were only 12 suspected cases of COVID-19 transmission within the county's schools.
"When we have followed the basics, the masking, as well as not coming to school if you're sick, as well as vaccinations once those were available, we've been very, very successful," Burke said.
"While a single school may have been highlighted in this report, all 116 schools in Marin—public, private, independent and parochial—have proven that we have strong prevention strategies available to us, and strict adherence to those strategies is the way to ensure safe instruction in our schools," she added.
Uncommon Knowledge
Newsweek is committed to challenging conventional wisdom and finding connections in the search for common ground.
Newsweek is committed to challenging conventional wisdom and finding connections in the search for common ground.
About the writer
Xander Landen is a Newsweek weekend reporter. His focus is often U.S. politics, but he frequently covers other issues including the latest developments in Russia-Ukraine war and health. Before starting at Newsweek in 2021, Xander was a reporter at VTDigger, Vermont's largest news outlet, where he wrote about the legislature and state government and worked on investigative projects. His work has also been published by PBS Newshour, Politifact and NPR affiliates including WNYC in New York. You can get in touch with Xander by emailing X.landen@newsweek.com.