Study Determines China's Sinopharm COVID Vaccine Up to 78% Effective
A Journal of the American Medical Association study found that two vaccines from the China-owned company Sinopharm are 73% and 78% effective against COVID-19, the Associated Press reported.
Distribution of the two vaccines has begun in many countries, and the World Health Organization has authorized emergency use of one of the vaccines. The study's conclusion on the vaccines' effectiveness aligns with previous reports from Sinopharm.
Sinopharm researchers and Middle East partners conducted the trial using both vaccines and a placebo with over 40,000 participants across Bahrain, the United Arab Emirates, Egypt and Jordan. Jin Dong-yan, a University of Hong Kong medical professor separate from the trial, said that the study's results were unsurprising but still don't totally negate potential drawbacks.
Dong-yan mentioned the recent virus outbreaks in Seychelles, where the majority of residents had received one of the Sinopharm vaccines. Additionally, the study participants were 85% male and mostly younger men, which leaves uncertainty on the vaccine's effects on women and ability to prevent severe disease.
"It's important to make sure you have tested it in enough women to be able to start seeing any possible safety concerns," said Ashley St. John, an associate professor at Duke-NUS Medical School in Singapore.
For more reporting from the Associated Press, see below.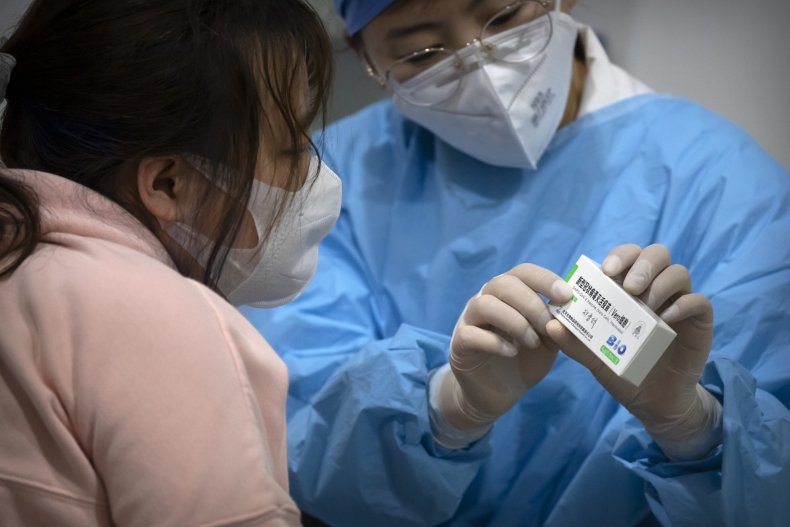 A spokesperson for the company did not immediately respond to a request for comment.
The vaccines, both of which are made with inactivated viruses, have already been given to millions of people across the world.
The World Health Organization cleared the Beijing Institute of Biological Products' shot for emergency use in early May, making it the first Chinese vaccine to receive the certification.
Chinese Foreign Minister Wang Yi said in April that China has provided vaccines to more than 100 countries, although it has not identified them. While China has six vaccines in use, the majority of its exports come from two companies: Sinopharm and Sinovac.
Newsweek, in partnership with NewsGuard, is dedicated to providing accurate and verifiable vaccine and health information. With NewsGuard's HealthGuard browser extension, users can verify if a website is a trustworthy source of health information. Visit the Newsweek VaxFacts website to learn more and to download the HealthGuard browser extension.